Data Recovery Services for failed Hard Drives, SSDs & RAIDs
We understand how important data is to home users, enterprise organizations and small businesses. Our certified team of professionals is always on call to solve your data loss situations and offer you the best data recovery services in North America. With over 15 years of experience and certified ISO 4 Class 10 cleanroom lab facilities we are ready to recover your hard drives, RAID arrays, SD cards, Solid State Drives, Mobile Phones and other data storage devices anywhere and at anytime.
We are the industry leader offering our clients fully transparent SSAE18 audited professional services and hassle free in-lab evaluations with no hidden fees or upfront costs with our "No Data, No Recovery Fee" guarantee. We will get your data back or you pay nothing.
Our customers rate our services:
We Helped Thousands Get Their Lost Data Back.
With over 5,300 satisfied customers and growing, we are proud to provide outstanding customer experience and quality service that consistently exceed customer expectations.
View All
The Data Recovery Service Company
Secure Data Recovery Services has over a 15 years of experience as the trusted recovery service provider offering exceptional customer service and data recovery solutions for all device types including RAID, external hard disk drives, iPhones, USB flash drives, and other failed data storage devices. Our experienced engineers have seen every storage device failure and successfully extracted the data is 96% of the cases. We invest heavily into research and development to create and implement innovative data recovery methods for existing and emerging media on the market. This commitment to staying ahead of the curve in a competitive market paired with great customer service and our numerous certifications make us the best data recovery service provider in the industry.
Is your drive malfunctioning? Not many things can disrupt an individuals life or work quite like your files becoming suddenly inaccessible. Whether you are working on business, medical data, school work, or creative projects, continuing on without your data is unimaginable. Let our professional data recovery services help. Start by selecting one of our core service below.
Flexible Service Options
Every situation is a disaster for home users, individuals and small businesses. We understand the importance of getting the data back to our customers is as important as the budget and time it takes to get it back. We offer multiple data recovery options to fit your needs.
Economy
5 - 10 day turnaround time
Standard
2 - 5 day turnaround time
In addition to advanced data recovery services from single source storage we are also experts in working with enterprise storage generally made up of larger equipment which require addressing complex file systems and file types. Our range of dedicated emergency service offerings extends to customers with the following storage devices:

Need something else recovered? Our facilities and staff are equipped to handle recovery procedures on any digital which can store data. See a list of additional services.
Find Secure Data Recovery near you
Data Recovery Service Solutions
Not sure what data recovery service you need? Let our team guide you to select the right data recovery solutions. We understand better than other recovery service providers that a sudden drive failure is an unsettling feeling. Call us to speak to an expert and discuss your situation. We offer several ways to solve your problem.
In-Lab
Is your device completely dead? This is exactly what we specialize in servicing inside of our ISO certified Cleanroom Lab. Get it to us by dropping it off or take advantage of our free shipping and we will take care of it for you or you pay nothing. Call us to discuss your data loss problem and the service solutions we offer.
Our Certified Labs
Onsite Data Recovery
Equipment too large to move or too sensitive? No problem for our experts. We can scramble a team to be anywhere in the world with our equipment and tools in about 24 hours to handle your data loss situation. We are trusted specialists at solving unique data loss challenges.
We Come To You
Remote Data Recovery
Something deleted, corrupted or just disappeared but storage is still online? Just get us an internet connection and let our service team recover your data. You will then access it immediately. Recovery can't get any faster than this.
We Connect Remotely
Mary Ann Hess
Reviewed on Sep 22, 2023 | Salt Lake City, UT
I spent years creating art for a Tarot Card project. Some of my work is backed up on multiple drives, but not all of it. A couple weeks ago my drive storing my work, failed. Scott McMacken saved the day efficiently and quickly! My images are again available to me in editable and printable form. Thank you, Scott!
SHAD USA
Reviewed on Sep 22, 2023 | Miami, FL
The team at Secure Data Recovery Services recovered the needed data in a prompt and professional manner. Communication was swift and all day we were looking for was successfully recovered. Effective and efficient got us back on track.
Oliver Bohorquez
Reviewed on Sep 22, 2023 | Bronx, NY
One of my company''s HDDs failed and Scott McMacken and Secure Data were able to recover all our files for us. Service was quick and Scott was always there to answer any questions we had throughout the process. Highly recommend!
Hosanna Rull
Reviewed on Sep 22, 2023 | Houston, TX
Excellent Customer Service
Secure Data Recovery saved my external hard drive that had my whole life in it. It had photos of my son to years of business files. I was impressed with how responsive Eric Dvorin was. Always keeping me up to date and responding to my emails quickly. He answered any questions I had and made the whole process as fast as possible so I could get my hard drive back so I could be back in business.
Jon Zenz
Reviewed on Sep 22, 2023 | Poughkeepsie, NY
Secure Data Recovery Review, Jon Zenz
I am very happy with what I got from SDR.
Carlos R
Reviewed on Sep 21, 2023 | Sierra Vista, AZ
Absolute Top Notch Service!
Eric Dvorin and all the folks at Secure Data Recovery Services did an awesome job in recovering the lost data! They were fantastic to work with, service was prompt, communication was excellent, and very accommodating to work with, I would highly recommend them in the recovery of any lost data. If I could rate them more than 5 stars, I definitely would without a doubt!! Thanks everyone at SDRS!!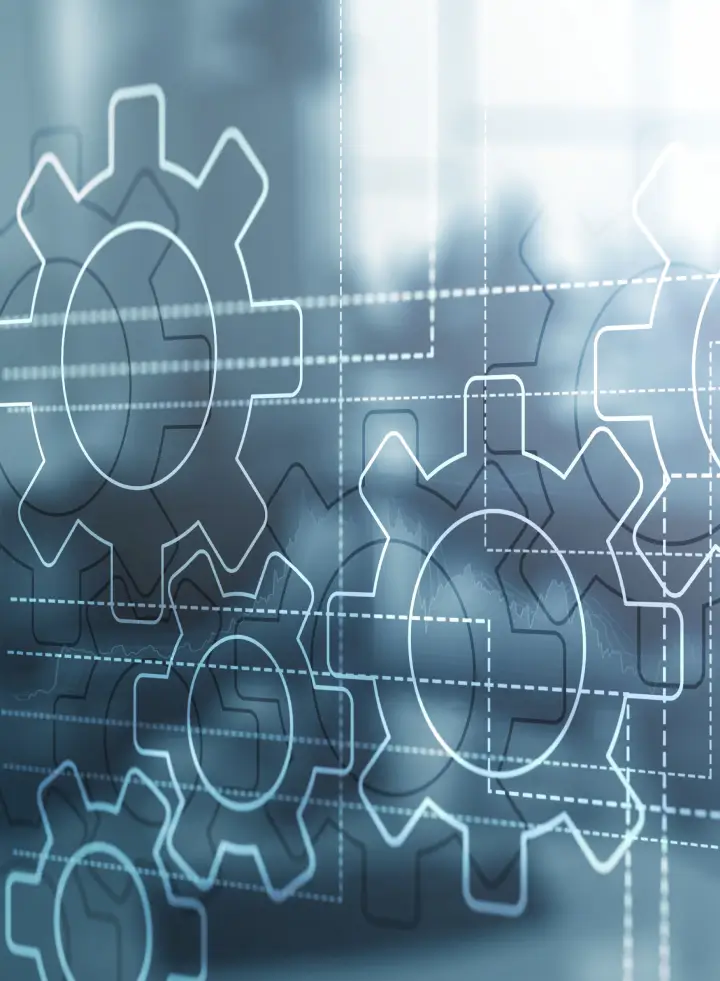 Our Secure Process
It's simple. After we receive your failed drive we perform comprehensive diagnostics and determine the price for a successful recovery with an estimated turnaround time. Once you approve the work, we get to work! Our dedicated engineers utilize every technique to recover your desired data in the safest way possible and send you a file list to review once the recovery process is complete. You will never be charged more than the agreed-upon price, even if the recovery requires more work than anticipated.
After you review the recovered file list your advisor will provide you with the best data storage options to get the new data back to you as quickly as possible. We cannot wait to reunite you with your data, it's all we do! Join the thousands of happy customers who trusted Secure Data Recovery Services to provide them with SD Card, mobile phone, RAID or hard drive recovery services.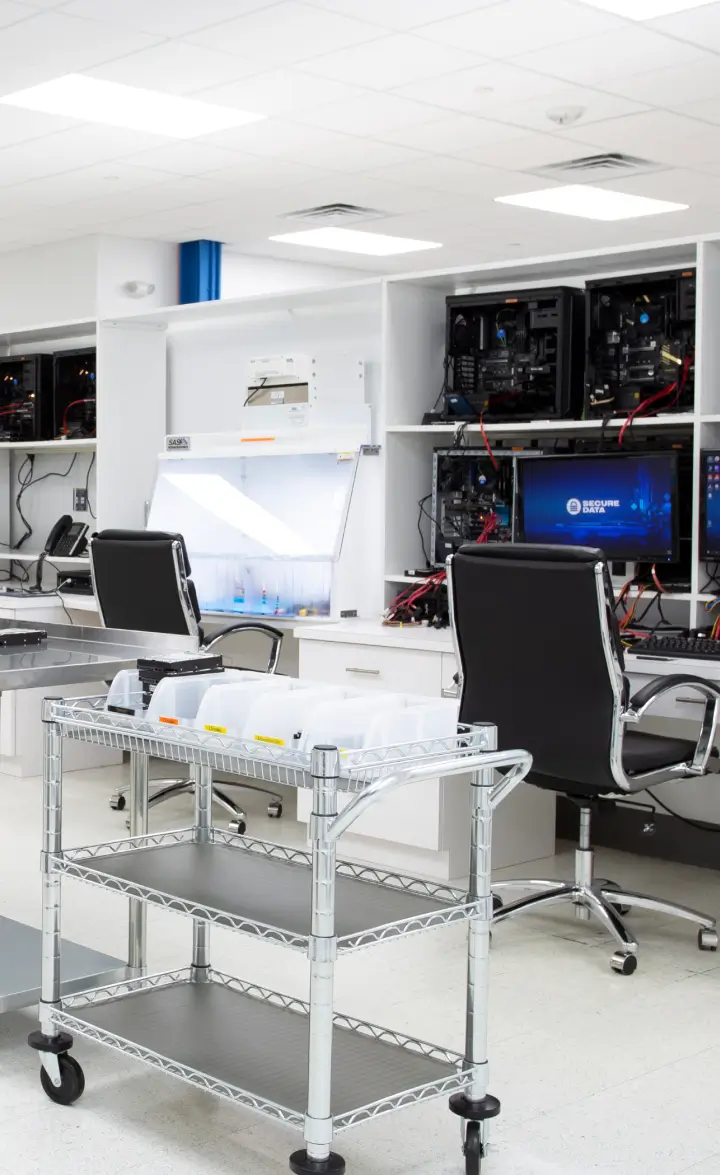 Why Choose Our Service?
Our engineers routinely extract important files from hard drives, memory cards, SD cards, mobile phones, RAID Arrays and other media that was considered to be unrecoverable by other recovery service providers. In addition, we have successfully performed data recovery services on fire and water damaged devices, encrypted devices, logically and severely physical damaged drives considered too complex others.
We respect our clients' privacy, personal data and sensitive information as proven by our SSAE 18 Type II Audit. We perform all of our work in-house without any third party access. In our secure environment, we use certified ISO 4 Class 10 Cleanrooms for recovery operations, giving you the best chance at receiving your files back.
We use proprietary tools and have performed data recovery services on every type of device on the market. If for some reason we are unable to recover your files, we stand by our "no data, no recovery fee" guarantee. Call us at 800-388-1266 to talk to an advisor now.
Partners with Industry Leading Manufacturers
Frequently Asked Questions
How long do professional data recovery services take?

This can depend on the type of storage device involved in the recovery, and the severity of the damage. Complex jobs typically take more time to complete. Our services range from emergency 24/7 service, to our standard 2-5 day turnaround. Contact us for more information about our service options.

What guarantees do you offer for your data recovery services?

We only charge for successful recoveries, and our guarantee is simple: If we can't recover the data you need, you don't pay. Our services also offers free evaluations to analyze the damaged device and determine a price quote before beginning work.

How much do your services cost?

The cost of professional data recovery services depends on the severity of damage and type of storage device. We provide free evaluations and no-recovery, no-fee guarantees, and our team works with customers to create a customized service plan that meets their needs.

What types of data recovery services do you offer?

We specialize in a wide range of data recovery services, including hard drive recovery, HDD recovery, external drive recovery, laptop data recovery, Mac data recovery, SSD data recovery, iPhone data recovery, Android data recovery, desktop data recovery, encrypted drive recoveries, DVR and camera recoveries, USB flash drives recoveries memory card recoveries and more. We can also work with enterprise storage to recover data from RAID, SAN, NAS and VMware systems.

What is the difference between data recovery software and recovery services?

Data recovery software is designed for home users and can only perform basic recovery tasks. Professional data recovery services are designed for more complex cases, such as when a hard drive has suffered physical damage or severe logical corruption. Our team provides access to certified cleanroom facilities and proprietary tools that allow us to safely repair damaged devices and recover data in cases where software solutions would be ineffective.

Do you offer data destruction services?

Yes. We offer comprehensive data destruction services for all types of devices, including hard drives, mobile phones, servers and other types of media. We provide physical destruction and secure wiping in accordance with industry standards, and we can help you properly dispose of old equipment or securely erase data from your devices before they are reused.