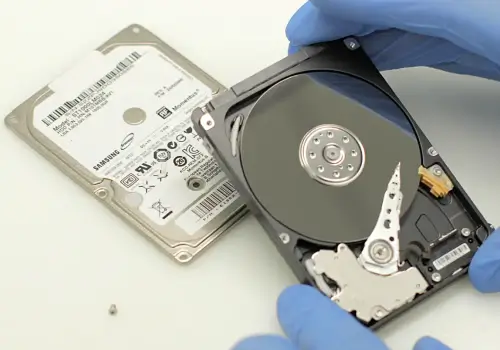 Samsung Data Recovery
Secure Data Recovery Services specializes in retrieving lost files from failed Samsung smartphones, tablets, laptops, and storage devices. Our engineers have extensive experience with Samsung products, given their status as one of the largest manufacturers of mobile devices, computers, and flash storage. We have encountered all data loss scenarios with Samsung smartphones, tablets, laptops, SSDs, SD cards, and USB flash drives and resolved cases with significant damage or corruption. Trust the experts with a 96% success rate and guaranteed results for Samsung data recovery.

Our customers rate our services:
We Helped Thousands Get Their Lost Data Back.
With over 5,331 satisfied customers and growing, we are proud to provide outstanding customer experience and quality service that consistently exceed customer expectations.
View All
Data Recovery for Samsung
Our Samsung data recovery expertise sets the standard for speed and success. It is a testament to our relentless commitment to research and development as Samsung continues to produce innovative hardware.
We have an award-winning customer support team waiting to assist with sudden data loss. Upon starting a case and receiving the device, our technicians diagnose the failure scenario and provide a free, no-obligation quote. We follow over 100 cybersecurity controls while handling data and undergo regular SSAE 18 SOC 1, 2, and 3 audits to demonstrate their effectiveness.
Once authorized, we begin to recover data from Samsung's flash storage device. When finished, we transfer the recovered files to preferred media. Our customers can be confident that their confidential information is secure throughout the process.
We have delivered results across various Samsung mobile devices and flash storage technologies since 2007. That experience contributes to each of our recoveries and breakthroughs, so we can continue to offer industry-leading services into the future.
We are the most reliable Samsung data recovery option, maintaining a 96% success rate and a "No Data, No Recovery Fee" guarantee. You get your lost data back, or pay nothing.
Samsung Data Recovery Reviews
John Crosby
Reviewed on Sep 25, 2023 | Newport, RI
Professional Service with excellent results!
From start to finish, Secure Data Recovery made things easy for me to resolve my data loss issue. When my phone''s hard drive fried and I had no options as the local cellular repair service deemed it dead on arrival. I heard about Secure Data Recovery and they made everything seamless, from the prepaid shipping envelopes to the free diagnostics and the transfer of data onto media that is easily t... Read Moreransferred to a phone. Thank you Secure Data Recovery for retrieving priceless photos and valuable data from my damaged phone. 5 stars! * * * * *
Kyle Bolivar
Reviewed on Sep 19, 2023 | La Jolla, CA
After a complete laptop failure I was able to get all files recovered. Scott and his team were professional and helped get my data back with minimal worries in a very reasonable amount of time. Highly recommend!
Max Gravitt
Reviewed on Sep 14, 2023 | Randolph, NJ
I lost all of my drive and Secure Data Recovery was able to restore it
Adam Bruns
Reviewed on Sep 06, 2023 | Hoffman Estates, IL
Great Service and Support
My drive failed. I had important business information on it, and unfortunately I wasn't able to back up this data in time. I had my data recovered by Secure Data and not only did they recover all of my data, but they worked with my budget and notified me throughout the process. Support was great and thorough with any questions I had and gave me confidence that my data was in good hands. Thank you ... Read MoreSecure Data for the work that you all do. I will be recommending your services in the future to my friends and coworkers.
Erich Wendel
Reviewed on Aug 28, 2023 | Fort Worth, TX
I just received my data report back from Secure Data Recovery. My name is Erich and I am a private chef and owner of a catering and in-home event business and I use my smartphone for 90 percent of my business needs. As you can imagine, when I encounter a major issue with my phone, it becomes a major issue in every aspect of my life including my business. I had a secure folder option on my devic... Read Moree which I could use for my important business documents, proprietary recipes, photos of my events for my websites and social media accounts, invoices, catering packages and menus. Recently, my phone bit the dust and I found out the hard way how secure my secure folder was. It does not store anything on my on external media and also does not back up to the cloud. When my phone went dark, I took it to tech support at the chain store I purchased it and the support plan from and it was so compromised that they couldn''t even get it to register on their system when they connected it to diagnose. They sent me a new phone, but offered no solution for my precious data that was lost. After my new phone arrived and before I sent my old one in to be recycled, I made one last effort to recover and Googled data extraction services. This brought me to Secure Data Recovery Service. I filled out their contact form and within an hour, I received a call, from an actual person, and so began my experience with Secure Data Recovery. Scott McMacken was in charge of my case from the jump. He was in very close contact with me throughout the whole process, explaining every step and what they would need from me to complete the work. Once they had accessed the storage areas and verified that there was in fact data that could be recovered, they sent me an itemized list of files that were recovered for me to approve before moving forward and provided an estimate of what it would cost to complete. He even worked with me and spoke to his higher ups to provide options that would bring it more in line with what I had budgeted for the work to be done. I can''t even begin to express how much weight Scott and his team lifted off of me with their flexibility and desire to assist. I am looking forward to receiving my flash drive soon and getting back to business. If I hadn''t found Scott and his dedicated team, all of this would have been lost forever. Thanks Scott and Secure Data Recovery for saving this Chef in Distress!!!
Harshil Patel
Reviewed on Aug 22, 2023 | Glen Ellyn, IL
Timothy was very helpful. The quote was reasonable. Great customer service and clear communication. Tim got my SSD recovered fully within the estimated timeframe.

Thank you Tim!!
Samsung Phone Data Recovery
Our phone data recovery specialists have the equipment, expertise, and experience with each version of Android to recover lost data from a dead or damaged Samsung mobile device. We can access the internal storage on a smartphone with a broken touchscreen, corrupted operating system, or failed logic board. It is important to note that new Android phones, like the popular Samsung Galaxy series, encrypt stored data by default. That can complicate the process of recovering deleted data from a Samsung smartphone.
Samsung Tablet Data Recovery
We also understand how to recover inaccessible data from other Samsung mobile devices, including the entire line of Galaxy Tablets. Our experts can access the Samsung tablet's internal storage despite a cracked touchscreen or fried circuit board. Similar to Android smartphones, extracting deleted data from recent Samsung tablets is difficult.
Samsung Laptop Data Recovery
Our comprehensive knowledge of Samsung hardware allows us to provide reliable laptop data recovery services. We have the experience and resources to resolve cases involving Samsung two-in-one laptops or chromebooks. Our technicians can recover data from the removable media in a damaged or failed Galaxy Book, Galaxy Book Pro, and Galaxy Book Ultra.
Samsung SSD Data Recovery
We offer professional SSD data recovery for various failure modes and Samsung models. Our engineers have years of experience working with SATA and NVMe SSDs, addressing data loss scenarios like damaged controllers, defective electronic components, failed firmware, and more. To recover data from SSDs, we utilize soldering stations and specialized hardware and software. We have developed techniques to recover files from consumer, portable, and enterprise Samsung SSDs.
Samsung SD Card Data Recovery
We are the experts in SD card data recovery. Our technicians have the tools and skills to recover data from Samsung SD cards, including their EVO and PRO products. We can retrieve files from all form factors, standards, and data loss scenarios, such as bent pins and accidental deletion or formatting.
Samsung USB Flash Drive Data Recovery
Our engineers specialize in recovering data from failed USB flash drives. We provide certified flash drive data recovery and have successfully extracted files from thousands of removable storage devices. We have the expertise to repair and recover data from a USB flash drive with damaged connections or electronic components and FAT32 or exFAT file system corruption, among other challenging circumstances.
Secure Data Recovery Process
1
Free
Consultation
Power down the device and call us, 24x7 for a free consultation and quote.
2
Free Professional Diagnostics
Submit your device at one of our locations for a non-destructive evaluation by a data recovery expert.
3
Review &
Decide
Review the diagnostic results and approve the work order at a set price, payable upon success with our "No Data, No Recovery Fee Guarantee".
4
Data Recovery & Return
Submit payment and receive your recovered data on a new external drive.
Find Secure Data Recovery near you
Data Recovery Service Solutions
Not sure what data recovery service you need? Let our team guide you to select the right data recovery solutions. We understand better than other recovery service providers that a sudden drive failure is an unsettling feeling. Call us to speak to an expert and discuss your situation. We offer several ways to solve your problem.
In-Lab
Is your device completely dead? This is exactly what we specialize in servicing inside of our ISO certified Cleanroom Lab. Get it to us by dropping it off or take advantage of our free shipping and we will take care of it for you or you pay nothing. Call us to discuss your data loss problem and the service solutions we offer.
Our Certified Labs
Onsite Data Recovery
Equipment too large to move or too sensitive? No problem for our experts. We can scramble a team to be anywhere in the world with our equipment and tools in about 24 hours to handle your data loss situation. We are trusted specialists at solving unique data loss challenges.
We Come To You
Remote Data Recovery
Something deleted, corrupted or just disappeared but storage is still online? Just get us an internet connection and let our service team recover your data. You will then access it immediately. Recovery can't get any faster than this.
We Connect Remotely
Flexible Service Options
Every situation is a disaster for home users, individuals and small businesses. We understand the importance of getting the data back to our customers is as important as the budget and time it takes to get it back. We offer multiple data recovery options to fit your needs.
Economy
5 - 10 day turnaround time
Standard
2 - 5 day turnaround time
About Us
Secure Data Recovery Services was started in 2007 with a single location and over the past decade grew into one of the world's largest data recovery companies helping customers recover data with extraordinary capabilities. Powering the success behind our world class services are the talented teams of engineers who develop our state-of-the-art tools and procedures which enable us to recover data from the most challenging data loss circumstances.
Our team is truly passionate about data storage and thrives on the customer satisfaction which comes from reuniting users with their lost data. Our goal is to deliver the best results technologically possible while maintaining the strictest security controls through our numerous industry specific security attestations including regular SSAE18 SOC 1, 2 & 3 audits.
Secure Data Recovery Services has built a solid reputation as the most trusted data recovery provider with a fully transparent and certified process demonstrating that our facilities, processes, and staff exceed industry standards.
From single external hard drives, SSD's, mobile devices to enterprise NAS, SAN, and RAID failures, we are ready to help recover from digital disasters, anywhere.