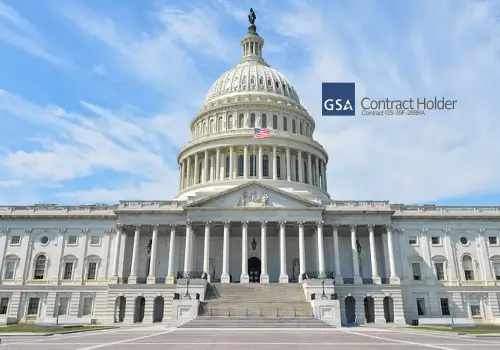 Approved GSA Contractor - Certified Secure Data Recovery
Secure Data Recovery Services is a member of the General Services Administration's schedules, and as an approved contractor, we offer data recovery resources for hundreds of military and government institutions throughout the United States.
The GSA contractor schedules provide simple access to our industry-leading services.
The GSA schedules are an essential tool for federal agencies, local government, and state government decision makers. By establishing contracts with qualified companies, the GSA helps to limit expenses while controlling the quality of service. This is particularly important when dealing with information technology contractors.
Please see the links below to verify our commitment to the GSA schedules program:
Secure Data Recovery Services GSA eLibrary Profile
Secure Data Recovery GSA Advantage Profile
Through our commitment to the General Services Administration's strict standards, we offer an efficient, secure purchasing process for all of our government clients. Secure Data Recovery Services is one of the only providers with a GSA number, and as with all of our services, we offer a full no recovery, no fee guarantee with every case.
Secure Data Recovery Services - Related Credentials

GSA Contract: GS-35F-288BA
Cage Code: 6BP27
DUNS: 796906209
NAICS: 541512
Additionally, we commit to state-of-the-art security credentials, and we can safely handle high-security cases. We provide a safe, secure way to restore important files from virtually any failed system while controlling costs. Contact us today to set up a case or for more information.
Working with a GSA Certified Data Recovery Provider
Data disasters cause substantial losses for government institutions every year, and in many cases, a damaged hard drive or RAID array can seriously affect workflow. Secure Data Recovery Services invests in next-generation technology in order to quickly recover missing files from all types of digital devices. By treating mechanically damaged devices in a certified Class 10 ISO 4 Cleanroom and by utilizing the latest tools and software utilities, we provide our clients with an exceptionally dependable set of solutions.
By choosing a GSA-approved contractor, your office can limit costs while ensuring dependable service.
In order to earn a contractor designation under the General Services Administration schedules, we submit a report with detailed service information including rate estimates for different types of services and an overview of our security credentials. All of our services are available through the GSA schedules, including our award-winning RAID data recovery solutions and our advanced options for data tape repair, server repair and more.
Our customer service team regularly handles cases for government clients and can quickly process orders through the GSA schedules. We offer several turnaround options including same-day 24/7/365 emergency services, and all of our options feature the same carefully controlled security. As a SSAE 18 Type II SOC-1 certified company, we provide the best secure data loss solutions available.
An Advanced Data Recovery Option on the GSA Schedules
Secure Data Recovery Services operates a network of offices across the United States, and we offer local emergency pickup options for all 48 contiguous states. Our teams can quickly treat any system, restoring essential files and returning recovered data via return media or secure FTP.
Some of the advantages of utilizing our services through the GSA schedules:
Free Standard Data Recovery Diagnostics
Warranty Safe Repairs for Hard Drives, RAID Arrays and More
Advanced Data Loss Solutions for Data Tapes and Legacy Servers
Online Tools for Regular Case Monitoring
24/7 Customer Service and Dedicated Case Contacts
Government offices need to control their costs, and sudden data loss can have an immediate effect on fixed budgets. By offering flexible options through the General Services Administration's schedules, Secure Data Recovery Services helps to limit expenses while maintaining an exceptional standard of service. We offer high success rates for dozens of different devices including legacy systems, and our turnaround options help to maintain your budget while returning your data in a working condition as quickly as possible. For more information or to set up a case through the GSA schedules, contact us today at 1-800-388-1266.