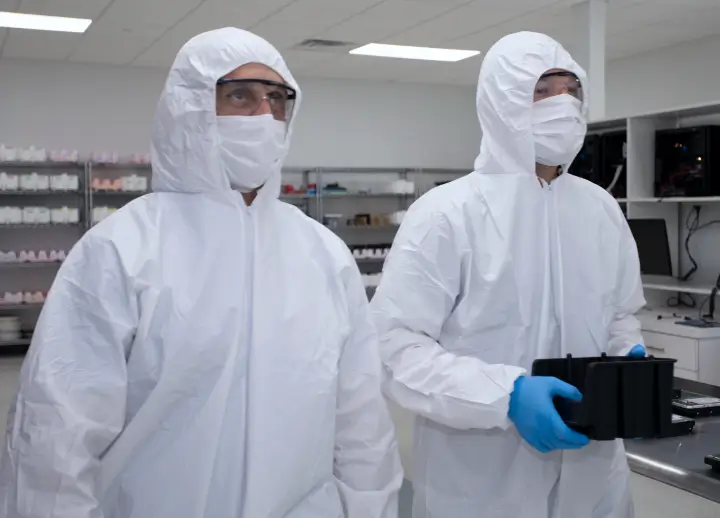 Emergency Data Recovery
Secure Data Recovery Services is the most dependable source for emergency data recovery. We have the experience and facilities capable of restoring data with the quickest turnarounds in the industry. All emergency cases come with around the clock service with our certified engineers working in three shifts to get your data back as soon as possible.
All data recovery quotes are payable upon success with our "No Data, No Recovery Fee" guarantee. Choose the most reliable solution when you need your data back ASAP.
Emergency Data Recovery Services
We have performed thousands of emergency data recovery services with over 15 years of experience with a Documented success rate of 96%. Each project begins with a comprehensive diagnostic performed inside of SSAE 18 SOC 1, 2 & 3 Audited data recovery labs. We then present a detailed diagnostic report and quote options for successful retrieval and perform the work in around the lock fashion with turnaround times as fast as a few hours. Our certified data recovery technicians specialize in all physical and logical issues to give you the best odds for successful SSD, RAID, phone and hard drive recovery.

Emergency Data Recovery Reviews
Triad Marketing & Media
Reviewed on May 10, 2023 | Westerville, OH
Scott took care of our bad drive and was able to get it back to us before an upcoming deadline. So far, the files appear to be recovered. The quick responses were appreciated.
John Joyce
Reviewed on Apr 27, 2023 | Lee's Summit, MO
I worked with Scott McMacken who did a fantastic job walking me through this data recovery process over the phone. Time was of the essence for me, as I had critical business files on a failed HD, and so Scott helped me arrange for express/overnight/weekend service including diagnostics and a recovery quote. I got back a replica drive with every last byte of data I had lost, which helped me recov... Read Moreer my data to my new system very quickly, within hours in fact. My only regret was not reaching out to Secure Data Recovery sooner, as I wasted several days watching my cloud backup come down a few gigs per day. It would have taken way too long to wait for the cloud recovery to finish. Highly recommend these guys to anyone in a real bind in terms of data recovery.
George E. Steiger, Phd
Reviewed on Mar 24, 2023 | Belcamp, MD
Dan Novak was highly responsive and profession to work with every step of the way. Team promptly worked to recover my data and returned ahead of schedule. FED-EX service out and back as seamless as it gets. Hope to never have to so again, but without a doubt Secure Data Recovery is there to save the day!
Susan Baum
Reviewed on Mar 02, 2023 | Loyalhanna, PA
The BEST CUSTOMER Service!!!
Scott McMacken, eased my mind when I was so upset over possible loss of Data. He was so professional in handling every detail! He explained the entire process in detail and then quickly sent shipping label and invoice for services. He was TOP NOTCH to say the least! I would highly recommend Scott! Definitely be my go to option for Data Recovery in future!
Steven Kalmar
Reviewed on Feb 27, 2023 | Troy, MI
If you are reading this, you need SDR.
I recommend Secure Data Recovery for data recovery services.  If you fail to have current, good backups of your valuable data, turn to Secure Data Recovery to get the job done right and done fast.  My representative, Eric D, was extremely helpful throughout the entire process.  It''s an extremely anxious feeling when you are faced with the loss of your important data.  You just want it back as soo... Read Moren as possible.  After contacting Secure Data Recovery, they directed me to the nearest drop-off location in my area (just a few miles from my home).  My drives were boxed up and off to Secure Data Recovery at no charge to me.  They received the drives the very next day, performed the evaluation and were able to give me a recovery estimate that same day.  Pricing was more than I expected, but it''s hard to put a price on your critical data.  Once I approved the recovery it didn''t take them long at all to complete the job.  I had my drives back within a week.  Faster than I had anticipated.  They kept me up to date through the entire process, through email and their portal (their website tracks your case number).  They were always able to answer my questions when I called for clarification on aspects of the process (no matter which representative takes your call).  They were able to get everything recovered except for 23 files (nearly 100%).  They have even been supportive after the process.  I have had a few questions since getting my data back and Eric has always been quick to respond.  Do yourself a favor and make sure you have adequate backups.  If you fail to do so and end up with a corrupted drive or any failure you can trust that Secure Data Recovery will do their best to get your data back to you.
George Skelly
Reviewed on Feb 17, 2023 | Lancaster, PA
A random power supply failure damaged my hard drive. Scott at Secure Data Recovery Services helped me through the process of getting all my data back. He was very good at making me feel comfortable with the company and was able to get all my data back for me. I would definitely recommend Scott McMacken and Secure Data Recovery Services.
Why Choose Secure Data Recovery Services
At Secure Data Recovery Services, we recognize the importance of fast completion times. Our 24/7 emergency data recovery has average turnarounds of less than 24-48 hours. We also offer convenient pickup and delivery services to expedite diagnostic and recovery processes.
Any storage device storing your critical data can fail without warning, and in order to improve your chances of a successful recovery, you should take immediate steps to preserve your data in its original condition.
We recommend turning off your device to avoid any further damage that may occur. Contact a professional data recovery company as soon as possible; do not run any software utilities or attempt to diagnose the failure yourself, as you may complicate the underlying physical and or logical issues preventing you from accessing the data.
When you need the fastest possible turnaround, we dedicate a team of experienced engineers capable of offering in-lab, on-site and remote emergency data recovery services.
Call our team of data recovery experts to get started now: 800-388-1266