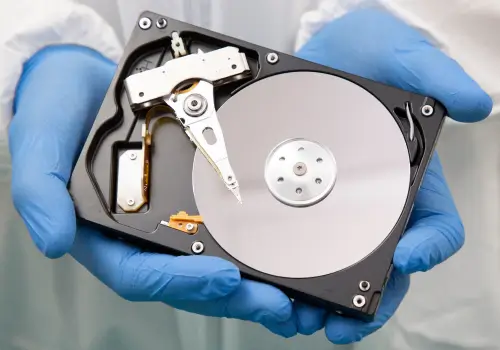 Emergency Data Recovery
Secure Data Recovery Services is the most dependable source for emergency data recovery. We have the experience and facilities capable of restoring data with the quickest turnarounds in the industry. All emergency cases come with around the clock service with our certified engineers working in three shifts to get your data back as soon as possible.
All data recovery quotes are payable upon success with our "No Data, No Recovery Fee" guarantee. Choose the most reliable solution when you need your data back ASAP.
Our customers rate our services:
We Helped Thousands Get Their Lost Data Back.
With over 5,320 satisfied customers and growing, we are proud to provide outstanding customer experience and quality service that consistently exceed customer expectations.
View All
Emergency Data Recovery Services
We have performed thousands of emergency data recovery services with over 15 years of experience with a Documented success rate of 96%. Each project begins with a comprehensive diagnostic performed inside of SSAE 18 SOC 1, 2 & 3 Audited data recovery labs. We then present a detailed diagnostic report and quote options for successful retrieval and perform the work in around the lock fashion with turnaround times as fast as a few hours. Our certified data recovery technicians specialize in all physical and logical issues to give you the best odds for successful SSD, RAID, phone and hard drive recovery.

Emergency Data Recovery Reviews
Hosanna Rull
Reviewed on Sep 22, 2023 | Houston, TX
Excellent Customer Service
Secure Data Recovery saved my external hard drive that had my whole life in it. It had photos of my son to years of business files. I was impressed with how responsive Eric Dvorin was. Always keeping me up to date and responding to my emails quickly. He answered any questions I had and made the whole process as fast as possible so I could get my hard drive back so I could be back in business.
Warren Hobbs
Reviewed on Sep 15, 2023 | Fort Worth, TX
Secure Data are true Lifesavers; they were able to recover my corrupted hard drive and data that had pictures from over 10 years ago lost because of the defective drive. I am truly thankful for all the help their extremely knowledgeable representative Jonathan provided; he was extremely patient and I am forever grateful that they have the expertise and technology to recover my information .
<... Read Morebr />Thank you Secure Data !
Leewon Brad
Reviewed on Sep 12, 2023 | Chicago, IL
Secure Data Recovery Experience
My recovery experience with SDR was GREAT! The primary reason for that was my Rep. Jake, who was absolutely wonderful. My man was Professional and very inviting. He made me feel comfortable and at ease. He followed- up and made sure that the SDR experience was the best that I ever experienced. Thanks to Jake and SDR for taking care of my emergency recover.
Hilary Howell
Reviewed on Sep 07, 2023 | Nehalem, OR
Jacob and his team were so easy to work with and helpful. They were able to recover everything that I needed and did it very fast. They answered all of my questions right away and helped me with my outdated QuickBooks. I highly recommend them they are amazing at what they do.
Conrad Labandeira
Reviewed on Jul 20, 2023 | Washington, DC
Service from Scott McMacken was great!
Scott was expeditious in his handling of this very important case of data recovery. I am very pleased.
Conrad Labandeira
Netbug Cui
Reviewed on Jun 28, 2023 | Allen, TX
Fast recovery with a reasonable price
The recovery of 1TB storage takes less than a week, and the price is reasonable. Thanks!
Why Choose Secure Data Recovery Services
At Secure Data Recovery Services, we recognize the importance of fast completion times. Our 24/7 emergency data recovery has average turnarounds of less than 24-48 hours. We also offer convenient pickup and delivery services to expedite diagnostic and recovery processes.
Any storage device storing your critical data can fail without warning, and in order to improve your chances of a successful recovery, you should take immediate steps to preserve your data in its original condition.
We recommend turning off your device to avoid any further damage that may occur. Contact a professional data recovery company as soon as possible; do not run any software utilities or attempt to diagnose the failure yourself, as you may complicate the underlying physical and or logical issues preventing you from accessing the data.
When you need the fastest possible turnaround, we dedicate a team of experienced engineers capable of offering in-lab, on-site and remote emergency data recovery services.
Call our team of data recovery experts to get started now: 800-388-1266