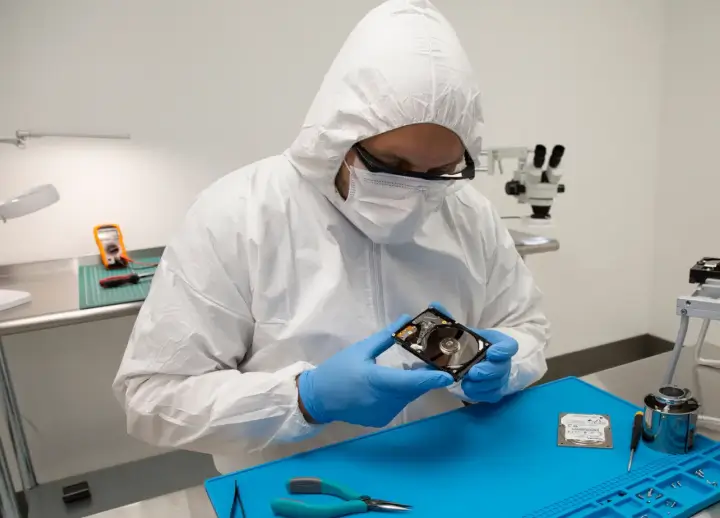 External Hard Drive Data Recovery
External hard disk drives (HDD) are used as a secondary form of storage and a reliable backup method. Portable and easy to use, external hard drives typically consist of a standard 2.5" or 3.5" hard drive in a simple enclosure with an external port that connects to a computer or other media devices, most commonly via USB. When an external hard drive fails or becomes damaged, Secure Data Recovery has qualified recovery experts with industry-leading and professional external HDD data recovery services.

Some of the external hard drive manufacturers we work with are:
Seagate
SanDisk
Western Digital
Toshiba
Samsung
G-Tech, and many others
Types of External Hard Drive Failure
There are three basic types of external hard drive failure that can result in data loss:
Physical Failures
Hard drives have internal parts moving at high speeds and they can become less reliable as they age. A hard drive's read/write heads hover just above the surface of the platters that store your data, and if they come into contact with the platters, data loss may occur. In addition to internal wearing out and scratching the platters, other common physical failures include:
Spindle that controls hard drive spinning locks up
Actuator arms don't work properly
Grinding, clicking, or beeping noises on the drive due to read/write head failures
Electronic Failures
If an external hard drive has an electronic issue, it may stop working entirely or it may report an error message, depending on which of its components have failed. Electronic failures are potentially as serious as physical hard drive failures and should only be handled by experienced data recovery professionals. Some external hard drives experience electronic failure due to:
Faulty fans on the drive
Power cords not plugged into grounded, surge-protected outlets
Power surge, preventing your hard drive from being disconnected properly
Logical Failures
External hard drives can also lose data due to non-physical errors that affect how the drive operates. Some of these failures include:
Corruption due to a virus attack
Accidental Deletion
Host system won't recognize the media
Hard Drive Failure Types
Modern hard drives are a technological marvel, containing numerous sensitive components susceptible to physical, electrical, mechanical, and logical failures.
Common problems include bad sectors, read/write head crashes or stiction, PCB failure, and drive motor and bearings issues. All these scenarios cause the hard drive to cease normal operations and require hands-on hard drive repair inside a specialized cleanroom environment.
Logical
Virus/Malware
Reformat
Deleted Data
Ransomware
Mechanical
Motor Malfunction
Head Crash
Firmware Errors
Are you experiencing any of these hard drive failure scenarios? Stop using and immediately power down the hard drive, then contact a professional data recovery company for a consultation.
The clicking sound of a failing drive often indicates problems with the movement of the drive's read/write actuator.
This clicking sound is made when the actuator arm continuously resets itself because the read/write heads have failed.
This clicking and buzzing indicates damage to the HDD read/write head(s), which processes data stored on the disk platter(s).
This high-pitched whine usually signals scratches in the disk platter(s) that prevent read/write heads from processing stored data.
A buzzing or chattering sound coming from your HDD device could indicate a stuck or damaged spindle motor.
request free quote
The Challenges of External Hard Drive Data Recovery
Some of the factors that can affect your chances of successful data recovery on an external hard drive include:
File System - Depending on the operating system used, an external hard drive can be formatted in different file systems including FAT, NTFS, HFS+, EFS and XFS. Our engineers work with all operating systems on external hard drives including Windows, Mac, and Linux.
Hard Drive Size - Some newer external hard drives hold 8TB of data or more, and data recovery is often difficult on larger drives. Our engineers create full clones of repaired external hard drives before using our proprietary software, to recover the data without damage to the external drive.
Failure Scenarios - As mentioned above, the type of failure scenario affects the chances of recovery, and therefore the recovery tools and procedure that are needed. All physically damaged external drives need to be treated in our certified Class 10 ISO 4 Cleanroom to prevent any danger of media contamination.
Secure Data Recovery thrives on challenges in data recovery, so whether your external drive has logical data issues or a severe spindle failure, we have the capabilities, experience and tools to give you the best possible chances of a successful recovery. We have specialized file utilities designed for virtually every file system and file type, and as a result, we offer high success rates for external hard drives.
The Secure Data Advantage for External Hard Drive Recovery
Secure Data Recovery is the most certified data recovery company in the industry. We were the first company to earn SSAE 18 Type II Certification for the highest levels of security and have Class 10 ISO 4 Cleanrooms in each of our six labs across North America. We boast an overall 96% success rate for recovery on external hard drives.
After receiving your external drive, we evaluate the damage and complete a diagnostic report that includes a list of recoverable files, price quote, and turnaround time. After you agree to the recovery, our decades-experienced engineers use advanced proprietary tools to bring your external media to a working state enough to image the drive and work to recover your data from a copy of the media. This keeps your device in its original condition.
Secure Data Recovery customer service is available 24/7 to start a case for you and also offers emergency data recovery for external hard drives with a 48-hour turnaround. We promise you that if we are unable to retrieve the files from your external hard drive, no other company will have the tools or experience to do it. That's why we stand by our "no data, no recovery fee" guarantee. You don't pay the recovery fee if we don't retrieve your files.
When you need external hard drive data recovery, choose the certified experts at Secure Data Recovery. Call 1-800-388-1266 to start your case.
External Hard Drive Data Recovery Reviews
Kelly Mcdonald
Reviewed on May 25, 2023 | Richmond, VA
I knew better but had not made a backup of my external hard drive…and then it failed. Luckily I found Secure Data Recovery and they were able to recover all my files. Crises averted!!
Jackie Hodge
Reviewed on May 24, 2023 | Aurora, CO
THANK YOU, THANK YOU, THANK YOU!
Eric and the team from Secure Data Recovery saved irreplaceable pictures from an external hard drive that our dog got ahold of and chewed up! The birth of our first granddaughter along with the first couple years of her life, my sons graduation, and numerous other sentimental pictures were on that drive. Their service was fast and efficient! I now have a flash drive with ALL of my pictures restore... Read Mored and I am SO very grateful!! Thank you Secure Data Recovery!
John Dimaria
Reviewed on May 23, 2023 | Steubenville, OH
I shot a wedding and I lost all of the footage due to a hard drive failure, I was terrified because it was my first wedding . Elliot helped me out recovering the footage and his customer service was excellent. He replied very quickly to every email and phone call made. I would of been way more stressed out if it was not for Elliot. He was very kind and helpful. This is an excellent company!
Boris -
Reviewed on May 22, 2023 | Bloomfield Hills, MI
From start to finish, the entire process was smooth and efficient, thanks to dedicated account rep Jonathan Nguyen.

He was knowledgeable and throrough in answering all my questions, providing valuable insights and recommendations based on my specific needs.

What impressed me the most was the promptness of the support, going above and beyond to ensure my concerns are addresse... Read Mored.

Overall, the customer service I received was exceptional in every aspect.
Austin Sides
Reviewed on May 17, 2023 | ,
Scott was great to work with. He walked me through each step of the process of restoring my data and made sure everything was smooth and easy. I appreciated the way he was prompt to communicate, how he made me feel like a valued customer, and his continued effort to make sure my important data was returned to me. Thank you!
Irene Young
Reviewed on May 16, 2023 | Richmond, CA
Jonathan Nguyen at Secure Data handled my data recovery in a perfectly professional, and caring manner. Everything was done as discussed. He inspired trust and confidence, and the price was affordable, when other companies were way out of reach. I would have paid a little more for a faster external drive to which my data was transferred and delivered. All in all, I am very happy.