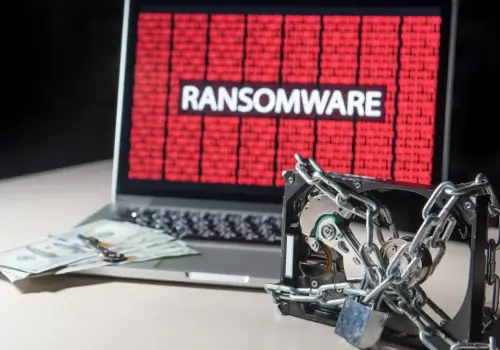 Ransomware Data Recovery
Victim of a ransomware attack? We specialize in recovering files from infected storage devices, including RAIDs, hard drives, and solid-state drives. Our experienced engineers use sophisticated tools and techniques to extract data from compromised media. Regardless of the complexity or variant, our dedicated ransomware data recovery experts are ready to quickly restore your data. All backed by our "No Data, No Recovery Fee" guarantee.
Our customers rate our services:
We Helped Thousands Get Their Lost Data Back.
With over 5,331 satisfied customers and growing, we are proud to provide outstanding customer experience and quality service that consistently exceed customer expectations.
View All
Ransomware Data Recovery Services
At Secure Data Recovery, we are here to help when a ransomware attack makes important files inaccessible. Our team understands how ransomware works and impacts data storage. Over the past 15 years, we have resolved numerous ransomware incidents and safely returned lost data to our customers. As the ransomware data recovery service with the most industry-specific certifications, we are committed to providing unmatched expertise and security. Our process involves strict data-handling protocols and undergoing regular SSAE 18 SOC 1, 2, and 3 audits. With us, your critical data always remains private.
We offer emergency ransomware data recovery to minimize your downtime. The around-the-clock effort begins with a comprehensive evaluation. From there, our approach depends on the ransomware variant. We consider all options and choose the most effective method. In addition to our in-lab services, we have remote and on-site data recovery. Our mission is to reduce data loss and downtime, so you can move past a ransomware attack and be reunited with your data as quickly as possible.
What To Do After a Ransomware Attack
The initial actions after a ransomware attack are crucial. Having a well-designed incident response plan and executing it can contribute to successful data recovery. To improve the chances of recovering inaccessible files, follow these steps in the immediate aftermath of a ransomware attack:
Step 1: Assess the Damage
Evaluate the extent of the attack. Confirm the infected computers or devices. Pinpoint which important files have been encrypted. If possible, preserve evidence and establish the intrusion method. Remove trigger files that remain on the network.
Step 2: Determine the Variant
Discover what variant was used to encrypt or restrict access to files. Identifying the variant guides the recovery process.
Step 3: Disconnect the Device
Prevent the ransomware from spreading by separating the infected system from the rest of the network.
Step 4: Report the Crime
Alert the relevant authorities that an attack occurred. Reporting requirements exist in 47 states.
Step 5: Consult the Experts
Contact a data recovery service and cybersecurity specialist. Experts have a unique insight into ransomware and can supervise subsequent stages of the crisis.
Secure Data Recovery Process
1
Free
Consultation
Power down the device and call us, 24x7 for a free consultation and quote.
2
Free Professional Diagnostics
Submit your device at one of our locations for a non-destructive evaluation by a data recovery expert.
3
Review &
Decide
Review the diagnostic results and approve the work order at a set price, payable upon success with our "No Data, No Recovery Fee Guarantee".
4
Data Recovery & Return
Submit payment and receive your recovered data on a new external drive.
Flexible Service Options
Every situation is a disaster for home users, individuals and small businesses. We understand the importance of getting the data back to our customers is as important as the budget and time it takes to get it back. We offer multiple data recovery options to fit your needs.
Economy
5 - 10 day turnaround time
Standard
2 - 5 day turnaround time
Find Secure Data Recovery near you
Data Recovery Service Solutions
Not sure what data recovery service you need? Let our team guide you to select the right data recovery solutions. We understand better than other recovery service providers that a sudden drive failure is an unsettling feeling. Call us to speak to an expert and discuss your situation. We offer several ways to solve your problem.
In-Lab
Is your device completely dead? This is exactly what we specialize in servicing inside of our ISO certified Cleanroom Lab. Get it to us by dropping it off or take advantage of our free shipping and we will take care of it for you or you pay nothing. Call us to discuss your data loss problem and the service solutions we offer.
Our Certified Labs
Onsite Data Recovery
Equipment too large to move or too sensitive? No problem for our experts. We can scramble a team to be anywhere in the world with our equipment and tools in about 24 hours to handle your data loss situation. We are trusted specialists at solving unique data loss challenges.
We Come To You
Remote Data Recovery
Something deleted, corrupted or just disappeared but storage is still online? Just get us an internet connection and let our service team recover your data. You will then access it immediately. Recovery can't get any faster than this.
We Connect Remotely
Elizabeth Rossen
Reviewed on Sep 01, 2023 | Alachua, FL
I cannot express my gratitude enough for the team at Secure Data Recovery. Scott and Elliot provided exceptional customer service, thoroughly explaining the problem and walking me through the solution. Their turnaround time was impressively fast, and thanks to them, precious memories from a corrupted drive have been restored. Highly recommended for anyone in need of data recovery!
Glenn Starr
Reviewed on Aug 29, 2023 | Landenberg, PA
Very Professional and Informative Service from Eri
Eric was very helpful in helping me retrieve erased files on my already compromised hard disk drive . Walked me through the process and quoted me a very competitive price. I now have all my data and couldn't be happier . Call Eric Dvorin and his teamif you ever have the same problem . You won't regret it.

Glenn
Sarge Price
Reviewed on Jun 23, 2023 | New Orleans, LA
Malicious Ex Employee Destroyed Company Data
A fired employee maliciously deleted & formatted vital data for a court case. We thought it was gone & the court case with it. Thanks to Secure Data Recovery, we were able to get our data back even after other companies said it was gone forever!
Bobby Scott
Reviewed on May 16, 2023 | Corinth, MS
Jake Gambatese knows what he''s doing. After I described the problem and how it manifested itself, Jake took the situation in hand and was responsible for seeing that the recovery of sensitive files was completed. Turn-around time was reasonable.
Evan Lutz
Reviewed on Mar 23, 2023 | San Diego, CA
Quick and simple data recovery
Scott and Kyle made the entire process a breeze. They had my drives next day thanks to their overnight prepaid shipping label and ALL of our data was recovered and sent back in just a couple of days. Can''t say enough good things about these guys and I will absolutely be using them in the future.
Vickie Davis
Reviewed on Feb 16, 2023 | ,
Outstanding Customer Service
Everything you would want or expect in Customer Service is exactly what you get with Secure Data Recovery. I can''t say enough good things about the company or their representative Jake Gambatese. He will bend over backwards and find ways to help you any way he can. He is very polite, courteous, knowledgeable, and is eager to help and he will explain anything you don''t understand. His communi... Read Morecation skills were incomparable. Jake''s response time was immeasurable. Sometimes we connected 3-5 times a day exchanging questions and answers. I only wish every company had a "Jake Gambatese". I am very pleased and happy to have chosen Secure Data Recovery for my project and received the priviledge of working with Jake. He is the absolute best! I look forward to working with you again. Thank you, Jake Gambatese!
About Us
Secure Data Recovery Services was started in 2007 with a single location and over the past decade grew into one of the world's largest data recovery companies helping customers recover data with extraordinary capabilities. Powering the success behind our world class services are the talented teams of engineers who develop our state-of-the-art tools and procedures which enable us to recover data from the most challenging data loss circumstances.
Our team is truly passionate about data storage and thrives on the customer satisfaction which comes from reuniting users with their lost data. Our goal is to deliver the best results technologically possible while maintaining the strictest security controls through our numerous industry specific security attestations including regular SSAE18 SOC 1, 2 & 3 audits.
Secure Data Recovery Services has built a solid reputation as the most trusted data recovery provider with a fully transparent and certified process demonstrating that our facilities, processes, and staff exceed industry standards.
From single external hard drives, SSD's, mobile devices to enterprise NAS, SAN, and RAID failures, we are ready to help recover from digital disasters, anywhere.
Frequently Asked Questions
What is a ransomware attack?

Ransomware is malicious software that prevents victims from accessing their files or threatens to release personal data unless a financial demand is met.

Is it possible to recover files from ransomware?

Yes. Although, the success of the recovery depends on a combination of factors, like the availability of decryptors, the complexity of encryption algorithms, and the possibility of file system corruption.

How long does it take to recover from ransomware?

Recovering from ransomware is highly dependent on the overall condition and size of the affected file system, as well as the amount of encrypted files, their file type, and the ransomware variant. Our emergency data recovery services can reunite you with your data as quickly as possible.

How much does ransomware data recovery cost?

The cost of data recovery is based on the scope of work required to restore the files. The same principle applies to ransomware data recovery. We are transparent about these variables. As part of the process, we offer a no-obligation quote and a "No Data, No Recovery Fee" guarantee.

How do I get my data back?

We provide a preview of all recovered files and then return the data on secure media upon your full approval of the work. In addition, we adhere to over a hundred security controls to ensure private data remains confidential.

How do I prevent a ransomware attack?

Users should regularly review their IT practices and adapt to new threats to mitigate the risk of ransomware. Having a proven backup strategy, identifying vulnerabilities, and implementing stronger data security and privacy practices can prevent a devastating ransomware attack.