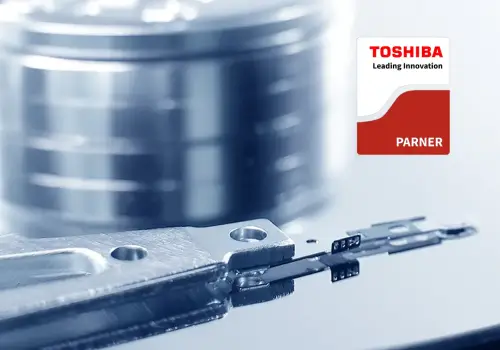 Toshiba Data Recovery Services from an Industry Leader
Secure Data Recovery Services provides comprehensive data loss solutions for all types of Toshiba devices. We specialize in hard drive data recovery, and our teams have the equipment and expertise to treat any Toshiba system safely and restore essential data after a hard drive failure or virtually any other event.

Our engineers work in a carefully controlled laboratory when treating Toshiba devices in order to provide the best possible results.

Toshiba Corporation is one of the world's largest electronics vendors. The brand markets and sells hundreds of products including laptops, desktop PCs, and mobile devices. Many other companies have relied on Toshiba hard drive technology, and in recent years, Toshiba has branched out into solid-state drives, cloud services and other emerging markets.
While Toshiba storage devices are reliable, all storage devices can fail. Secure Data Recovery Services provides Toshiba users with a reliable set of disaster recovery solutions. We will never void your active warranties by providing our services, and our overall success rate is a remarkable 96 percent.
Other features of Secure Data Recovery Services:
Warranty-Safe Data Recovery for All Toshiba Devices
24/7/365 Same-Day Emergency Services
No Recovery, No Charge Guarantee
Specialized Services for RAID Data Recovery and Repair
SSAE 18 Type II SOC-1 Security Certification
We offer free media evaluations for Toshiba hard drives, solid-state drives and other devices. By performing several tests, our engineers can determine whether your device has recoverable data and provide you with a price quote and turnaround estimate. Contact us today to get started.
State of the Art Technology for Toshiba Data Recovery
When a storage device fails, engineers need to repair damaged components in order to temporarily restore the hardware to a functional state. The data recovery process requires advanced technology, and at Secure Data Recovery Services, we invest heavily in our laboratory in order to provide dependable service.
We perform hard drive repair and RAID repair procedures in a certified Class 10 ISO 4 Cleanroom, a specialized environment that prevents media contamination. Our engineers also use a number of proprietary tools designed for various operating systems and file systems, and our expansive media library allows for fast, safe treatment. We always take appropriate steps to keep data secure, and we fully comply with various information standards including PCI-DSS.
Secure Data Recovery Services also offers a no recovery, no fee guarantee for all Toshiba data recovery cases. While unrecoverable cases are extremely rare, we will not process a service charge if we cannot recover your important data. Our services will never void your warranty, and our turnaround options help you maintain your budget.
What to Do When a Toshiba Storage Device Fails
Because data loss symptoms can vary greatly, you should take appropriate precautions when you cannot access data on a Toshiba system. Turn your computer off and keep it powered down until you can get a professional evaluation. Do not attempt to recover your own data. Never open a sealed Toshiba product, as you may accidentally void your warranty or endanger your files.
Contact Secure Data Recovery Services to set up a risk-free standard evaluation.
Our engineers can treat all failure scenarios including:
Hard Drive Head Crashes and Media Damage
Electronics Failures
Computer Boot Issues
File Corruption and Firmware Corruption
Accidental Overwrites and File Deletion
Virus Damage, Fire Damage and More
Secure Data Recovery Services offers the most dependable options for Toshiba data recovery, hard drive repair and other advanced data loss solutions. We use dedicated hardware and state-of-the-art proprietary tools to treat every case, and our exceptional security credentials ensure that your data stays safe throughout the process. Set up your free evaluation today by calling our 24/7 toll-free line at 1-800-388-1266.