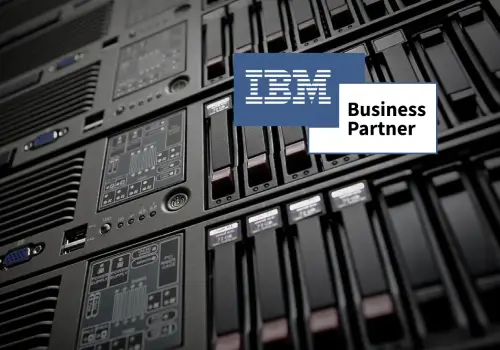 Data Recovery Services for IBM Hard Drives and Servers
Secure Data Recovery Services provides data loss solutions for IBM servers and storage systems. We operate a large network of offices, and with free diagnostics and cutting-edge technology, we can safely treat all IBM systems including xSeries servers, SAN and NAS appliances, System z servers, hard drives, legacy systems and more.
As a recognized IBM Business Partner, we are fully qualified to treat IBM servers, personal computers and all other devices.
IBM is one of the world's largest technology corporations with more than 400,000 employees. Since the earliest days of computing, IBM has played a major role in the development and progression of the industry. Many older IBM systems are still in use today, and the company continues to output high-end servers and storage devices through a dozen research offices worldwide.
See our IBM Business Partner profile below:
As an IBM business partner, Secure Data Recovery Services offers an excellent set of resources for all IBM devices from personal computer media to enterprise-level web servers. By utilizing the latest technology, we can safely recover missing data from IBM systems without voiding active warranties.
Our services also feature a free diagnostics report, which provides you with an accurate turnaround estimate and price quote before your case starts. Because we specialize in IBM data recovery, we can complete many cases in less than 24 hours under our emergency service; we also offer other turnaround options to keep your case within your budget.
Contact our customer service team today to get started or for more information.
Dedicated Technology for IBM Server Repair and Data Recovery
IBM has produced hundreds of popular servers and storage systems, and in order to safely perform data recovery on IBM devices with varying failure scenarios, we invest heavily in research and development.
Secure Data Recovery Services treats all damaged hard drives and other sensitive devices in a certified Class 10 ISO 4 Cleanroom, which provides essential protection during repairs. Our engineers also have access to a large hardware library, which allows them to repair or replace damaged IBM media components in an efficient manner. We specialize in RAID repair and can fully restore many IBM servers in a matter of days.
Our engineers can treat all failure scenarios including:
Physical Hard Drive Damage
Multiple Failed RAID Members
Accidental File Deletion and Virus Damage
Electronic Issues
File and Firmware Corruption
Fire Damage, Water Damage and More
Most importantly, we follow best-in-class security protocols when handling each case. Secure Data Recovery Services was the first provider to earn a SSAE 18 Type II SOC-1 attestation certification.
Steps to Take When an IBM Device Fails
Because failure symptoms vary depending on operating system, media type and various other factors, we recommend taking a cautious approach when handling damaged storage devices. If you cannot read data on an IBM device or system, you should immediately disconnect your power source and keep your computer powered down. Never attempt to repair damaged hard drives or RAID arrays. Contact an IBM Business Partner for warranty-safe data recovery services as soon as possible.
Secure Data Recovery Services provides excellent data loss solutions for all types of IBM devices and systems. By bringing your media to one of our offices, you can receive an accurate price quote to help you make an appropriate case decision without voiding your warranty. We provide a no data, no recovery fee guarantee with every case, and all of our services feature the same exceptional security.
Whether you need to access files on an IBM hard drive or a large SAN, our teams are ready to restore your missing data to a fully functional state.