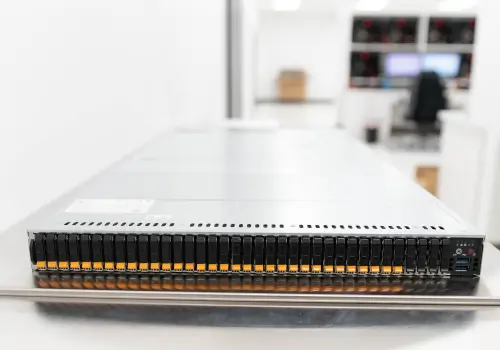 SAN Data Recovery Services
When your Storage Area Network (SAN) device fails, you aren't the only person affected by data loss, it's everyone in your workplace who uses the system. SAN data recovery will get your operations back on track and Secure Data Recovery engineers have decades of experience working with SANs.
Our customers rate our services:
We Helped Thousands Get Their Lost Data Back.
With over 5,469 satisfied customers and growing, we are proud to provide outstanding customer experience and quality service that consistently exceed customer expectations.
View All
A SAN offers a more efficient means of accessing and managing data. Storage capacity is divided among the devices for block-level storage. No matter the operating system or device type, the engineers at Secure Data Recovery can help with recovering your SAN unit. We use our own proprietary technology for recovery and have a dedicated R&D team to develop new techniques for recovery on existing and emerging media.
Why Do I Need SAN Data Recovery?
The goal of a SAN is to meet a business' need for proper data storage and access while eliminating a single point of failure. Unfortunately, that doesn't guarantee that your SAN will always run properly. If your SAN system fails due to physical or logical damage, a professional data recovery company has the expertise and quality tools to keep your company from having to rebuild from scratch.
Secure Data Recovery can recover your company's client information, employee documents, and databases that may include years worth of critical data.
Why Choose Secure Data Recovery?
We have an overall 96% success rate in recovering data from all types of Storage Area Network devices and operating systems. Our company is manufacturer approved as we work with all brands of SANs including HP, Dell, EMC, NetApp, and more. We have recovered data from all types of SAN models including:
Dell EqualLogic
Dell PowerVault
EMC Clariion
EMC VNX / VNXe / VNX2
HP MSA 2040
HP LeftHand
NetApp E-Series
NetApp FAS-Series
Microsoft WSS
VMWare VSA
Drobo
QNAP SAN
Synology SAN
Secure Data Recovery has a dedicated research and development team that is constantly working to find innovative recovery methods. Additionally, we have the following security certifications:
HIPAA Compliant Data Handling Process
SSAE 18 Type II Audited
Class 10 ISO 4 Cleanroom
FIPS 140-2 Level 3 Validated Security
How is My SAN Data Recovered?
We perform our SAN recovery in an SSAE 18 Type II certified lab with a Class 10 ISO 4 Cleanroom. Our engineers begin by diagnosing the SAN members and analyzing the file system, RAID, and SAN metadata. After the diagnostic report is complete and approved by the customer, engineers begin by repairing the members of the SAN and imaging them if needed.
Imaging is the process of making a copy of the information to work from, which keeps the device in its original condition. After the imaging, they perform a SAN assembly, file system repair, or database repair if necessary before extracting the data.
Failure Scenarios for SAN
Our engineers have experience recovering data from SANs in all types of data loss situations. The most common SAN failure scenarios include:
Hardware Failures
LUN Deletion
Formatted Partitions
Failed Rebuild Attempt
Physical Damage Including Fire and Water
What to Do When a SAN Fails
If you are experiencing any of the failure symptoms listed above, DO NOT attempt to repair a failing device as it could affect the rest of the drives, resulting in permanent data loss. Do not run any type of software or attempt to restore the system on your own.
Power down your SAN as soon as it begins to fail and call an industry leader in data recovery. Secure Data Recovery has the fastest turnaround times in the industry, limiting your downtime and increasing your business' productivity after a SAN failure. Call our customer service representatives 24/7 at 1-800-388-1266.
RAID SAN Data Recovery Reviews
Pritesh Sahni
Reviewed on Dec 05, 2023 | Brampton, ON
When my hard drive failed, Eric Dvorin handled the situation with professionalism, courtesy, and attentiveness. I had to get all of my data back, and Eric assured me that he was quite sure he could. Eric was incredibly supportive and accommodating over the whole undertaking! Eric, thank you so much
Earch Auguste
Reviewed on Dec 05, 2023 | Castries, St. Lucia
Thanks to Secure Data Recovery Services i am able to share my photos with the family from way back when to now.When my hard drive was not accessible i contacted Secure Data Recovery Services and they explain everything to me and it is what i was told it would be.The service is the best i have come across for a long time.i would recommend Secure Data Recovery Services to any one with any data probl... Read Moreems they got,thank you for recovering my data.
Duy Truong
Reviewed on Dec 05, 2023 | Prairieville, LA
Shout out to Daniel Novak/The best Representative.
Daniel Novak, I am constantly impressed by your performance and customer service . Thank you for your hard work!

I have had a 8 years damage hard drive. I called the company and talked with Daniel. After our first conversation on the phone. I already know I will stick with Daniel for the whole process. And yes, I've made a right decision. He is so patient to explain and walk with me eve... Read Morery single step/answer all the questions I have.

The overall recovery result is very promising, with over 97% of the data restored in working condition. More than I expected. Daniel was also give me the best price as well.

I would like to say thank to Daniel again and nominate him for the best employee of the month- year.
Will Chou
Reviewed on Dec 05, 2023 | Arcadia, CA
Family pictures are priceless
Professional services, great turnaround and great communication. Jonathan Nguyen help facilitate the whole process and I now got my photo and video back! I would recommend this service to anyone.
Michael Freedman
Reviewed on Dec 04, 2023 | Los Angeles, CA
My 2TB Lacie Hard Drive was damaged, and Jonathan N. was able to quickly and effeciently uncover all of my lost files. It was an increidbly easy process, and with his rapid response time and transparent breakdown of the issue and solution, I felt taken care of from start to finish. Would highly recommend for any data recovery.
Vic Woods 2
Reviewed on Dec 04, 2023 | Houston, TX
The team at Secure Data Recovery did a great job retrieving my data. I thought had lost my data. The entire process is very smooth. The explanations was thorough, and emails were answered fast. This was definitely an experience with them.