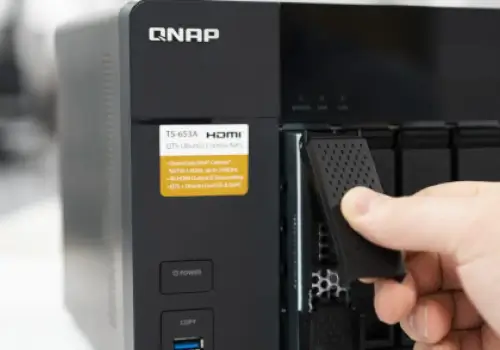 Secure Data Recovery for QNAP Systems
A QNAP storage system is convenient because of its ability to support a variety of RAID configurations and its consistent internet connection. What is inconvenient is when a QNAP system experiences data loss. Secure Data Recovery engineers have years of experience recovering data from all QNAP models.

We have decades of experience recovering data from failed and deleted QNAP NAS arrays.

Our customers rate our services:
We Helped Thousands Get Their Lost Data Back.
With over 5,469 satisfied customers and growing, we are proud to provide outstanding customer experience and quality service that consistently exceed customer expectations.
View All
QNAP (Quality Network Appliance Provider) is a company that provides NAS and SAN systems, which are trusted because of their redundancy and remote replication utilities. QNAP storage includes anywhere from 2 to 30 drives and one drive failure can result in a domino effect of data loss. Secure Data Recovery engineers use proprietary technology for recoveries. Our dedicated R&D team creates innovative methods for recovery on all RAID configurations within a QNAP including RAID 5, 6, and 10.
Failure Scenarios for Your QNAP
Secure Data Recovery takes on cases that other recovery companies write-off as unrecoverable. Our engineers have successfully performed data retrieval on cases that experienced logical and mechanical damage, and even devices that have experienced damage from a natural disaster including fire and water.
Some of the common data loss scenarios for a QNAP include:
Volume Reformat
Accidental File Deletion or Overwrite
Disk Failure
Filesystem Corruption
Failed RAID Rebuild
Errors During Data Transfer Between Drives
Why Secure Data is a Trusted Source for Recovery
A QNAP stores corporate and personal files on a RAID configuration that best adapts to a user's workflow. A failure brings business operations to a halt and may result in deleted files of personal information and digital memories. Secure Data Recovery can recover mission-critical files as well as personal data from EVERY type of QNAP make and model including:
ES168dc
TES-1885U
TDS-16489U
TS-EC248OU R2
TVS-1582TU
EJ1600
REXP-1000 Pro
TR-004
TX-800P
This is not a complete list and our engineers work on all of these models and any variation of them. We have an overall success rate of 96% due to our dedicated services and advanced recovery technology. We also have the following security certifications:
HIPAA Compliance
SSAE 18 Type II Certification
PCI-DSS Compliant
FIPS 140-2 Level 3 Validated Data Handling Practices
What is the QNAP Recovery Process?
Secure Data Recovery is the only recovery company in North America that has a Class 10 ISO 4 Cleanroom to keep a QNAP safe from physical harm during the recovery process. Once the client approves the recovery, our engineers will repair the members of the QNAP system so that they may be imaged. Creating a copy of the data to work from keeps the device in its original condition.
We are manufacturer-approved recovery specialists that work with all types of devices and operating systems. A QNAP is made to be accessible anywhere and our recovery services are just the same. We can perform both on-site and remote recovery for failed media.
What to Do When Your QNAP System Fails
When your QNAP storage system fails, DO NOT attempt to rebuild it yourself. One damaged drive can affect the rest of the configuration, resulting in permanent data loss. Do not run recovery software as it would further damage the failing media. Pay attention to the LED lights on your QNAP as they indicate failures.
Failed media can disrupt your business and your personal life. Let Secure Data Recovery restore your peace of mind by retrieving your files from a failed QNAP system. Our customer service representatives are available 24/7 at 1-800-388-1266.
QNAP Data Recovery Reviews
Nick Barrientos
Reviewed on Nov 19, 2019 | Austin, TX
Amazing service and company
Jake bates help me in many projects for the past 6 months. Went above and beyond the call of duty. All around example of what this company stands by and remarkable kind man and a heart of gold.
Bradley Walker
Reviewed on Sep 08, 2019 | Rockingham, VA
Peace of Mind, Professional, & Data Recovery
These reviews are ones those of us in the IT world always hate to leave, because at some point there was a hardware failure resulting in data loss and casting into doubt is the data ever going to be salvageable? Will our office have to spend countless hours rebulding the data by hand (and never getting it exactly the way it was before?)

At the end of June our office server suffered a d... Read Moreual drive failure in a RAID5 setup on our Dell server. This server housed client data, financial information, and customer database information. Then one morning we walked in and it simply didn''t work anymore. Two blinking orange hard drive lights confirmed my worst fears. Dead drives in the array.

I promptly reached out to Secure Data Recovery after anxiously reading numerous reviews that evening to try to find one recovery company that is reliable, and not a fly by night company. Secure Data Recovery (and the reviews on this page here) gave me confidence to fill out the online form.

The next day, Mitchell reached out to me arranging for a free FedEx shipping label to box up the drives and send them out to the SDR recovery site. Mitchell patiently explained the steps of the recovery process, what was required from our office, etc. Several days later, SDR had our drives and confirmed they would immediately perform an analysis to see what/if anything was recoverable.

Several days later MItchell emailed me that 99.9999% of our data was recoverable. He sent a zip file containing the partition location of the data that was found, file names, file metadata, and date/time stamps confirming they indeed did find our data. Including the financial and customer information. I gave Mitchell the go ahead to perform the recovery. A week later I was contacted by Mitchell stating the data recovery was complete and our bill prepared.

Because we are a small business, we sent a Cashiers Check via USPS Certified mail for payment. Due to a severe set of unfortunate circumstances, the postal service lost that certified payment requiring us to send out a second payment via UPS 2 Day air.

This is where SDR and Mitchell REALLY shined in extreme professionalism, gracious courtesy, and why I would not hesitate to recommend SDR. I explained the situation to Mitchell regarding the lost USPS payment and asked if that payment ever appeared at the SDR office, if they could return it back to us for destruction). If you don''t know, a cashiers check is good as cash to the recipient. After the second payment was processed and our data returned to us, Mitchell confirmed that the first payment lost by the postal service indeed did arrive. SDR promptly returned that payment at no cost to us which arrived a few days after our data. During this time our account rep Mitchel was a steady go-to guy who responded after hours, during hours, and handled every single one of our concerns with the utmost care and professionalism.

Then about our data... EVERY. BIT. WAS. RECOVERED! Much to our great relief and sanctification, all of our data was recovered in full. The server drives died a day after our last accounting update so we knew exactly what the numbers were in our financial program. Our data came on a hardware secure external 1TB drive with a recovery code emailed to us. We plugged in the drive and have spent the last few weeks conducting analysis of our data. Thankfully every single bit that was on the server was recovered IN FULL! We were able to immediately start working with our client data and financial data as if nothing ever happened.

Because of our set of circumstances where this happened in the midst of us implementing a new backup solution to our server (we couldn''t get it in place before this data loss happened), we were left totally relying on the reputation of SDR to recover our data. Not only did they meet the expectations given through the reviews here, but they so far exceeded those expectations, I have no reservations of recommending SDR or sending any clients of ours to SDR if the need arises.

True data recovery specialists and professionals work here!
Firas Farah Ayoub New
Reviewed on Aug 07, 2019 | Voorhees, NJ
Raw Failure Damage Data Recovered 100%
I so happy because secure data had recovered all my lost data from my HDD and im Mac user, it was unbelievable when they told me that they can recover the data because i already asked another companies they told me its impossible because im using Mac.

Thank You Secure Data :)
Arístides Colón
Reviewed on Feb 08, 2019 | San Juan, PR
RAID 10 Recovery - Amazing service & treatment
I screwed up a RAID 10 while at the same time breaking the first rule of hard drive management (Always have a backup). While trying to save the data myself, I also contacted various data recovery companies to ask for pricing and to know what I could expect. Well, Ryan Wiggins, the Data Recovery Specialist that was assigned my quote request, was great throughout the entire process. He was very pati... Read Moreent, in both explaining everything that Secure Data Recovery could do for me as well as waiting for me to decide if I wanted the services or not. Also, when I finally did decide to use your services I was leaving the country to study in Cuba and he continued the process with my father, also re-explaining some of the steps to him. All in all, if it wouldn''t have been for the treatment Ryan gave me and the knowledge he showed about data recovery and RAID systems I wouldn''t have chosen Secure Data Recovery over the other companies, and the care during the process reaffirmed that I had made a great decision.

Thanks, Ryan. I know we finished the process around 5 months ago, but I just got back from Cuba (vacations YAY!) and it wasn''t till now that I started to deal with everything I couldn''t do while over there. Including this well-deserved review.