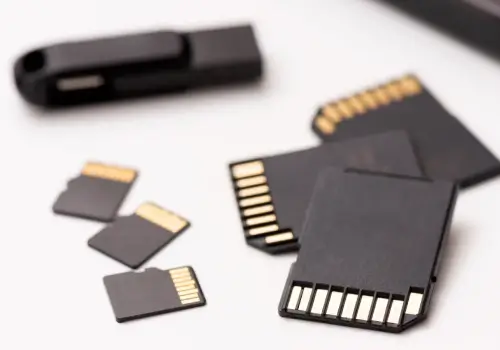 Removable Media Data Recovery
Do you have important data saved on USB flash drives or memory cards that are currently inaccessible due to accidental deletion, formatting, virus attack, or some other problem? We are here to help ensure that data loss does not become permanent. Our data recovery services specialize in extracting data from physically damaged or corrupted removable storage devices. With our expert engineers, decades of experience, and state-of-the art data recovery software, we restore videos, music, pictures, photos, spreadsheets, financial records, business files, and other lost data.
We offer complete peace of mind with a free evaluation and our "No Data, No Recovery Fee" guarantee. We will recover your missing files, or you pay nothing.
Our customers rate our services:
We Helped Thousands Get Their Lost Data Back.
With over 5,331 satisfied customers and growing, we are proud to provide outstanding customer experience and quality service that consistently exceed customer expectations.
View All
USB Flash Drive Data Recovery
Is your USB device not detecting? Flash drives fail for many reasons, and selecting a trusted USB data recovery service provider for your device is critical. Due to the delicate nature of the microelectronic components, there is usually only one possible attempt to recover lost data. The data recovery experts at Secure Data Recovery have retrieved data from every type of failure since 2007 with a 96% success rate. The service starts with a free, comprehensive evaluation. Contact us to speak to a data recovery advisor and discuss the options for recovering files from your memory stick.
Learn more about our USB flash drive recovery services.
Memory Card Data Recovery
Storing memories on memory cards is standard in every digital camera and Android or iOS device. It is a great way to expand original capacity at an affordable price. However, memory cards are prone to corruption due to power loss, physical damage, and accidental deletion or reformatting. Our secure data recovery process has helped countless film studios, professional photographers, and home users recover lost files. We are the data recovery experts trusted to recover precious memories when they cannot be lost.
Popular memory card formats we recover include:
Micro SD
Memory PRO duo
xD-Picture
SDHC
SDXC
Memory Micro M2
CompactFlash I and II
Removable Media Data Recovery Reviews
Juno'S Garage
Reviewed on Sep 27, 2023 | Palmetto, FL
Scott was very helpful throughout the entire process. He was attentive and answered every question and concern I had. No doubt that I will use this company again. Service was fast and easy. Thanks for all your help Scott M.
Richard Mcfarland
Reviewed on Sep 26, 2023 | Belmont, MA
My experience with Secure Data Recovery Services and Jacob Medina was excellent. Jacob was extremely helpful throughout the process and answered all of my questions promptly. I would certainly use Secure Data Recovery again to resolve my data recovery issues.
Caroline Dwyer
Reviewed on Sep 19, 2023 | Durham, NC
Extremely Responsive and Helpful!
Daniel, Jacob and their team were extremely responsive and worked with me to find a solution to recovering my files on a broken flash drive. They have been very easy to work with and their communication with me has been prompt and accurate. I would absolutely use Secure Data Recovery''s services again and would recommend them to anyone with data recovery needs. I''m so grateful they were able to r... Read Moreestore my files - a true lifesaver!
Kirsten Gill
Reviewed on Sep 15, 2023 | New York, NY
Corrupted files completely recovered
Secure Data managed to recover 100% of the corrupted video files I took of my brother''s wedding - so grateful!!!
Jim Firmin
Reviewed on Sep 07, 2023 | Morgan City, LA
Very Satisfied - Technician Jonathan very Capable
Hello: 09/07/2023

This is Jim Firmin, Owner of Firmin Architects in Morgan City LA, of which we had a USB drive with numerous files on it that somehow got locked during a file backup process and we could not open it or access any of the files on it. After checking around the area for someone to assist us in getting the files on the disk recovered, we were referred to Secure Data Recov... Read Moreery. I asked Dwayne of my office, who is little more adept at computer issues than I am to follow up with trying to get the data on the disc recovered. We were hopeful that the data could be recovered because the disk had not been backed up since May and I use it often.

Our project was assigned Case No. 356194 and Jonathan Nguyen was the Technician in charge. Dwayne tells me that Jonathan was on top of the process and very helpful from the beginning. We were offered the option to evaluate the disk at no cost to see if it was recoverable. We agreed and got a quick response on that and several cost proposals with time options and asked if we wanted to proceed to recover the information. We are a small office and the price for recovery was a little bit of a shock but Jonathan explained to Dwayne what was involved. I had read that it was expensive to recover something from a USB drive, so we gave the authorization to proceed.

Frankly I was afraid that the files could not be recovered due to the non-responsiveness of the disk, and counted the days as the estimated work time progressed. But Jonathan was right on time as promised. When the work was done and the new disk was ready, Dwayne was out sick so I spoke to Jonathan. He was very cordial and helpful with the final steps in the process. There was some mix-up with the Zip Code which affected the credit card which was worked out calmly. Jonathan processed everything immediately and we received the recovered files on a new USB disk this past Tuesday, Sep 5. We are very satisfied with the way we were treated as well as the finished product, which was 99% recovery.

As I stated to Jonathan in a follow-up email to him, "I appreciated his abilities and promptness in working on this for me". And I will be happy to provide reference as to the quality and timeless of your services if you so desire.

Sincerely,


Jim Firmin AIA
firmin architects ltd
P O BOX 972 MORGAN CITY LA 70381
985/384-3094 FAX 985/385-6457
[email protected]


YOUNGSIZZLE21
Reviewed on Aug 30, 2023 | Houston, TX
My Son''s Basketball game
I would Really like to thank Secure Data Recovery for all there help and support for helping me retrieve data from my SD card. I first went to my local Geek Sqaud but they were not able to help but they referred Secure Data Recovery and the amazing team there helped save my family memories. Just wanted to thank you guys for everything and if I ever need Data recovery service again I now know wh... Read Moreo to call.
CD & DVD Data Recovery
Though CDs and DVDs hold fewer files than a modern hard drive or SSD, there are still plenty that hold historical data, X-ray images, family pictures, and home movies. Most of the time, they sit in a drawer. Despite seldom usage, they do degrade over time, leading to problems when attempting to read or write to them. Even freshly-created files can be lost if the CD or DVD becomes physically damaged by scratches or dirt. We offer several data recovery solutions, helping users regain access to files stored on these media types, including file recovery software and professional data recovery services.
Floppy Disk Data Recovery
Even though modern data storage technology has rendered floppy disks obsolete, they are still used by many large organizations to service critical infrastructure. In some cases, a few bytes of data can be responsible for making sure an airport can operate or a security gate opens at the correct time. Due to their age, bad sectors and inadequate power supply can impact the movement of the drive itself, causing the data to become inaccessible. Our data recovery engineers have the data recovery tools, legacy equipment, and know-how to recover data from floppy disks. Contact us for a free quote.
Need help recovering data from other removable storage devices, such as a hard drive, external hard drive, or a solid-state drive (SSD)?
Common causes of failure requiring removable media data recovery
Improper removal: Incorrectly ejecting media from its drive or other instances of mishandling can cause physical damage that results in media failure.
Physical & Electrical Drive Issues: If the drive itself is faulty or outdated, it may prove incompatible with the media, leading to data corruption or media failure.
Excessive Temperatures: Extreme heat or cold can cause the components of removable media to break down, leading to failure.
Usage Limitation: Using removable media to its storage limit can quickly lead to data corruption and failure.
Malicious Infection: Viruses, malware, and other threats can cause the media to become corrupted or damaged, leading to failure.
Data Recovery Services for Any Removable Media Brand
OCZ® Technology
Verbatim
Transcend
Sony
ADATA
PNY
Do not see your device's brand listed here? Sometimes the device name and the storage manufacturer differ. We have experience in successfully recovering lost data from any major manufacturer and maintain a 96% success rate. Contact us now at 800-388-1266 to speak to a data recovery advisor about your data loss situation.
Flexible Service Options
Every situation is a disaster for home users, individuals and small businesses. We understand the importance of getting the data back to our customers is as important as the budget and time it takes to get it back. We offer multiple data recovery options to fit your needs.
Economy Services
5 - 10 day turnaround time
Standard Services
2 - 5 day turnaround time
Secure Data Recovery Process
1
Free
Consultation
Power down the device and call us, 24x7 for a free consultation and quote.
2
Free Professional Diagnostics
Submit your device at one of our locations for a non-destructive evaluation by a data recovery expert.
3
Review &
Decide
Review the diagnostic results and approve the work order at a set price, payable upon success with our "No Data, No Recovery Fee Guarantee".
4
Data Recovery & Return
Submit payment and receive your recovered data on a new external drive.
Find Secure Data Recovery near you
Data Recovery Service Solutions
Not sure what data recovery service you need? Let our team guide you to select the right data recovery solutions. We understand better than other recovery service providers that a sudden drive failure is an unsettling feeling. Call us to speak to an expert and discuss your situation. We offer several ways to solve your problem.
In-Lab
Is your device completely dead? This is exactly what we specialize in servicing inside of our ISO certified Cleanroom Lab. Get it to us by dropping it off or take advantage of our free shipping and we will take care of it for you or you pay nothing. Call us to discuss your data loss problem and the service solutions we offer.
Our Certified Labs
Onsite Data Recovery
Equipment too large to move or too sensitive? No problem for our experts. We can scramble a team to be anywhere in the world with our equipment and tools in about 24 hours to handle your data loss situation. We are trusted specialists at solving unique data loss challenges.
We Come To You
Remote Data Recovery
Something deleted, corrupted or just disappeared but storage is still online? Just get us an internet connection and let our service team recover your data. You will then access it immediately. Recovery can't get any faster than this.
We Connect Remotely
How to Recover Failed Removable Media
When you need data stored on a damaged removable storage media, SecureRecovery for Removable Disks recovers deleted files and can help resolve minor, non-invasive issues.
Make sure the removable storage media is not physically damaged. Do not power it on if it is, as that will only lead to further damage. Instead, contact a data recovery company.
If the removable storage media detects and shows the correct size, connect it to a Windows computer and try to recover the data using the SecureRecovery software. Use the free download button below to save the program to your computer, then follow the easy-to-use wizard to install and run it.
Scan and save the results to another pen drive, thumb drive, or any storage other than the affected drive.
Still do not have access to the drive or you do not see your lost files? Do not give up! If you cannot get the data back using the free download, it means that you have a more severe issue that DIY software cannot resolve. Let our data recovery experts get the data back for you.
Compatible with most file types, removable media brands, including memory cards, USB drives, pen drives, thumb drives, Zip, Jaz, SyQuest, PocketZip, Sparq, LS-240 and others. Installation requires a Windows Operating System.
*Important note about DIY data recovery software. When possible, stop all writes to the affected removable storage media and make a copy of it to another storage device. Never download any new files or software to the affected storage media, as that may cause data to be permanently overwritten. Not sure what data recovery service option you need? We offer a free evaluation on all storage devices. Call 800-388-1266 now to speak to a data recovery advisor.
About Us
Secure Data Recovery Services was started in 2007 with a single location and over the past decade grew into one of the world's largest data recovery companies helping customers recover data with extraordinary capabilities. Powering the success behind our world class services are the talented teams of engineers who develop our state-of-the-art tools and procedures which enable us to recover data from the most challenging data loss circumstances.
Our team is truly passionate about data storage and thrives on the customer satisfaction which comes from reuniting users with their lost data. Our goal is to deliver the best results technologically possible while maintaining the strictest security controls through our numerous industry specific security attestations including regular SSAE18 SOC, 1, 2 & 3 audits.
Secure Data Recovery Services has built a solid reputation as the most trusted data recovery provider with a fully transparent and certified process demonstrating that our facilities, processes, and staff exceed industry standards.
From single external hard drives, SSD's, mobile devices to enterprise NAS, SAN, and RAID failures, we are ready to help recover from digital disasters, anywhere.