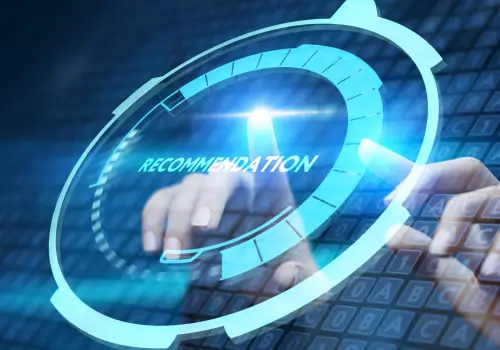 Better Business Bureau Nationwide Accredited Locations
Secure Data Recovery Services is committed to providing the best possible services for our customers in every respect. All of our locations are fully accredited through the Better Business Bureau, and we are proud to adopt the Bureau's high service standards.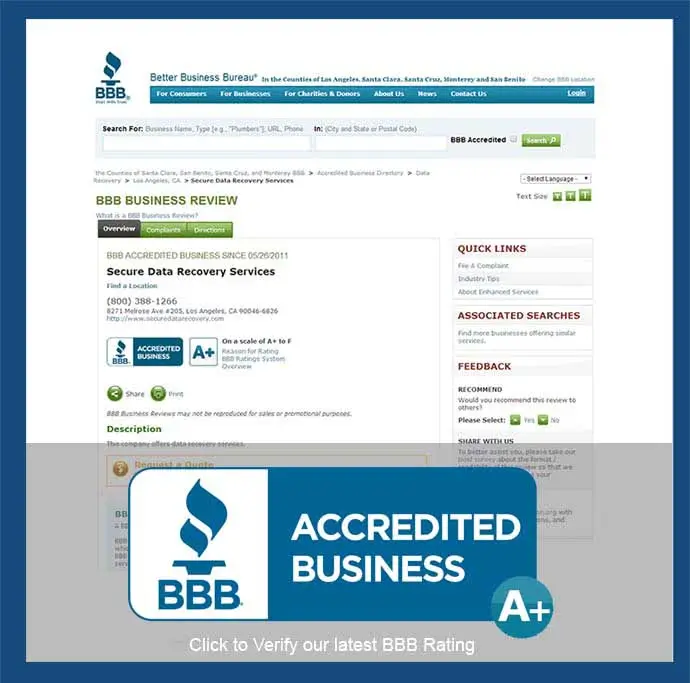 In our industry, Better Business Bureau accreditation carries notable benefits and responsibilities. We have always provided our clients with efficient services with competitive pricing and best-in-class security, and by maintaining the BBB's standards at each of our facilities, we continue to offer an exceptional set of resources.
Some of the requirements of accreditation include:
Regular Review of Advertising and Trade Practices
A Low Number of BBB Complaints
Commitment to Fair Dispute Resolution Programs
Full Cooperation with the Better Business Bureau
Unlike many other data recovery providers, we take a case-specific approach that ensures high customer satisfaction rates and better results overall. Our engineers create an appropriate plan for every device, and we provide our customers with a thorough evaluation report before performing any repairs. We also provide a no recovery, no charge guarantee, and our customer service team is available 24/7 to respond to client requests. To set up a free evaluation, call our toll-free hot line today.
Better Practices for Better Data Recovery Services
Our Better Business Bureau accreditation is part of our dedicated approach to file repair and data recovery. Secure Data Recovery Services holds an overall success rate of 96 percent, and we always take appropriate steps to protect customer media throughout our case process.
We established the industry's first Class 10 ISO 4 certified Cleanroom, a dedicated environment that protects hard drives and other devices during repairs. Our laboratory also has dedicated tools that allow our teams to quickly treat solid-state drives, RAID arrays, and various other types of digital devices. By investing in new technologies, we ensure fast, effective treatment for every case we receive.
We also use a strict system of access controls to comply with various standards and federal laws. As the world's most secure data recovery provider, we emphasize data security at each of our locations. We store recovered data on closed servers and return data via secure FTP. Secure Data Recovery Services can also treat encrypted files, regardless of encryption type or depth.
Our customer service team is fast, responsive, and courteous, and every member of our team undergoes regular training in order to provide excellent service. By holding high standards, we have earned our reputation as the industry's most reliable provider, and our Better Business Bureau accreditation shows our strong commitment to our clients.
Efficient Response Times and Exceptional Customer Service
In order to keep our BBB accreditation, we maintain exceptional customer service and give our clients around-the-clock access to an extensive set of resources. We are one of the only data recovery providers with an online case status system, and we offer a range of turnaround and pricing options to ensure high satisfaction rates.
Some of the other features of our services include:
Multiple Turnaround Options Including 24/7/365 Emergency Services
Advanced Security Credentials Including SSAE 18 Type II Certification
Award-Winning RAID Data Recovery Services
Support for All Device and File Types
When you bring your drive to a Secure Data Recovery Services location, you get the best possible service from a knowledgeable team of experts. We provide a full no recovery, no charge guarantee with every case, and we are committed to quickly resolving any issues through the BBB's dispute resolution program. With a network of more than 50 BBB-accredited locations, Secure Data Recovery Services is ready to provide you with fast access to comprehensive data loss solutions. To get started, call us today at 1-800-388-1266.