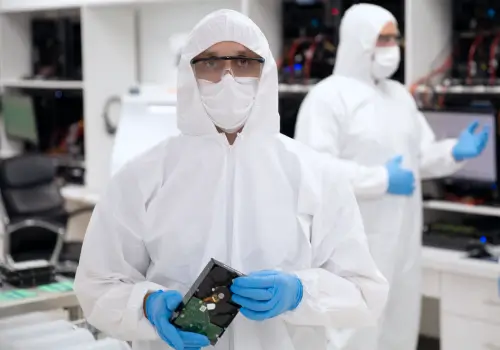 Secure Data Recovery Services For Any Drive
We have partnered with the industry-leading hard drive, SSD, RAID, NAS, and other data storage manufacturers to offer warranty-safe data recovery services. Since 2007, manufacturers of data storage devices have relied on the experts at Secure Data Recovery to solve current and emerging data loss challenges for their global customers. Our certified technicians combine decades of hands-on experience, proprietary knowledge, and the most advanced data recovery software to ensure data is recovered safely and securely.

Experience total peace of mind with our SSAE18, SOC 1, 2, and 3 audited lab facilities, and trust our "No Data, No Recovery Fee" guarantee. We recover inaccessible data from any storage type, or you pay nothing.

Data Recovery Services for All Manufacturers
For over a decade, Secure Data Recovery Services has been a preferred partner with all major storage device, laptop, and computer manufacturers. Being a preferred vendor means our security and business practices have been independently vetted to ensure compliance with industry standards. In addition to our transparent data recovery process, what sets us apart is our ability to successfully recover data in very difficult data loss scenarios. Oftentimes, these scenarios require research and development for uncommon brands or file systems. Whether you lost personal pictures or vital business records, we provide cost-effective data recovery solutions to get your data back the first time.
Do not see your device manufacturer listed here? No problem. Sometimes the underlying storage manufacturer name differs from the brand listed on the device. No matter the brand, our data recovery services have recovered tens of thousands of drives with over a 96% success rate. Don't wait. Contact us today for a free quote.
Find Secure Data Recovery near you
Data Recovery Service Solutions
Not sure what data recovery service you need? Let our team guide you to select the right data recovery solutions. We understand better than other recovery service providers that a sudden drive failure is an unsettling feeling. Call us to speak to an expert and discuss your situation. We offer several ways to solve your problem.
In-Lab
Is your device completely dead? This is exactly what we specialize in servicing inside of our ISO certified Cleanroom Lab. Get it to us by dropping it off or take advantage of our free shipping and we will take care of it for you or you pay nothing. Call us to discuss your data loss problem and the service solutions we offer.
Our Certified Labs
Onsite Data Recovery
Equipment too large to move or too sensitive? No problem for our experts. We can scramble a team to be anywhere in the world with our equipment and tools in about 24 hours to handle your data loss situation. We are trusted specialists at solving unique data loss challenges.
We Come To You
Remote Data Recovery
Something deleted, corrupted or just disappeared but storage is still online? Just get us an internet connection and let our service team recover your data. You will then access it immediately. Recovery can't get any faster than this.
We Connect Remotely
Flexible Service Options
Every situation is a disaster for home users, individuals and small businesses. We understand the importance of getting the data back to our customers is as important as the budget and time it takes to get it back. We offer multiple data recovery options to fit your needs.
Economy Services
5 - 10 day turnaround time
Standard Services
2 - 5 day turnaround time
Secure Data Recovery Process
1
Free
Consultation
Power down the device and call us, 24x7 for a free consultation and quote.
2
Free Professional Diagnostics
Submit your device at one of our locations for a non-destructive evaluation by a data recovery expert.
3
Review &
Decide
Review the diagnostic results and approve the work order at a set price, payable upon success with our "No Data, No Recovery Fee Guarantee".
4
Data Recovery & Return
Submit payment and receive your recovered data on a new external drive.
Find Secure Data Recovery near you
About Us
Secure Data Recovery Services was established in 2007 with a single location. Over the past decade, we have grown into one of the world's largest data recovery companies. Enabling us to help thousands of customers recover their data with our extraordinary capabilities. Powering the success behind our world-class services are our talented teams of engineers. They have successfully developed our state-of-the-art tools and procedures, which enable us to recover data from the most challenging data loss circumstances.
Our team is truly passionate about what they do. They thrive on customer satisfaction, which comes from reuniting users with their lost data. Our goal is to deliver the best results technologically possible while maintaining the strictest security controls throughout the process. Our numerous industry-specific security attestations, including regular SSAE18 SOC 1, 2, & 3 audits, help ensure we are keeping your private information safe while allowing us to recover your files and get you back on track.
Secure Data Recovery Services has built a solid reputation as the most trusted data recovery provider. With a fully transparent and certified process, we demonstrate that our facilities, procedures, and staff exceed industry standards.
From single external hard drives, SSD's, and mobile devices, to enterprise NAS, SAN, and RAID failures, we are ready to help recover your data from digital disasters.