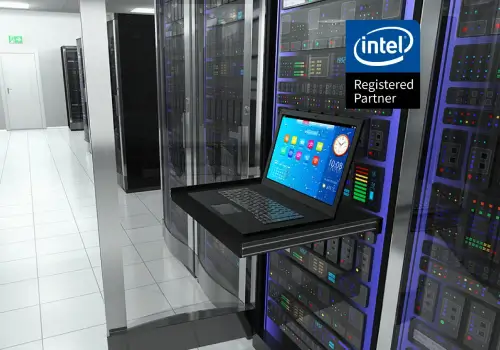 Secure Service from an Intel Data Recovery Partner
Secure Data Recovery Services provides media repair, data recovery and other services for all Intel devices, including personal computers, RAID arrays and more.

Our data recovery engineers can repair any Intel-based device and quickly restore access to missing files.

Intel produces more microprocessor chips than any other manufacturer, and the company has maintained its strong market presence by using an innovative approach to semiconductor design. It is one of the most recognizable brands in computer technology, and in addition to semiconductor chips, Intel offers solid-state drives (SSD) and other advanced storage devices.
As an Intel data recovery partner, Secure Data Recovery Services can repair or recover any Intel device while keeping active warranties intact. Our team always use a safe approach for optimal results, and as the only data recovery provider with a SSAE 18 Type II certification, we offer unmatched security.
We offer free diagnostics and a flexible set of turnaround options to give our clients a reliable resource for solid-state drive recovery, hard drive data recovery and other solutions. To get started, contact us today to set up a free evaluation for your Intel-based device.
Advantages of Working with Secure Data Recovery Services
Intel systems need dedicated attention, and at Secure Data Recovery Services, we have the tools and experience to treat any digital device safely.
As hard drive data recovery specialists, we maintain an advanced laboratory with a certified Class 10 ISO 4 Cleanroom and a large parts library. This allows for fast, effective treatment; we maintain an overall success rate of over 96 percent. We offer a flexible set of service options, and as an Intel partner, we have experience with all operating systems and file types.
Other advantages of our Intel data recovery services:
No Recovery, No Charge Guarantee
Warranty-Safe Data Recovery and Media Repair
Online Case Status Monitoring Tools
Support for All Non-Intel Storage Media
RAID Repair and Other Advanced Services
We can quickly diagnose your media failure to provide an accurate price quote. Our options include an exclusive 24/7/365 emergency service, which carries an average turnaround of less than a day--the fastest recovery time available for Intel devices.
What to Do When an Intel Computer System Fails
Intel devices can generate a variety of failure symptoms, so you should exercise care following any media failure to prevent accidental damage.
Some common symptoms of media failures include:
Unusual Operating Noises
Media is Not Displayed in Boot Prompts
Computer Cannot Boot
Messages Indicating Data Corruption
Files and Folders Suddenly Disappear
Signs of Electronic or Mechanical Damage
Shut down your system as soon as you notice any failure symptoms and contact a professional data recovery company that has experience with Intel devices. By keeping your system turned off, you will limit your chances of overwrites, corruption and other issues.
As an Intel data recovery partner, we can safely treat any Intel system regardless of size, model number, failure scenario or other factors. We offer risk-free standard diagnostics, and our no data, no charge policy provides comprehensive protection for every case. Secure Data Recovery Services delivers the most secure set of solutions for Intel-based devices, and our team is ready to help you restore files after any disaster. Call our 24/7 customer service line today at 1-800-388-1266 to set up a new case or for more information.