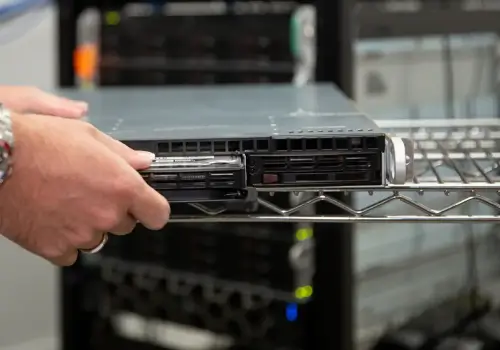 Server Data Recovery
Servers play an important role in the day-to-day activities. Whether you depend on a web server, accounting server, email server, database server, virtual server or a combination of these devices, your company needs regular access to digital storage media to stay productive. If your server fails without a functional backup, you face unscheduled downtime and heavy reconstruction costs. Unfortunately, servers are as susceptible to failure as any data storage system, and the large scale of many servers means a high potential for serious hardware and software issues.
Our customers rate our services:
We Helped Thousands Get Their Lost Data Back.
With over 5,463 satisfied customers and growing, we are proud to provide outstanding customer experience and quality service that consistently exceed customer expectations.
View All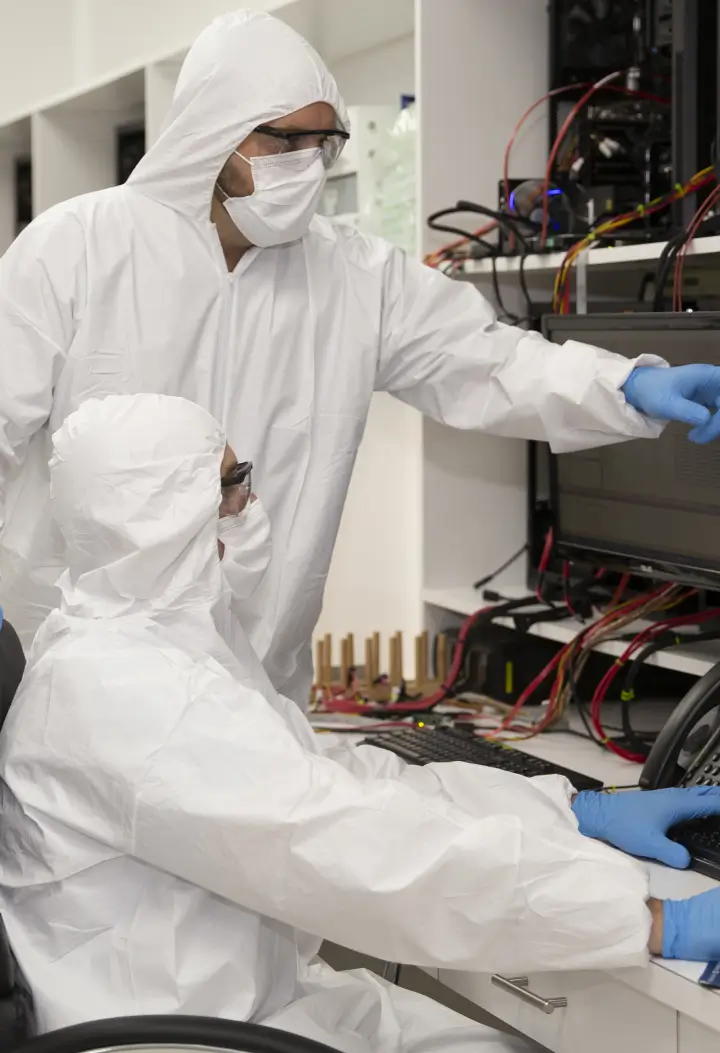 Expert Server Data Recovery Solutions
Secure Data Recovery Services offers dedicated server repair and recovery through a large network of facilities. We invest heavily in state-of-the-art technology that allows for high recovery rates in a variety of data loss scenarios. Our teams specialize in server recovery.
We offer professional services for both physical and virtual servers, and our engineering teams have worked extensively with every major operating system and file type. With our expansive knowledge base of past cases and state-of-the-art technology, we can effectively treat any failure scenario in a matter of days.
Call our customer service team today to schedule a free server evaluation. Secure Data Recovery Services operates dozens of offices, and we can provide fast, safe services for your business regardless of your physical location.
Server Data Recovery Reviews
Ted Smith
Reviewed on Nov 17, 2023 | Plano, TX
After experiencing two mysterious server failures, I had a lot of questions. Why did these servers fail? Was it hardware, software, human error, malicious activities, or was it something else? Why weren't we able to recover from the failures? I needed answers. As a last option, we considered data recovery. I found Secure Data Recovery through a Google search. They were responsive and open to worki... Read Moreng on a custom project that would piece together and recover the data we had lost. Their flexible approach enabled us to build a plan and price that met our needs. Despite the complexity, the Secure Data Recovery team was able to get all the data we needed. We were very pleased with their service.
David Hahn
Reviewed on Jun 22, 2023 | Bedford, IN
I have been working as an IT professional for 7 years. I chose data recovery services after finding them in a search. They got good reviews so I figured I would give them a shot. We lost an entire disk array for our main company VM. It was 6 500gb hard drives with several server's worth of data including our company's main file share. Getting it back was not critical, but better than losing it. Ja... Read Moreke Gambatese was very helpful and responsive throughout the process, and I'm happy to report a complete recovery was accomplished.
Thanks Secure Data Recovery

Radha Sadhu
Reviewed on May 15, 2023 | , TX
Secure Data Recovery was very helpful in recovering data from Linux drive that was accidentally wiped out and re-written post an OS upgrade. Jonathan Nguyen the account representative was very helpful throughout the engagement, asking the right questions for recovery and keeping me informed of the recovery status throughout the process. Team were able to timely retrieve the data which would have ... Read Moretaken us much longer to recover from. I would recommend Secure Data Recovery and am very thankful to the team that worked on the Data Recovery methodically and professionally. Excellent work!
Steven Kalmar
Reviewed on Feb 27, 2023 | Troy, MI
If you are reading this, you need SDR.
I recommend Secure Data Recovery for data recovery services.  If you fail to have current, good backups of your valuable data, turn to Secure Data Recovery to get the job done right and done fast.  My representative, Eric D, was extremely helpful throughout the entire process.  It''s an extremely anxious feeling when you are faced with the loss of your important data.  You just want it back as soo... Read Moren as possible.  After contacting Secure Data Recovery, they directed me to the nearest drop-off location in my area (just a few miles from my home).  My drives were boxed up and off to Secure Data Recovery at no charge to me.  They received the drives the very next day, performed the evaluation and were able to give me a recovery estimate that same day.  Pricing was more than I expected, but it''s hard to put a price on your critical data.  Once I approved the recovery it didn''t take them long at all to complete the job.  I had my drives back within a week.  Faster than I had anticipated.  They kept me up to date through the entire process, through email and their portal (their website tracks your case number).  They were always able to answer my questions when I called for clarification on aspects of the process (no matter which representative takes your call).  They were able to get everything recovered except for 23 files (nearly 100%).  They have even been supportive after the process.  I have had a few questions since getting my data back and Eric has always been quick to respond.  Do yourself a favor and make sure you have adequate backups.  If you fail to do so and end up with a corrupted drive or any failure you can trust that Secure Data Recovery will do their best to get your data back to you.
Brian Battles
Reviewed on Jan 12, 2023 | Gonzales, LA
These people are excellent
As an IT consultant I have a number of customers who are very specific about their needs and the types of businesses involved can also necessitate a lot of flexibility in the work being done and even the type of work they can afford or are willing to spend money on. Scott McMacken went the full nine yards with the two jobs we have worked with him on. From dealing with customers not being communi... Read Morecative to handling extraordinary requests for information and job details Scott is a pro. Secure Data Recovery recovered 100 % of the data and did so in a timely manner.
Matt Brys
Reviewed on Jan 04, 2023 | Roseville, CA
About a week ago, we discovered that the RAID file server which houses critical data for our company crashed. Additionally, our back-up was corrupted, leaving us dead in the water. In speaking with Dell (the server manufacturer), it was determined that our only shot at recovering the data was to find a data recovery company. We are in the Sacramento, Ca area and contacted a few data recovery speci... Read Morealists in our region and beyond. We landed on Jonathan and Secure Data. Approximately one week from shipping our hard drive set to Secure Data, the team shipped us a new hard drive with ALL of our files restored. All of them. And... they all appear to work great. Jonathan even sent us a critical database file via file transfer ahead of the shipment so we could get back online. We are grateful for the effort of the entire team.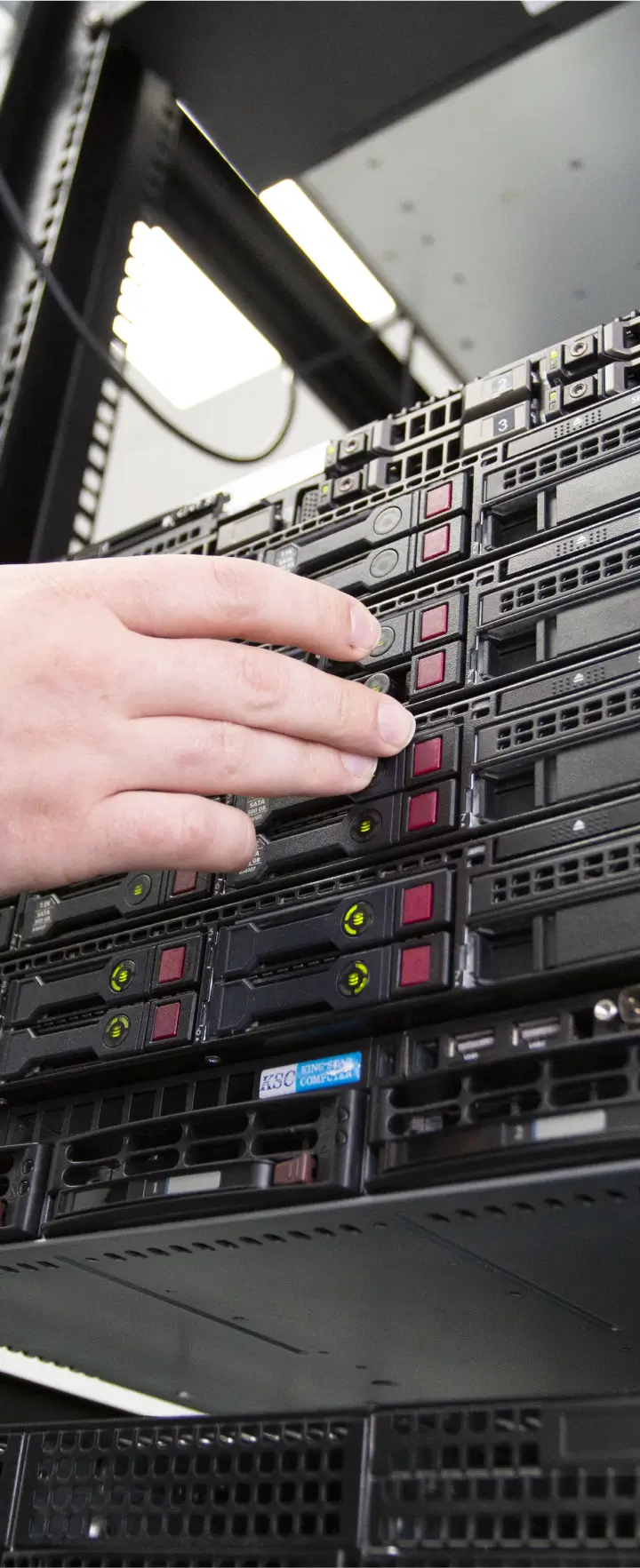 Server Data Recovery Technology
Servers are highly specialized storage devices, and data recovery engineers need specialized equipment in order to provide safe services. Our laboratory features a certified Class 10 ISO 4 cleanroom. This dedicated, controlled environment filters all potentially harmful contaminants from the air to allow our engineers to safely repair hard drives and other damaged server media. Class 10 ISO 4 specifications allow for fewer than 10 contaminants per cubic foot, and we regularly test our cleanroom to comply with these strict standards.
We also feature data recovery services for virtual machines including VMWare, Virtual Server, Hyper-V, XenServer, and many others. Secure Data Recovery Services was one of the first providers to offer a dedicated data recovery option for cloud servers. We use a number of proprietary technologies to offer consistent recovery rates for deleted, formatted, corrupt and otherwise logically damaged virtual media.
Complex NAS SNAP Server failures require professional-grade data recovery engineers and resources. High-availability cluster server systems running critical databases or file sharing are not prone to failures due to the architecture, so when data loss occurs, there are no premade tools to bring the data back.
When a Linux or Windows Veritas server fails, the majority of the tools and utilities must be created for each individual case. Most local or non-specialized data recovery companies will simply not have the capabilities to address such a complex issue. In these cases, Secure Data Recovery steps in to rescue your data.
Advantages of Secure Data Recovery Services include:
Fast turn-around times
Server data loss can seriously endanger your business, and Secure Data Recovery Services works to limit your downtime. Our specialists complete most cases within two to five days, and our 24/7/365 emergency services have an even faster average turnaround of less than 48 hours.
Experienced server recovery teams
We offer services for both virtual and physical servers, and our engineering teams have decades of combined experience with all types of high-capacity storage devices. Whether you have a large, proprietary web server or a basic email server, our specialists always provide the best chances of a successful data recovery.
Advanced security
As the industry's most secure data recovery provider, we hold a number of credentials that show our commitment to protecting your privacy. Secure Data Recovery Services is PCI compliance certified. We also undergo regular SSAE 18 SOC 1, 2, and 3 audits, and as a member of the Information Systems Security Association, we post all of our credentials online.
Free diagnostics and multiple turnaround options
You need reliable information in order to make key disaster recovery decisions. Our free diagnostics provide you with a fast, accurate turnaround estimate, and we offer several service levels to help you control downtime while keeping data recovery within your budget.
Most importantly, we understand how server loss affects your business. We treat every server case as a high priority and take every available step to manage recovery costs and turnaround time. We have a reputation for our attention to detail and professionalism, and over many years, we have built a large list of notable server recovery clients.

Our Server Data Recovery Process
Secure Data Recovery Services is one of the only server recovery companies in the world with truly risk-free diagnostics. Within a day of receiving your server, we will give you a price quote and turnaround estimate. Our services vary depending on your server's failure scenario.
Common causes of server data loss include:
Failed migration of data
Software installations or updates
Operating system errors
Configuration errors
Failed migration of data
Software installations or updates
Operating system errors
After receiving your approval, we perform any necessary physical repairs in our certified Class 10 ISO 4 cleanroom. Secure Data Recovery Services' server engineers have years of experience with hard drives, solid-state drives and hybrid drives, and we can successfully treat read/write head failures and other common mechanical malfunctions within a few hours under our 24/7/365 emergency service option.
We then make an image of your server to maintain the integrity of your original media. Once we can create a perfect copy of your server data, we perform recovery from the image rather than the original hardware in order to prevent any chance of in-lab media damage. Secure Data Recovery Services maintains a large inventory of RAID hardware and simulation equipment that often allows our engineers to rebuild damaged servers without access to the original hardware.
After repairing any logical damage, we check recovered data and return a copy of your files on external media or via secure FTP. Return media options vary depending on the size of your server and your requested files. We always protect your privacy by using SSAE 18 SOC 1, 2, and 3 audited protocols and advanced network technologies.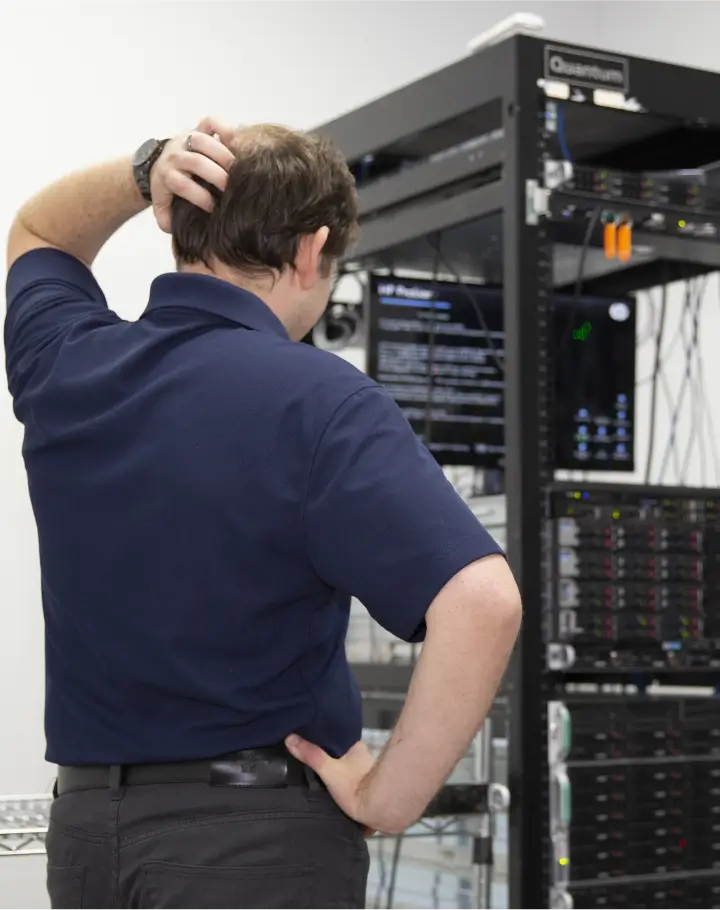 What to Do If Your Server Fails
If you cannot access data on a server, you should immediately disconnect power to the device or unmount the affected volume. Never attempt to recover your own data, and never rebuild a failed RAID array. This is particularly important if a previous rebuild attempt has already failed. Rebuilding your server may overwrite data, greatly reducing your chances of a full recovery.
Keep your server turned off and contact Secure Data Recovery Services to discuss your options. We can help you choose an appropriate option for your business, and because our engineers have experience with all common server operating systems and file types, we always provide the best possible option for data recovery.
Frequently Asked Questions
How can I get a price quote for server data recovery?

We offer risk-free, in-office diagnostics for all types of servers. By analyzing your server, we can diagnose media failures and provide an accurate price quote for your case.

Because server architecture varies greatly, we cannot estimate recovery costs over the phone, but our flexible service options give you an easy way to keep your case within a budget. Some of the most common factors that affect our price quotes include the number of drives in your server, your operating system and the extent of physical media damage.

How long does the server data recovery process take?

Turnaround time varies from case to case. However, we can recover many servers in under a day under our 24/7/365 emergency option. As with our risk-free price quotes, we offer free turnaround estimates through our network of facilities.

We provide several turnaround options for our client, and whether you need to limit downtime or you need to control your costs, our teams can help you make an appropriate plan for your case.

How can I avoid unnecessary downtime after a server failure?

Shut down your server right away. By operating your server in a failed state, you risk media damage, file corruption and unintentional overwrites. Shutting down your server will preserve your media in its original condition, greatly increasing your chances of a fast, full recovery.

Do not attempt to rebuild, repair or reinitialize your server. Contact our team to set up a risk-free media evaluation or to discuss recovery options.

Do you offer remote server data recovery services?

Yes. We can perform remote data recovery when a server has purely logical issues--for instance, when you accidentally delete files or when data corruption prevents normal file access.

Remote recovery services are not available on the servers with physically failed media (NAS, SAN, and RAID systems of all levels including RAID 0, RAID 5 or RAID 6). For more information, contact our customer service team to discuss your failure scenario.

What should I look for when choosing a server data recovery company?

In order to treat damaged servers, data recovery companies need specialized tools and experienced engineering teams. You should always choose a recognized, certified provider in order to limit your chances of unnecessary downtime. Look for a provider with a certified Cleanroom and adequate security credentials.

Secure Data Recovery Services leads the data recovery industry in server repair and recovery. We were recently ranked as the top RAID data recovery company by TopTenReviews.com, and with SSAE 18 Type II certified status and a certified Class 10 ISO 4 Cleanroom, we provide the best set of solutions for damaged servers.

Does Secure Data Recovery Services offer specialized options for SQL servers or Exchange servers?

Our engineers have experience with various SQL database management applications, including MySQL, MS SQL, Oracle, DB2, PostgreSQL and many more. We also specialize in Exchange data recovery, and our teams have dozens of proprietary tools designed to treat server data quickly and effectively.

Thanks to our advanced technology, we offer an overall success rate of 96 percent. Secure Data Recovery Services' teams can quickly treat your server, restoring essential files in a matter of days under most circumstances, and we can repair your server while performing data recovery services.