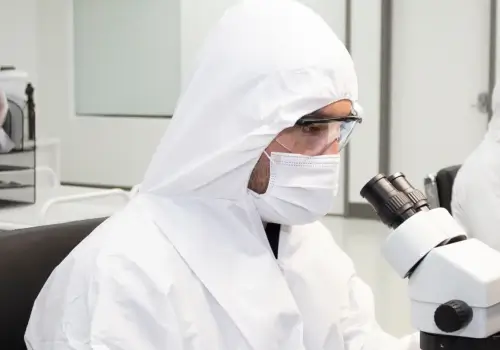 Industry Leading Class 10 Data Recovery Cleanroom
Secure Data Recovery Services operates a fully certified Class 10 ISO 4 Cleanroom in order to ensure safe, reliable results for our clients.
Cleanroom technology plays an extremely important role in the data recovery process. In a professional laboratory, the Cleanroom is a specialized environment that uses state-of-the-art filtration to eliminate harmful particles from the work environment. This prevents media components from taking on serious damage during repairs.
Our customers rate our services:
We Helped Thousands Get Their Lost Data Back.
With over 5,320 satisfied customers and growing, we are proud to provide outstanding customer experience and quality service that consistently exceed customer expectations.
View All
Watch HD Video Tour of Our Cleanroom
Look for a professional data recovery provider with a certified Cleanroom. See our facilities and company overview in the video below.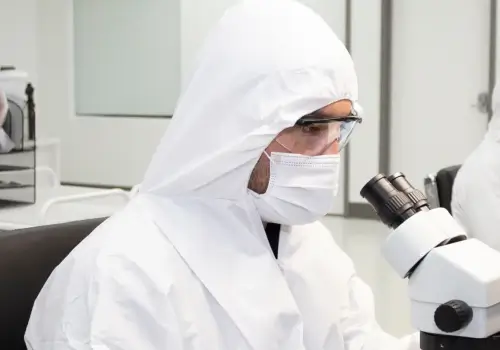 Cleanroom technology protects hard drives and other devices from serious damage during physical data recovery procedures. Secure Data Recovery Services maintains a certified Class 10 ISO 4 Cleanroom through strict audits and attestations.
Verify Our Cleanroom Report & Certifications
Cleanrooms are complex environments, and in addition to highly accurate filters, they employ temperature and humidity controls to eliminate airborne particles.
Please see our latest Class 10 ISO 4 Cleanroom Certifications below:
All engineers need to work in a certified Cleanroom when performing hard drive data recovery, RAID data recovery and other advanced repairs. While most data recovery providers use Class 100 specifications, we hold our facilities to a higher standard in order to keep your media safe.
Please see our latest Class 10 ISO 4 Cleanroom Report below:
Cleanrooms are complex environments, and in addition to highly accurate filters, they employ temperature and humidity controls to eliminate airborne particles. Engineers need to wear specialized clothing while working in Cleanrooms, and data recovery companies need to regularly test their equipment to maintain their certifications.
Why Data Recovery Companies Need Cleanroom Technology?
To understand why physical data recovery procedures require a Clean Room, it is helpful to consider the sensitivity and precision of a hard drive's read/write heads. On a typical hard drive, the read/write head assembly operates several nanometres away from the platters that store your data. This distance is smaller than the size of most bacteria and several hundred times smaller than the width of a thin human hair.
Did You Know?

When a hard drive is opened, engineers need to prevent various airborne contaminants from causing problems with the recovery process. Any foreign object larger than a few microns that comes between the heads and platters will complicate the recovery process, but an appropriately maintained Cleanroom can prevent damage from occurring.
Secure Data Recovery Services is the only data recovery company in the United States with ISO 4 certification, which demonstrates that the environment allows fewer than 2.9 particles sized 5 µm or larger per cubic meter.
Common Cleanroom classifications for data recovery include:
Class 1000 / ISO 6 - This type of Cleanroom allows 1,000 particles per cubic foot. Most data recovery companies will not use Class 1000 standards, which are far too lenient for hard drive repairs.
Class 100 / ISO 5 - The most common Cleanroom standards, Class 100 allows for 100 particles per cubic foot.
Class 10 ISO 4 - Class 10 standards allow for a maximum of 10 particles per cubic foot. Given the density and sensitivity of modern hard drives, we believe that Class 10 standards are absolutely necessary for safe data recovery.
Regular testing is essential to ensure that Class 10 Clean Rooms operate at a sufficient level for safe physical data recovery procedures. Testing is typically handled by a third-party company to ensure accurate, unbiased reporting. View our reports and certifications below for more information.
Why Class Is Important for Cleanrooms?
Cleanroom classes are established by Federal Standard 209E. As mentioned earlier, class is usually measured by the number of particles larger than 0.5 µm in a square foot of space. The Class 100 standard is the one used by most data recovery companies, as it effectively guarantees to prevent harmful contamination for hard drives and other delicate electronic media.
Data recovery companies use two basic standards to compare Cleanrooms: US FED STD 209E and ISO 14644-1. Both standards measure the number of particles larger than 0.5 µm in a cubic foot of space.
ISO 14644-1 standards also detail maximum and minimum limits for Cleanrooms, and we use both standards for the benefit of our clients.
For contrast, ISO 5 (the most common ISO credential in the data recovery industry) allows for 29 particles per cubic meter. By committing to strict ISO and FED-STD-209E standards, we prevent potential media damage and provide efficient, safe data services.
By investing in a certified Class 10 ISO 4 Cleanroom and other advanced tools, we have established our reputation as an industry leader. We offer fast turnaround times, affordable pricing and reliable success rates through more than 50 facilities across the United States and Canada, and our engineers can safely recovery any type of media failure without unnecessary risks.
Browse Photo Gallery Facilities Tour
Never trust your media to an inexperienced company, especially if the provider cannot provide proof of their Cleanroom certification. Take an inside look at our cleanroom and facilities by browsing photo gallery below.
Our Cleanroom technology demonstrates our commitment to a higher standard, and we treat all physically damaged cases in this certified environment, as well as protects hard drives and other devices from serious damage during physical data recovery procedures.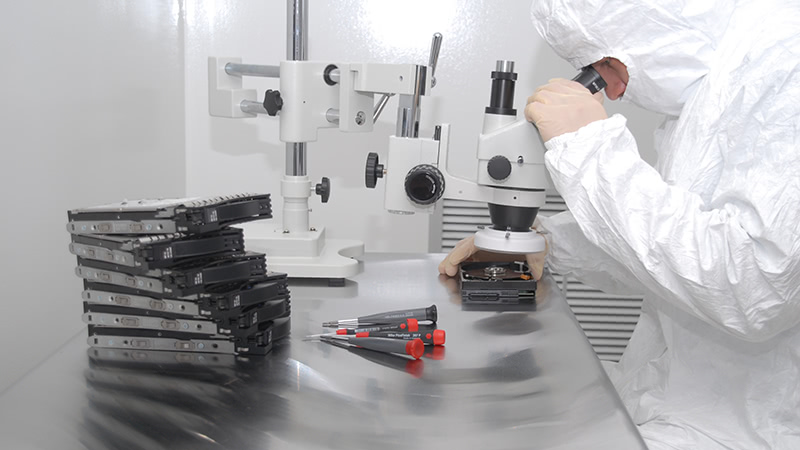 Carlos R
Reviewed on Sep 21, 2023 | Sierra Vista, AZ
Absolute Top Notch Service!
Eric Dvorin and all the folks at Secure Data Recovery Services did an awesome job in recovering the lost data! They were fantastic to work with, service was prompt, communication was excellent, and very accommodating to work with, I would highly recommend them in the recovery of any lost data. If I could rate them more than 5 stars, I definitely would without a doubt!! Thanks everyone at SDRS!!
Schalon Newton
Reviewed on Sep 21, 2023 | Irvine, CA
Customer responsive service
I have previously used Secure Data and in each case I have been impressed with their professionalism and ability to recovery data in a timely manner. This time I had a corrupted personal hard drive that another computer service company was not optimistic about recovering. Scott McMaken was the customer rep that handled my case and within a couple of hours I dropped off my drive at a convenient l... Read Moreocal location. The next day I had a report on the drive with an assessment that they would probably be able to recover most of my data. To my amazement and relief they were able to recover all but 13 files on a 4tb hard drive. Scott was responsive to my questions during the process and I am more than happy to recommend this firm to anyone with storage issues. Above and beyond professionalism and customer responsive, which is very reassuring when your important data may be forever gone. Highly recommended.
Jeff Braithwaite
Reviewed on Sep 12, 2023 | SOUTH JORDAN, UT
Secure Data Recovery did a great job for me. They were professional and communicated each step of the way. My disk had been damaged for years and they were able to recover everything.
Thanks, SDR!
Maxwell Maurice
Reviewed on Sep 11, 2023 | Boulder, CO
They did what others could not!
Secure Data Recovery was able to do it! I had a damaged HDD that I sent in to another data recovery service to get some precious photos back. They took forever and were unable to recover a single photo! I then sent the HDD to Secure Data Recovery and they were able to recover much more! Elliot Fisher was my rep and he did an excellent job and handling my questions and getting me answers. He was po... Read Morelite and prompt in his responses! Great job everyone!

-Maxwell Maurice


Show Harris
Reviewed on Sep 07, 2023 | Killeen, TX
I lost my wife to COVID in May 2021; I was in the process of making some picture collages for my family members when my external hard drive fell off the table. I tried to reload my hard drive but it was unreadable. I reach out to several hard drive recovery companies for help in recovering my data, none of them could give me clear information on the cost of the recovery or their recovery proc... Read Moreess lacked clarity as to how much data they would be able to save. I contacted Secure Data Recovery and conversed with Mr. Novak, Daniel. Daniel not only answered all my questions, he provided me with in depth step by step procedures in which my data would be recovered. I felt confident in selecting Secure Data Recovery based on Mr. Novak professionalism. Daniel kept me informed by email and telephone from the time I shipped my hard drive to the completion of my data recovery. Once my data was complete, Daniel took the time to go over what data was recovered and what data was unrecoverable. The team even tried a second attempt to recover the unrecoverable data. Although I lost some files, the result of the data that was recovered is priceless and I am so glad I allowed Secure Data Recovery perform my data recovery. As for the cost of my recovery, Daniel was able to keep the cost within my budget and I am so thankful for that, otherwise I would have not had my memories recovered. I highly recommend Secured Data Recovery and I will use their services in the future.

Patrick Goldbach
Reviewed on Sep 06, 2023 | Freeburg, MO
SDR came through without a hitch
Our experience with Secure Data Recovery has been nothing short of amazing thanks to Jake and his team''s help. His responsiveness and transparency during the process of restoring data from our CEO''s non-functioning hard drive made the experience smooth and reassuring. I would highly recommend SDR for future data recovery needs!