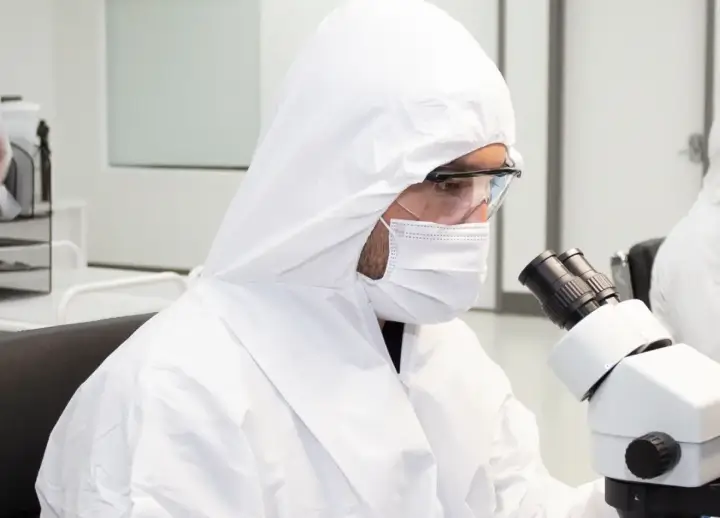 Industry Leading Class 10 Data Recovery Cleanroom
Secure Data Recovery Services operates a fully certified Class 10 ISO 4 Cleanroom in order to ensure safe, reliable results for our clients.
Cleanroom technology plays an extremely important role in the data recovery process. In a professional laboratory, the Cleanroom is a specialized environment that uses state-of-the-art filtration to eliminate harmful particles from the work environment. This prevents media components from taking on serious damage during repairs.
Watch HD Video Tour of Our Cleanroom
Look for a professional data recovery provider with a certified Cleanroom. See our facilities and company overview in the video below.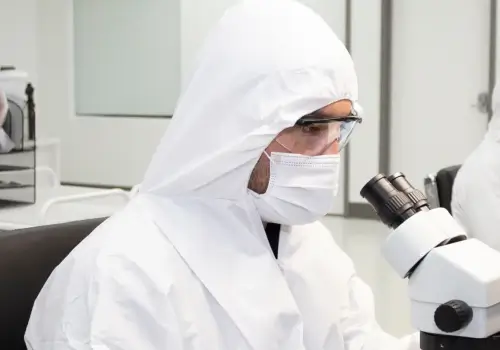 Cleanroom technology protects hard drives and other devices from serious damage during physical data recovery procedures. Secure Data Recovery Services maintains a certified Class 10 ISO 4 Cleanroom through strict audits and attestations.
Verify Our Cleanroom Report & Certifications
Cleanrooms are complex environments, and in addition to highly accurate filters, they employ temperature and humidity controls to eliminate airborne particles.
Please see our latest Class 10 ISO 4 Cleanroom Certifications below:
All engineers need to work in a certified Cleanroom when performing hard drive data recovery, RAID data recovery and other advanced repairs. While most data recovery providers use Class 100 specifications, we hold our facilities to a higher standard in order to keep your media safe.
Please see our latest Class 10 ISO 4 Cleanroom Report below:
Cleanrooms are complex environments, and in addition to highly accurate filters, they employ temperature and humidity controls to eliminate airborne particles. Engineers need to wear specialized clothing while working in Cleanrooms, and data recovery companies need to regularly test their equipment to maintain their certifications.
Why Data Recovery Companies Need Cleanroom Technology?
To understand why physical data recovery procedures require a Clean Room, it is helpful to consider the sensitivity and precision of a hard drive's read/write heads. On a typical hard drive, the read/write head assembly operates several nanometres away from the platters that store your data. This distance is smaller than the size of most bacteria and several hundred times smaller than the width of a thin human hair.
Did You Know?

When a hard drive is opened, engineers need to prevent various airborne contaminants from causing problems with the recovery process. Any foreign object larger than a few microns that comes between the heads and platters will complicate the recovery process, but an appropriately maintained Cleanroom can prevent damage from occurring.
Secure Data Recovery Services is the only data recovery company in the United States with ISO 4 certification, which demonstrates that the environment allows fewer than 2.9 particles sized 5 µm or larger per cubic meter.
Common Cleanroom classifications for data recovery include:
Class 1000 / ISO 6 - This type of Cleanroom allows 1,000 particles per cubic foot. Most data recovery companies will not use Class 1000 standards, which are far too lenient for hard drive repairs.
Class 100 / ISO 5 - The most common Cleanroom standards, Class 100 allows for 100 particles per cubic foot.
Class 10 ISO 4 - Class 10 standards allow for a maximum of 10 particles per cubic foot. Given the density and sensitivity of modern hard drives, we believe that Class 10 standards are absolutely necessary for safe data recovery.
Regular testing is essential to ensure that Class 10 Clean Rooms operate at a sufficient level for safe physical data recovery procedures. Testing is typically handled by a third-party company to ensure accurate, unbiased reporting. View our reports and certifications below for more information.
Why Class Is Important for Cleanrooms?
Cleanroom classes are established by Federal Standard 209E. As mentioned earlier, class is usually measured by the number of particles larger than 0.5 µm in a square foot of space. The Class 100 standard is the one used by most data recovery companies, as it effectively guarantees to prevent harmful contamination for hard drives and other delicate electronic media.
Data recovery companies use two basic standards to compare Cleanrooms: US FED STD 209E and ISO 14644-1. Both standards measure the number of particles larger than 0.5 µm in a cubic foot of space.
ISO 14644-1 standards also detail maximum and minimum limits for Cleanrooms, and we use both standards for the benefit of our clients.
For contrast, ISO 5 (the most common ISO credential in the data recovery industry) allows for 29 particles per cubic meter. By committing to strict ISO and FED-STD-209E standards, we prevent potential media damage and provide efficient, safe data services.
By investing in a certified Class 10 ISO 4 Cleanroom and other advanced tools, we have established our reputation as an industry leader. We offer fast turnaround times, affordable pricing and reliable success rates through more than 50 facilities across the United States and Canada, and our engineers can safely recovery any type of media failure without unnecessary risks.
Browse Photo Gallery Facilities Tour
Never trust your media to an inexperienced company, especially if the provider cannot provide proof of their Cleanroom certification. Take an inside look at our cleanroom and facilities by browsing photo gallery below.
Our Cleanroom technology demonstrates our commitment to a higher standard, and we treat all physically damaged cases in this certified environment, as well as protects hard drives and other devices from serious damage during physical data recovery procedures.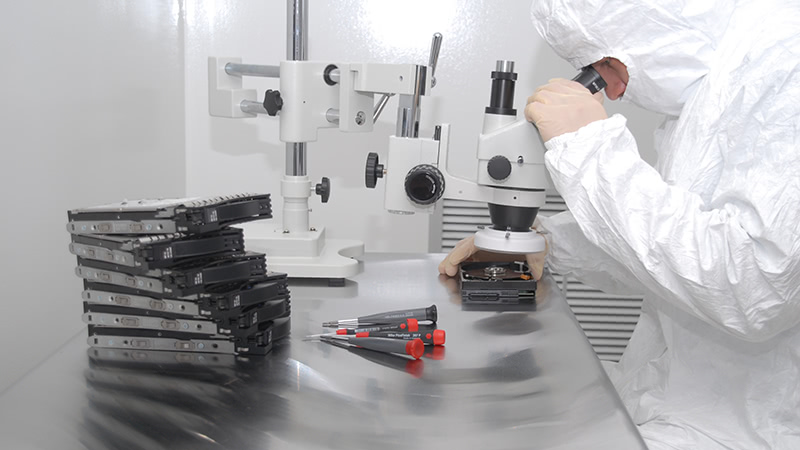 Jared Forts
Reviewed on Apr 08, 2023 | Grove City, OH
When my work drive suddenly died I was panicked. I had lost access to all of my clients'' current design files (while I was in the middle of several deadlines). Needless to say I was in a pinch. I''ve used big box stores for stuff like this before and they''re always super expensive, and it takes forever. So after some research I contacted Secure Data Recovery instead. My account rep Timothy guide... Read Mored me through the process and kept me up to date throughout the recovery. All things considered it was a relatively quick and painless process. I very much hope I never have to do it again, but if I do I''ll definitely use Secure Data Recovery.
Neil Shanholtzer
Reviewed on Aug 21, 2017 | Williamsport,
A drive crashed on an extremely important computer, and the data had to be recovered. After doing some research I decided to use Secure Data Recovery Services. The process was quick, extremely professional, and the drive was completely recovered except for one file. I'm incredibly pleased with the quality of work, and dealing with Alec was a pleasure. Highly recommended!
Susan Duffy
Reviewed on Jul 26, 2017 | West Fargo, ND
Saved a teacher 100s of hours!
100% Satisfied!! Alec was amazing to work with! He was very helpful, answered all questions that I had and work with me to get the best service at the best price. Since I read many of the reviews before I decided to use Secure Data Recovery Services, I will tell my story, too. I am a teacher. I dropped my external hard drive with all of my teacher files -- 5 years of files! I was devastated!... Read More When I inquired about getting it fixed in October, I wasn't sure it was work the $$. As, I finished the school year having to remake soooo many documents just to get through the day to day requirements of teaching, I was overwhelmed. Then in June, I decided to bite the bullet and sent the external drive in. The price quote was much more than I had hoped. But once again, I have to say -- ALEC was AMAZING! He worked with me and the company to reduce the cost with an Educator and off-hours discount. I still paid a pretty penny for the service, but it was worth it!! When I add up the hours I would have had to work this summer and throughout the school year to redo all of the cool school projects that were on my drive the recover effort was worth it. So educators, if you are ever in a similar situation -- without a doubt, I HIGHLY recommend Secure Data Recovery!
Karen Duggins
Reviewed on Oct 09, 2015 | Steilacoom, WA
Excellent Service by Rob 10-9-15
I recently had a diagnostic evaluation of my semi retired PC's internal Hard Drive at Secure Data Recovery at their 'Clean Room' facility in Ohio, after my PC had a electrical burn. When I got the quote to recover the data, I realized that for the little amount of non backed up new data that had been put onto the Hard Drive it did not warrant the cost involved, so my Account Representative Rob And... Read Moreerson and I agreed that I would not be charged for diagnostics services rendered, but only the shipping fee to return my Hard Drive so that I could personally destroy it myself. I would highly recommend Rob Anderson as your personal Account Executive at Secure Data Recovery, he is very polite, professional and concerned about his clients' wishes and desires. If this is your first time in having a Hard Drive recovery done and you feel uncomfortable about receiving the work contract as a confirmation that SDR was notified of your shipped Hard Drive for diagnostics, Rob will go over that with you and put you at ease with how their services actually work. Rob Anderson can be reached at 800-388-1266 ext 210 and is located in Los Angeles for easy access of East or Midwest time zone clients after hours.
Thank you Rob for your professional and polite interactions with me on this transaction and I will surely contact you with future business if I have a Hard Drive failure on my other office PC's, I will definitely keep your contact information available.
Karen Duggins, P.L.S., Inc. in WA
R Briggs
Reviewed on Sep 03, 2015 | King Salmon, AK
A save for our critical information
Our back-up hard drive failed and they have been excellent in their service with getting access to that information back.

The service is well priced, even for needing to use a 'clean room' to accomplish. The timeline was well within my expectations for getting the job done and I would use the again.

Anyone who relies on their data, both for business and personal, will find th... Read Moreis is a great company and people to work with!
Bradley Whelan
Reviewed on May 18, 2015 | Houston, TX
After exhausting every last option I could come up with on my own, I couldn't get my drive to respond. Mitchell Moore came to the rescue and I was able to recover all of my files including programming codes through their clean room services. The expertise Mitchell offered was top notch and I would certainly go back to him again if ever needed.