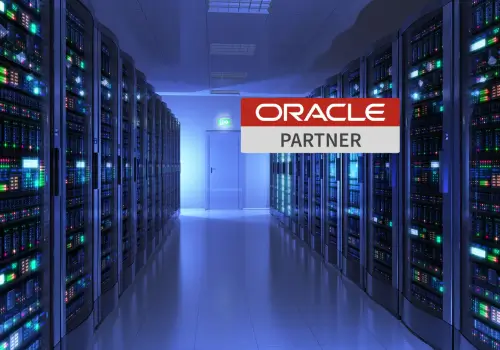 A Secure and Reliable Source for Oracle Data Recovery
Secure Data Recovery Services provides database repair, RAID data recovery and related services for all Oracle and Sun systems. We staff experienced Oracle specialists, and by using cutting-edge technology, we can efficiently restore missing information after any unexpected server failure or other data loss event.

Our engineers have significant experience with all Oracle systems and can provide efficient, secure results.

Oracle Corporation is the world's second-largest software vendor, and the company's reach has continued to expand in recent years following the acquisition of Sun Microsystems. Hundreds of major businesses depend on Oracle servers, which are typically flexible, scalable and reliable.
While Oracle servers are known for their dependability and ease of use, data loss can affect any type of system under certain circumstances. Mechanical RAID failures and user error can cause serious losses, and if your business does not have an up-to-date backup, these types of unexpected losses can quickly affect productivity.
At Secure Data Recovery Services, we specialize in Oracle database repair. Our engineers can treat physical server issues and logical failures, quickly restoring access to any type of system while carefully controlling security to protect sensitive data.
We also offer free standard diagnostics to help businesses control their expenses, and as one of the only data recovery providers with a no recovery, no charge guarantee for Oracle servers, we deliver the dependable results you need to prevent downtime. Contact our customer service team today to get started.
Steps to Take When an Oracle Server Fails
Oracle servers may present dozens of different failure symptoms, including (but not limited to) unusual error messages, repeated RAID rebuild requests and database access issues. Because of their complex nature, you should exercise caution when working with any failed Oracle or Sun system.
Some common failure scenarios for RAID servers include:
Simultaneous Hard Drive Failures Resulting in Loss of Redundancy
User Error Resulting in Deleted, Overwritten or Inaccessible Files
Oracle Database Corruption
Damage from Viruses and Other Malicious Programs
Electronic Damage or RAID Controller Failure
Damage from Fire or Water
Whether you cannot access a particular database or your entire server is inaccessible due to a physical media issue, you should call our Oracle data recovery experts as soon as possible to improve your chances of a successful case result.
Keep your system powered off to prevent additional damage; if this is not possible, isolate any logically damaged partitions in order to prevent overwrites. Never attempt to rebuild a damaged RAID array if it displays unusual failure symptoms or if a prior rebuild attempt has failed.
Secure Data Recovery Services' engineers can provide you with fast pricing information along with several turnaround options. We never void your warranty while performing repairs; and our teams will create a case-specific approach that reduces your downtime. We offer a 24/7/365 emergency option, and in many circumstances, our engineers can even repair your server while recovering data.
A Leader in Oracle Data Recovery Technology
Data recovery is an extremely specialized process, and engineers need years of experience with Oracle databases in order to safely repair damaged servers to a usable state. Additionally, data recovery providers need to follow strict security protocols at all times, as many Oracle databases store sensitive financial information.
At Secure Data Recovery Services, we maintain a large hardware library in order to quickly recover data from Sun servers, SPARC servers, Oracle SuperClusters and other types of large-scale systems. As the first data recovery provider with a Class 10 ISO 4 Cleanroom certification, we can repair damaged RAID members without exposing hard drives to harmful contaminants, and we have a number of specialized tools designed specifically for Oracle systems.
Some of the other features of our services include:
SSAE 18 Type II SOC-1 Security Certification
Risk-Free Standard Server Diagnostics
Options for Server Repair and Remote Recovery
Accurate Turnaround Estimates and 24/7 Customer Support
Success Rates of 96 Percent
Secure Data Recovery Services delivers efficient, secure results, and our Oracle experts can recover many cases in less than 24 hours under our 24/7/365 emergency option. All of our services feature the same excellent security and our no recovery, no fee guarantee. And as leading Oracle data recovery specialists, we can treat virtually any system regardless of failure scenario, database application type or other factors. To get started, call us today at 1-800-388-1266.