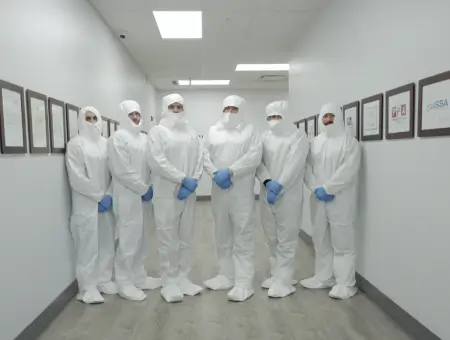 Certified Data Recovery from an Industry Leader
When you choose a data recovery company, you need to know that your device is in capable hands and your data will remain confidential. Secure Data Recovery is the most certified recovery company in the industry with documented proof of our certifications online.

SSAE 18 SOC 1, 2, 3 Audited
We were one of the first recovery providers to earn these credentials, which ensures our security systems and controls are secure and able to protect your files from unauthorized access.
Trusting your damaged storage device to our data recovery experts means selecting the provider with the strictest security measures. Our mission is to keep your personal information secure from beginning to end. This process includes:
Secure Electronic Communication

Electronic communication is secured via PCI-DSS compliant standards with scheduled penetration testing, SSL certificates, enterprise-level network security hardware and other protocols.
Customer service representatives are trained in HIPAA compliant data handling and all customer information is stored in a protected cloud-based database that blocks external access.

Physical Security and Media Handling

Damaged media is shipped to our lab overnight to limit the time spent outside of a secure environment.
Our labs have 24/7 surveillance, strong password policies on all machines, PIN controls on entry points and other protocols that keep data secure.
Recovered data is shipped to the customer on a FIPS-validated hardware encrypted device for total security.
EU-U.S. Privacy Shield Certified
This certification ensures that we adhere to the requirements of the EU Data Protection Directive and the Swiss Act on Data Protection to securely handle any data from the EU and the United States.
Class 10 ISO 4 Cleanroom
We are the only data recovery company in North America to have a Certified Class 10 ISO 4 Cleanroom. This allows us to safely recover data from physically damaged media.
FIPS 140-2 Level 3 Validated
We are the only data recovery company that returns your recovered files to you on FIPS 140-2 Level 3 Validated storage devices for total security.
GSA Approved Contractor
As a member of the General Services Administration's schedules, we offer data recovery services to military and government institutions throughout the United States.
TRUSTe Verifiable
Being TRUSTe verified means our privacy programs, policies, and practices meet the requirements of the EU-U.S. Privacy Shield. This verification ensures we are secure in handling personally identifiable information.
BBB Accredited Business
The Better Business Bureau has awarded us an A+ rating. To maintain the BBB Accreditation, we maintain exceptional service and are committed to ethical practices.
Secure Data Recovery has the most certifications in the industry, proving our commitment to providing each customer with the most secure and professional recovery experience. See more of our certifications by clicking on any of the links on the left side of the page. To start a case or ask questions about our secure process, call 800-388-1266.