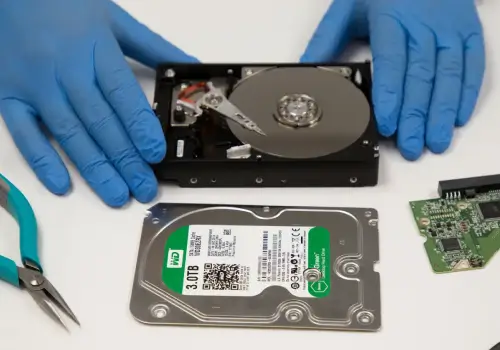 Western Digital Data Recovery Services
Secure Data Recovery is a WD Platinum Partner. We are recommended as a global data recovery service provider for WD customers experiencing drive failure, file corruption, or other data loss scenarios. Our experienced engineers have extensive knowledge of the entire Western Digital hard drive, SSD, NAS, and RAID product lines. Do not risk permanent data loss by selecting an unauthorized vendor. Trust the certified experts with a nationwide network to recover data from a failed WD drive. As a WD Platinum Partner, our customers enjoy a 15% discount on data recovery services, which include free diagnostics and shipping to any of our nationwide locations.
Our customers rate our services:
We Helped Thousands Get Their Lost Data Back.
With over 5,329 satisfied customers and growing, we are proud to provide outstanding customer experience and quality service that consistently exceed customer expectations.
View All
WD Data Recovery
As a Platinum Partner with the manufacturer, Secure Data Recovery Services offers the industry's most comprehensive WD data recovery process. Our advanced knowledge of WD storage devices gives us an edge in providing the best Western Digital file recovery on the market.
Our award-winning customer support team is ready 24/7 to schedule a free diagnostic for your failed WD drive or WD external hard drive. We'll conduct a free comprehensive assessment in SSAE 18 SOC 1, 2 & 3 audited labs and certified Class 10 ISO 4 cleanrooms.
Once authorized, the best-credentialed technicians in the industry carry out all WD data recovery operations. At that point, we will securely return your recovered files on a new transfer device of your choosing.
Western Digital customers that take advantage of our data recovery services enjoy a 15% discount on all WD data recovery jobs regardless of the cause of data loss or the type of WD RAID, SSD, or Western Digital hard drive. Our expert data recovery technicians perform a full diagnostic that poses no risk to any existing manufacturer's warranties. Our no-obligation price quote will set expectations on requirements for successful Western Digital data recovery. We're your best option for reliable WD data recovery, with a documented, industry-best 96% success rate and guaranteed results. If we can't recover your lost data, you pay nothing.
Western Digital Data Recovery Reviews
Buqin Wang
Reviewed on Sep 21, 2023 | San Mateo, CA
My wife and I stored some very beautiful photos of us with family and friends in a hard drive. The hard drive suddently stopped working and we couldn''t connect it to and computer.
Secured data recovery provided great service on recovering the phtotos and the customer service is nice and patient. This is definitely the company you should reach out to for data recovery!
Vincenzo Dimino
Reviewed on Sep 17, 2023 | New York, NY
Outstanding and Reliable Service
I reached out to Secure Data Recovery Services to help with file recovery on my 2TB Western Digital external drive that suddenly failed. I was connected with Scott who was very helpful in explaining the process and what each step of the recovery would be. I mailed in my external drive and once their team received it they instantly began the recovery process. Secure Data Recovery was able to recove... Read Morer all my files and placed them onto a new drive for me. They were extremely helpful every step of the way and completed the job in a timely matter. As a professional photographer, losing any sort of files is quite scary and luckily Secure Data Recovery was there to assist in this matter. Would highly recommend Secure Data Recovery to anyone in need of recovering files or damaged hard drives.

Jacob Montes
Reviewed on Sep 13, 2023 | Rancho Cordova, CA
I had a Western Digital Elements drive at 12TB that I dropped one too many times and never backed up to another drive. When I plugged my drive in one day, it stopped working and wouldn't even spin up (HDD). I contact Elliot from SDR and he helped me ship the drive to a facility to review. Within 2 days I was contacted with the results of the drive and that they could retrieve all the data (100% re... Read Morecovery). They helped me purchase a new drive (their price beat what I was able to find for a new drive) and ordered and transferee all my data in about 3 days. I received my new drive and old drive in the mail about 3 days later and all my files are there!

I honestly can't say enough about how easy it was to work with this rep and company. Yes, it is expensive when you have a 12TB drive (I bought another drive just to back up the other new one, less on learned) but you can't put a price on quality and speed of service. I highly recommend this company, 0 complaints!
Matt H
Reviewed on Sep 13, 2023 | Vandergrift, PA
I was livid when I discovered nearly 10 years of my life had vanished in... an instant. Luckily, Secure Data Recovery was available to help. They were willing to offer recovery options matched to my specific budget, dependent on how quickly I needed it - And still got the process done faster than estimated! They were in touch with me faster than I could get to my phone every time there was somethi... Read Moreng that we needed to communicate on, and professional the entire time. I cannot speak highly enough about all of the friendly folks I dealt with.
Jay Heff
Reviewed on Sep 12, 2023 | Clearwater, FL
Top-notch experience with Secure Data Recovery Services. Big shout out my dedicated rep Scott McMacken who treated me like a pro and seamlessly guided me through the process to retrieve the hard drive files that I thought were lost forever. For their expertise and follow-through, I highly recommend the crew at SDRS.
Grayson Sielsky
Reviewed on Sep 07, 2023 | Huntersville, NC
Excellent Recovery Service!
Lost the past 6 years and almost 1TB worth of data, projects, laptop backups, etc. and was told that I had a near worst-case-scenario. Still, they were able to recover 99% of my data! Special shout-out to Elliot Fisher for helping me every step of the way and being incredibly professional and kind! I''d be happy to recommend Secure Data Recovery to anyone who needs it and will definitely keep them... Read More in mind if this were to happen again.
WD Hard Drive Recovery
Our data recovery experts offer data loss solutions designed to suit your timeframe and budget. Our SSAE18 SOC 1, 2, and 3 audited process is fully transparent and certified, making us one of the top data recovery services in the country. Our experienced engineers are available 24x7 to assist you in recovering lost data from any WD hard drive. We understand that data is an important asset. We have developed time-tested methods and sophisticated data recovery tools to address even the most complex data loss situations, backed by our "No Data, No Recovery Fee" guarantee. Our experience with advanced WD drive storage technology allows us to dependably recover data from any WD hard drive families, including consumer WD Green hard drives, high-capacity WD Blue drives, and performance-oriented WD Gold HDDs.
New technology, like Western Digital's helium-filled hard drives and encrypted firmware, poses new challenges for data recovery companies. Our R&D team has created techniques to successfully recover lost data from any drive featuring WD HelioSeal technology. All invasive procedures for any Western Digital hard drive recovery occur inside a certified Class 10 ISO 4 cleanroom environment. When you need Western Digital hard drive recovery, trust a company that has a proven record of achievement with all WD hard drive families, including:
WD Purple Surveillance
Ultrastar DC
WD Blue
WD Gold
WD Red NAS
WD_BLACK
WD SSD Recovery
We specialize in WD SSD recovery. Our experts have successfully recovered data from thousands of WD solid-state drives, including the WD Black NVMe and WD My Passport SSD product lines. Our research and development team has created specialized tools for reverse engineering WD solid-state drive controllers to offer the best odds for successful WD SSD recovery.
Is your WD easystore SSD returning SMART read errors? Is your WD My Passport SSD failing to mount? We have the right solution for any data loss situation affecting the following WD SSD models:
WD Blue SA510 SATA
WD Blue SN570 NVMe
WD Elements™ SE SSD
WD Gold™ Enterprise Class NVMe™ SSD
WD Green SN350 NVMe
WD Green™ SATA SSD M.2
WD Red SN700 NVMe SSD
My Passport™ SSD
WD Red™ SA500
WD_BLACK C50
WD_BLACK D30
WD_BLACK SN750 NVMe™ SSD
WD_BLACK SN770 NVMe™ SSD
WD_BLACK SN850X NVMe™ SSD
Western Digital CL SN520 NVMe SSD
Western Digital PC SA510 SATA SSD
Western Digital PC SN740 NVMe™ SSD
Western Digital PC SN810 NVMe SSD
easystore SSD Portable Storage
Western Digital External Drive Recovery
Your external drive is supposed to be protected against permanent data loss. However, power surges, mechanical damage, accidental data deletion, or formatting can erase years of digital memories in a second. Simply incorrectly disconnecting an external drive from the computer without properly 'ejecting' it can cause your files to become inaccessible. Still, the experts at Secure Data Recovery are always on standby to ensure this is temporary. Our cleanroom data recovery services for WD external hard drives have a 96% success rate, recovering lost files from the entire WD product line, including:
My Book
My Book Duo
WD Elements
My Passport Ultra
My Passport Go
WD RAID Recovery
Successful WD RAID recovery and the restoration of lost files from WD NAS drives takes skill, proprietary tools, and lots of experience. Secure Data Recovery Services leads the industry in professional RAID recovery services.
Lost your data due to a drive failure in your MyCloud Home Duo or My Cloud Book Duo RAID? Has your WD My Cloud Expert NAS suffered file system corruption or a reset? We have more than a decade of WD RAID recovery expertise, and we've had unmatched success in literally thousands of WD RAID recovery cases.
When you need expert service for Western Digital My Book data recovery or Western Digital My Book Live data recovery, rely on a WD Platinum partner to deliver the best results technologically possible.
Secure Data Recovery Process
1
Free
Consultation
Power down the device and call us, 24x7 for a free consultation and quote.
2
Free Professional Diagnostics
Submit your device at one of our locations for a non-destructive evaluation by a data recovery expert.
3
Review &
Decide
Review the diagnostic results and approve the work order at a set price, payable upon success with our "No Data, No Recovery Fee Guarantee".
4
Data Recovery & Return
Submit payment and receive your recovered data on a new external drive.
Find Secure Data Recovery near you
Data Recovery Service Solutions
Not sure what data recovery service you need? Let our team guide you to select the right data recovery solutions. We understand better than other recovery service providers that a sudden drive failure is an unsettling feeling. Call us to speak to an expert and discuss your situation. We offer several ways to solve your problem.
In-Lab
Is your device completely dead? This is exactly what we specialize in servicing inside of our ISO certified Cleanroom Lab. Get it to us by dropping it off or take advantage of our free shipping and we will take care of it for you or you pay nothing. Call us to discuss your data loss problem and the service solutions we offer.
Our Certified Labs
Onsite Data Recovery
Equipment too large to move or too sensitive? No problem for our experts. We can scramble a team to be anywhere in the world with our equipment and tools in about 24 hours to handle your data loss situation. We are trusted specialists at solving unique data loss challenges.
We Come To You
Remote Data Recovery
Something deleted, corrupted or just disappeared but storage is still online? Just get us an internet connection and let our service team recover your data. You will then access it immediately. Recovery can't get any faster than this.
We Connect Remotely
Flexible Service Options
Every situation is a disaster for home users, individuals and small businesses. We understand the importance of getting the data back to our customers is as important as the budget and time it takes to get it back. We offer multiple data recovery options to fit your needs.
Economy
5 - 10 day turnaround time
Standard
2 - 5 day turnaround time
About Us
Secure Data Recovery Services was started in 2007 with a single location and over the past decade grew into one of the world's largest data recovery companies helping customers recover data with extraordinary capabilities. Powering the success behind our world class services are the talented teams of engineers who develop our state-of-the-art tools and procedures which enable us to recover data from the most challenging data loss circumstances.
Our team is truly passionate about data storage and thrives on the customer satisfaction which comes from reuniting users with their lost data. Our goal is to deliver the best results technologically possible while maintaining the strictest security controls through our numerous industry specific security attestations including regular SSAE18 SOC 1, 2 & 3 audits.
Secure Data Recovery Services has built a solid reputation as the most trusted data recovery provider with a fully transparent and certified process demonstrating that our facilities, processes, and staff exceed industry standards.
From single external hard drives, SSD's, mobile devices to enterprise NAS, SAN, and RAID failures, we are ready to help recover from digital disasters, anywhere.
Western Digital Data Recovery Success Stories
Our mission is to provide the highest success rates that are technologically possible in the shortest time. We are committed to our "No Data, No Recovery Fee" guarantee. See some happy customers who trusted Secure Data Recovery to regain their data.