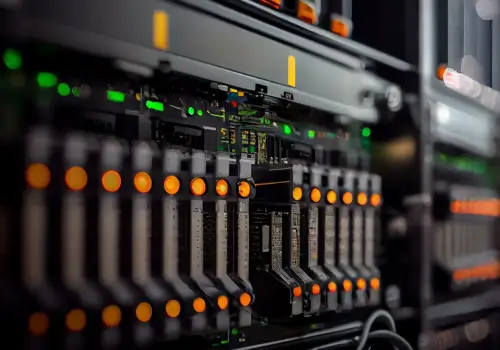 Dell Data Recovery
Secure Data Recovery Services has reunited users with lost files from their Dell desktop, laptop, or server since 2007. Our experts have an advanced understanding of current and legacy Dell products. That knowledge allows us to remain the most reliable data recovery service and deliver the best possible results to our customers. We have seen every failure scenario for Dell devices and successfully recovered data in complex cases. Trust the Dell data recovery service with a 96% success rate and secure, transparent process, including a "No Data, No Recovery Fee" guarantee.

Our customers rate our services:
We Helped Thousands Get Their Lost Data Back.
With over 5,453 satisfied customers and growing, we are proud to provide outstanding customer experience and quality service that consistently exceed customer expectations.
View All
Dell Data Recovery Services
We are the leading provider of Dell data recovery services. Our engineers have recovered lost data from failed Dell laptops, desktops, and servers for over 15 years. That experience enables us to develop custom methods or utilities in the most challenging cases. We have a data loss solution regardless of the situation.
Our award-winning customer support team is available 24/7 to schedule a free, comprehensive media evaluation. We determine the cause of data loss inside a state-of-the-art Class 10 ISO 4 cleanroom to protect the contents of the storage device. In addition, we implement over 100 cybersecurity controls to ensure your private data is not compromised and undergo regular SSAE 18 SOC 1, 2, and 3 audits to demonstrate their effectiveness.
After diagnosing the problem and presenting our data recovery plan, the most-certified experts in the industry retrieve the inaccessible files. Once recovered, we transfer the files to your preferred storage device and return it in accordance with the best data-handling practices. It's a safe, painless process.
Our record speaks volumes. We are the Dell data recovery company with an emphasis on security, a 96% success rate, and guaranteed results. We recover your data, or you pay nothing.
Dell Data Recovery Reviews
Matt Brys
Reviewed on Jan 04, 2023 | Roseville, CA
About a week ago, we discovered that the RAID file server which houses critical data for our company crashed. Additionally, our back-up was corrupted, leaving us dead in the water. In speaking with Dell (the server manufacturer), it was determined that our only shot at recovering the data was to find a data recovery company. We are in the Sacramento, Ca area and contacted a few data recovery speci... Read Morealists in our region and beyond. We landed on Jonathan and Secure Data. Approximately one week from shipping our hard drive set to Secure Data, the team shipped us a new hard drive with ALL of our files restored. All of them. And... they all appear to work great. Jonathan even sent us a critical database file via file transfer ahead of the shipment so we could get back online. We are grateful for the effort of the entire team.
Ed Youngwirth
Reviewed on Sep 08, 2022 | Overland Park, KS
We recently lost a desktop drive that had not been backed up. We have done recoveries dozens of times using various tools and this one seemed futile. I contacted Scott at Secure Trust and he expressed immediate confidence on our prospects for substantial recovery. Admittedly I was doubtful but we gave it a try. Scott walked us through the process and delivered the good news that a full recover... Read Morey was performed. Thanks again Scott.


Dr Ross Kaplan
Reviewed on Jul 27, 2022 | Hamden, CT
I was referred to secure data recovery by my IT person after my server crashed. After loading up all softwares on my new server, we came to realize that my crucial dental practice management software was incorrectly backed up for years, and I was looking at over 4 yrs of lost data. We called on a Friday afternoon, and were connected to Scott and quickly had a rush Fed Ex sticker to get the hardriv... Read Moree to them by Saturday am. Scott stayed in constant contact all day that Saturday as they diagnosed quickly that they were confident they could retrieve everything on the hardrive. I committed to the quickest rush status and they had my data literally retrieved, on a secure drive back to me promptly on that Tuesday/ less than 72 hrs after they had received my faulty hardrive.
All data was successfully downloaded and my practice software is back completely whole with virtually no down time.
A huge disaster averted.
Many, many thanks to Scott and the entire staff at secure data recovery.
Dr Ross Kaplan
Aaron Barber
Reviewed on Jun 21, 2022 | Lewisville, TX
It was great service and responsiveness. I felt well informed about the data recovery and was able to make an informed decision in the process.
Rose Stackhouse
Reviewed on Oct 01, 2021 | Burlington, VT
Still in disbelief! Thank you Eric D & Engineers!
Eric D and the engineer team at Secure Data helped to safely and efficiently retrieve all my data stuck on a defective hard drive. I cannot thank them enough! With their high security features and confidentially practices, I felt safe and reassured that my data would be in good hands. I am still in disbelief that all of my files have been retrieved and so, so grateful. Eric was supportive thro... Read Moreughout the process with all of my questions and needs around the retrieval. Thank you so much for the guidance, support and help, Eric D. & the engineers at Secure Data!
Brad Stroup
Reviewed on Mar 15, 2021 | Birmingham, AL
Scott was wonderful to work with. They were able to recover all my data and I''m very grateful.
Dell Laptop Data Recovery
We offer professional Dell laptop data recovery to customers that lost important documents, precious memories, and more. Our technicians have the skills and equipment to recover data from Dell laptops with legacy HDDs or modern SSDs. Here are some of the Dell laptop product lines that we have worked on:
Dell XPS
Dell Latitude
Dell Inspiron
Dell G Series
Alienware M Series
Alienware X Series
Dell Desktop Data Recovery
Our engineers can tackle all failure types with Dell desktop data recovery. Over the past 15 years, we have encountered data loss on business, personal, gaming, and all-in-one Dell computers with HDDs and SSDs. In each case, we adapt and utilize the most effective tools and techniques to recover lost data. Some of the Dell desktops we have recovered data from include:
Dell XPS
Dell OptiPlex
Dell Precision
Dell Inspiron
Dell Inspiron All-In-One
Alienware Aurora
Dell Server Data Recovery (Rack, Tower, Modular, Rugged)
We specialize in providing Dell server data recovery to businesses and organizations of all sizes. We can resolve a range of issues with Dell's rack, tower, modular, and rugged servers. Our services reduce data loss and downtime, so our customers can resume doing what is important to them. We have the expertise to repair extensive hardware damage or confront significant file corruption regardless of server's configuration or role. Our team has experience recovering data from the following Dell EMC and Dell servers:
Dell PowerEdge
Dell PowerVault
Dell PowerStore
Secure Data Recovery Process
1
Free
Consultation
Power down the device and call us, 24x7 for a free consultation and quote.
2
Free Professional Diagnostics
Submit your device at one of our locations for a non-destructive evaluation by a data recovery expert.
3
Review &
Decide
Review the diagnostic results and approve the work order at a set price, payable upon success with our "No Data, No Recovery Fee Guarantee".
4
Data Recovery & Return
Submit payment and receive your recovered data on a new external drive.
Find Secure Data Recovery near you
Data Recovery Service Solutions
Not sure what data recovery service you need? Let our team guide you to select the right data recovery solutions. We understand better than other recovery service providers that a sudden drive failure is an unsettling feeling. Call us to speak to an expert and discuss your situation. We offer several ways to solve your problem.
In-Lab
Is your device completely dead? This is exactly what we specialize in servicing inside of our ISO certified Cleanroom Lab. Get it to us by dropping it off or take advantage of our free shipping and we will take care of it for you or you pay nothing. Call us to discuss your data loss problem and the service solutions we offer.
Our Certified Labs
Onsite Data Recovery
Equipment too large to move or too sensitive? No problem for our experts. We can scramble a team to be anywhere in the world with our equipment and tools in about 24 hours to handle your data loss situation. We are trusted specialists at solving unique data loss challenges.
We Come To You
Remote Data Recovery
Something deleted, corrupted or just disappeared but storage is still online? Just get us an internet connection and let our service team recover your data. You will then access it immediately. Recovery can't get any faster than this.
We Connect Remotely
Flexible Service Options
Every situation is a disaster for home users, individuals and small businesses. We understand the importance of getting the data back to our customers is as important as the budget and time it takes to get it back. We offer multiple data recovery options to fit your needs.
Economy
5 - 10 day turnaround time
Standard
2 - 5 day turnaround time
About Us
Secure Data Recovery Services was started in 2007 with a single location and over the past decade grew into one of the world's largest data recovery companies helping customers recover data with extraordinary capabilities. Powering the success behind our world class services are the talented teams of engineers who develop our state-of-the-art tools and procedures which enable us to recover data from the most challenging data loss circumstances.
Our team is truly passionate about data storage and thrives on the customer satisfaction which comes from reuniting users with their lost data. Our goal is to deliver the best results technologically possible while maintaining the strictest security controls through our numerous industry specific security attestations including regular SSAE18 SOC 1, 2 & 3 audits.
Secure Data Recovery Services has built a solid reputation as the most trusted data recovery provider with a fully transparent and certified process demonstrating that our facilities, processes, and staff exceed industry standards.
From single external hard drives, SSD's, mobile devices to enterprise NAS, SAN, and RAID failures, we are ready to help recover from digital disasters, anywhere.