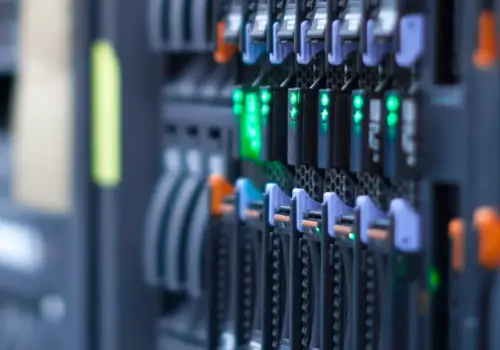 RAID Repair
Secure Data Recovery Services provides full RAID repair services for all configurations including RAID 0, 1, 5, 6 and nested RAIDs. With dedicated RAID recovery engineers and the industry's best technology, we deliver consistent results to help your business avoid unnecessary downtime after a server crash or other unexpected event.
Our RAID repair services prevent unnecessary downtime, keeping your business operational after a major disaster.

Most RAID configurations offer redundancy, and while all arrays require some maintenance, they are an excellent option for web servers, storage servers and other large-scale applications. However, no single storage system offers a perfect substitute for a proper backup strategy. RAID failures are relatively common, and businesses often face downtime and other serious consequences when arrays cannot function normally.
A professional server repair service can help your business avoid major productivity losses by restoring your damaged system to an operable condition, but when making your disaster recovery plan, you need to protect mission-critical data. Secure Data Recovery Services was the first professional data recovery provider to earn a SSAE 18 Type II security certification, and with state-of-the-art technology and an experienced engineering staff, we give you a secure way to quickly regain access to a damaged RAID. We can perform RAID data recovery and repair services simultaneously to help you avoid unnecessary system downtime, and we offer a no recovery, no charge guarantee for all digital storage systems.
When your system fails, you need fast help from knowledgeable professionals. Secure Data Recovery Services can help, and with more than 40 offices, we offer fast access to industry-leading RAID technology. Contact our customer service today to get started.
What to Do When a RAID System Fails
In order to prevent unnecessary component damage or data loss, you should turn your array off as soon as you notice failure symptoms. Do not attempt to rebuild your array, especially if the system has mission-critical data. Never run file recovery software or drive utilities on a malfunctioning RAID.
Some of the most common RAID failure scenarios include:
Controller Card Damage or Malfunction
Accidental File Deletion and User Error
Parity Loss
Multiple Hard Drive Failures
Failed Rebuild
Virus Damage
Fire, Smoke and Water Damage
At Secure Data Recovery Services, we treat hundreds of RAID arrays each year. We have experience with all common systems, including popular devices from Apple, Dell and IBM, and we will never void your warranty while performing our services.
By repairing damaged RAID members in a controlled environment, we can rebuild data while repairing your server.
Our RAID Repair Process
We start each case by evaluating your RAID to determine the extent of mechanical damage, at which point we can provide you with an accurate price quote and turnaround estimate. If you need data recovery, we will repair damaged hard drives in our Certified Class 10 ISO 4 Cleanroom, a dedicated environment that limits airborne contamination to 10 particles per cubic foot.
Secure Data Recovery Services can effectively treat a range of media issues including controller damage, multiple hard drive failures, hard drive firmware damage and file corruption. Our specialists can quickly restore any RAID to a working condition and return your hardware to get your business back up and running. We offer average turnaround times of 2-5 days under our standard service, and our engineers always prioritize RAID cases to deliver the best possible results.
When you need faster service, we offer a 24/7/365 emergency option with an average turnaround time of less than 48 hours. Our engineers can perform data recovery and repair services simultaneously to further limit your downtime. We also offer remote RAID recovery in some cases; contact our customer service team for more information.
Reasons to choose Secure Data Recovery Services for RAID repair:
Flexible Turnaround Options
Dedicated RAID Recovery Laboratory
24/7/365 Emergency Services for Fast Results
Free Media Diagnostics
SSAE 18 Type II Security Certification
If you need RAID repair or data recovery, Secure Data Recovery Services offers the best turnaround times and highest success rates available anywhere. Our specialists can treat virtually any type of RAID failure effectively, and because we operate dozens of offices across the United States, we always offer fast response times and reliable results. We also maintain best-in-class security standards, and with our free media diagnostics and no recovery, no charge policy, you can restore your RAID while controlling your expenditures. Start a case today to get started. Call Secure Data Recovery Services' 24/7 customer service line for more information or to schedule a visit to a facility near you.
Frequently Asked Questions
How much does RAID repair cost?

Our RAID services are extremely affordable, but pricing varies from case to case. We offer free price quotes for all RAID systems for the benefit of our clients.

Some of the factors that can affect our quotes include the number of hard drives in your array, the size of the array, the type of controller card and the RAID level. Secure Data Recovery Services offers a flexible set of options for RAID repair, and you can choose a custom option that fits within your business's budget.

How long does the RAID repair process usually take?

Turnaround time also varies, but our service options can help you keep your downtime under control. Secure Data Recovery Services is one of the only providers with same-day 24/7/365 emergency RAID repair, and all of our services feature excellent security and dependable results.

To find out about our service options, contact our customer service team.

Can Secure Data Recovery Services repair individual RAID disks?

Yes, but we will need to treat your entire array in order to ensure a successful case result. It is important to note that RAID repair and RAID data recovery are two different services; our teams can provide both services simultaneously, greatly limiting your downtime.

We perform all hard drive repairs in a certified Class 10 ISO 4 Cleanroom, and our data recovery services offer an outstanding overall success rate of over 96 percent.

Can Secure Data Recovery Services repair older RAID arrays or servers with specialized operating systems?

Yes. Secure Data Recovery Services was recently rated as TopTenReviews' top RAID data recovery company, and we treat hundreds of unique servers every year. We can create effective recovery and repair plans for proprietary operating systems, and our talented engineering teams have access to advanced technology and thousands of case logs. When you need a specialized option for RAID repair, we offer the best set of solutions.

What is the fastest way to restore a damaged RAID server to a working condition?

Server downtime can seriously affect any business. If you need both data recovery and repair, we can perform both services simultaneously, effectively limiting your downtime. Secure Data Recovery Services keeps an on-site library of RAID controller cards and hard drive components, and we offer excellent turnaround times for all of our services.

To prevent accidental damage, you should shut down your RAID as soon as possible. Do not attempt to rebuild or repair the system under any circumstances. Contact our customer service team to set up an evaluation or to discuss service options.

How does my RAID configuration affect the repair process?

Dozens of factors can affect turnaround times and pricing, and some types of RAID are easier to treat than others. We frequently repair RAID 5, 1, 0, 1+0 and other common configurations, and our experience allows for fast case results and affordable pricing. Our free evaluations give you an easy way to assess the costs associated with RAID repair without taking unnecessary risks.