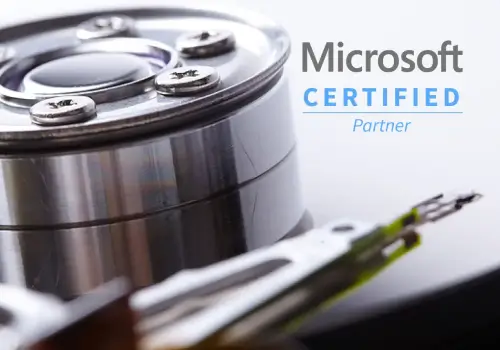 Data Recovery for Microsoft Devices from an Industry Leader
Secure Data Recovery Services provides hard drive repair, RAID repair and other advanced services for all Microsoft devices. As a Microsoft data recovery partner, we offer reliable resources with high success rates, excellent turnaround times and the industry's best security credentials.

As a Microsoft Certified Partner, we are fully qualified to treat any device with a Windows operating system.

Microsoft markets both software and hardware, including various personal computing products, mobile devices and enterprise-level business servers. As one of the most well-known technology companies in the world, Microsoft has introduced a number of revolutionary innovations, and Secure Data Recovery Services is proud to offer warranty-safe services for all Microsoft devices.
Visit Microsoft Certified partner profile below:
Secure Data Recovery Services - Microsoft Certified Partner Profile

This profile gives an overview of our business attributes as well as some of the major advantages of our data recovery laboratory.
Verify our Microsoft Certified Partner Profile
Secure Data Recovery Services provides Microsoft users with a single dedicated resource for data recovery and media repair, and we can restore many devices in a matter of days. We maintain an overall success rate of 96 percent, and our flexible service options help Microsoft users control their expenses.
We also offer risk-free standard diagnostics for Microsoft data recovery. Each diagnostic report provides an accurate turnaround estimate and price quote; contact our customer service team today to get started.
Dedicated Technology for Microsoft Data Recovery
By investing in our technology, we are able to offer reliable services for hard drives, solid-state drives, RAID servers and various other digital devices used in Microsoft devices.
Secure Data Recovery Services was the first major data recovery provider to open a certified Class 10 ISO 4 Cleanroom, a specialized environment optimized for hard drive repair and RAID repair. We also maintain an extensive library of hard drive parts and other media components to provide our clients with efficient, safe data recovery.
Features of our facilities include:
SSAE 18 Type II SOC-1 Certified Security
Firmware Repair Tools
Advanced RAID Data Recovery Stations
Specialized Proprietary Software for All Microsoft File Devices
When you send your media to Secure Data Recovery Services, you receive regular updates through our online case system. We also offer flexible service options including same-day 24/7/365 emergency services, and our no recovery, no fee guarantee protects you from unexpected costs. Most importantly, we never damage your media while performing repairs, and our services will never void active hardware or software warranties.
Steps to Take if You Cannot Read Data on a Microsoft Device
Any digital storage device can lose data under certain circumstances, but by taking appropriate preventative action, you can limit data loss substantially.
If you cannot access files due to a hard drive failure, an operating system issue or for any other reason, turn your system off as soon as possible. Never attempt to repair a damaged digital storage device, particularly if it shows signs of mechanical issues. By shutting your computer down and disconnecting its power, you can protect your data from accidental damage.
Make a list of any symptoms that preceded your media failure, including unusual noises or unexpected error messages. Contact a Microsoft data recovery partner as soon as possible to discuss your options.
Secure Data Recovery Services can safely treat all types of media failure including:
Deleted Files and Accidental Formatting
Operating System Issues
File Corruption and Firmware Corruption
Electronic Damage
Mechanical Hard Drive Failures
RAID Rebuild Failures
Fire Damage, Flood Damage and More
With warranty-safe services, free diagnostics and a no recovery, no fee guarantee, Secure Data Recovery Services provides the best options for Microsoft data recovery. We protect your media and your files throughout our process, and our teams have the experience to quickly restore essential data to a fully functional condition. To set up a risk-free media evaluation or for a detailed overview of case options, call Secure Data Recovery Services today at 1-800-388-1266.