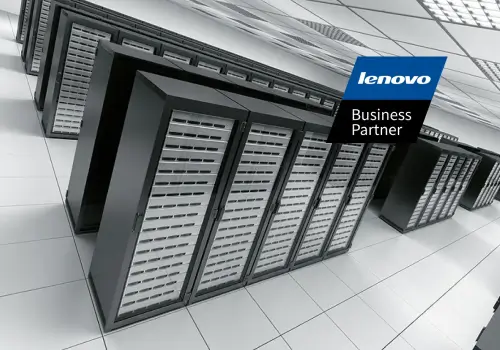 Lenovo Data Recovery Services from an Industry Leader
Secure Data Recovery Services provides advanced services for all Lenovo computers, storage systems and mobile devices. Our teams can rebuild damaged hard drives, RAID arrays and flash memory chips, restoring lost files to their original condition. In addition to data recovery, we offer electronic discovery, data tape repair and other advanced services.

Our data recovery services provide fast access to missing files on any Lenovo computer system or storage device.

Lenovo is one of the world's largest computer manufacturers with a presence in more than 60 countries. The company produces high-quality laptops, desktops, tablets, smart phones, and external devices, and in recent years, Lenovo has developed a notable presence in the network-attached storage (NAS) market.
View a Lenovo Partner Confirmation letter below:
Secure Data Recovery Services - Lenovo Partner Confirmation Letter

This letter demonstrates that we can effectively perform data recovery and repair services on all Lenovo devices.
View Lenovo Partner Confirmation Letter
As a Lenovo data recovery partner, we can treat any computer or system without voiding active warranties. We treat every digital storage device in a protected laboratory, and we maintain high success rates for all Lenovo devices. View our partner letter below.
We offer a free diagnostic service for all Lenovo computers and devices. By analyzing your device's physical state and the logical condition of your data, we can provide you with a price quote and turnaround estimate before performing repairs. To further limit your risk, we also offer a no recovery, no charge guarantee with every case.
Contact Secure Data Recovery Services today to get started.
Advantages of Working with a Lenovo Data Recovery Partner
As a Lenovo partner, we have experience with dozens of common failure scenarios and can provide excellent turnaround times and success rates. We offer 24/7/365 emergency treatment for hard drive data recovery and RAID data recovery, and we maintain a large network of offices to provide our clients with easy access to our services.
Our teams can treat all data loss scenarios including:
Hard Drive Crashes and Computer Failures
Smoke, Fire and Water Damage
Damage from Overheating
File Deletion and Accidental Formatting
Virus Damage, Failed RAID Rebuilds and More
Because we have a Lenovo partner ID, we can treat your media without invalidating your warranty. Our teams also use best-in-class security practices, and we take numerous steps to prevent unauthorized data access from the moment that your system device is at our laboratory. When you choose Secure Data Recovery Services, you get professional service with dependable security.
What to Do When a Lenovo Device Fails
When a Lenovo device loses data due to a hardware or software issue, you should immediately turn it off. This prevents extensive damage by preserving the device in its original state. Never attempt to recover your own data. If you have a Lenovo NAS or RAID, do not attempt to rebuild the device, as you might accidentally contribute to logical damage.
More reasons to choose Secure Data Recovery Services:
A No Recovery, No Charge Guarantee
Support for All Lenovo Devices
Advanced NAS and RAID Repair Services
Flexible Turnarounds and Emergency 24/7 Data Recovery
SSAE 18 Type II Certified Security
A 96 Percent Success Rate
At Secure Data Recovery Services, we specialize in providing reliable, secure repair and recovery. We treat any Lenovo computer without voiding applicable warranties, and our free diagnostics give you an easy way to get started without taking on unnecessary risks. To set up a case or to speak with a Lenovo data recovery expert, call us today at 1-800-388-1266.