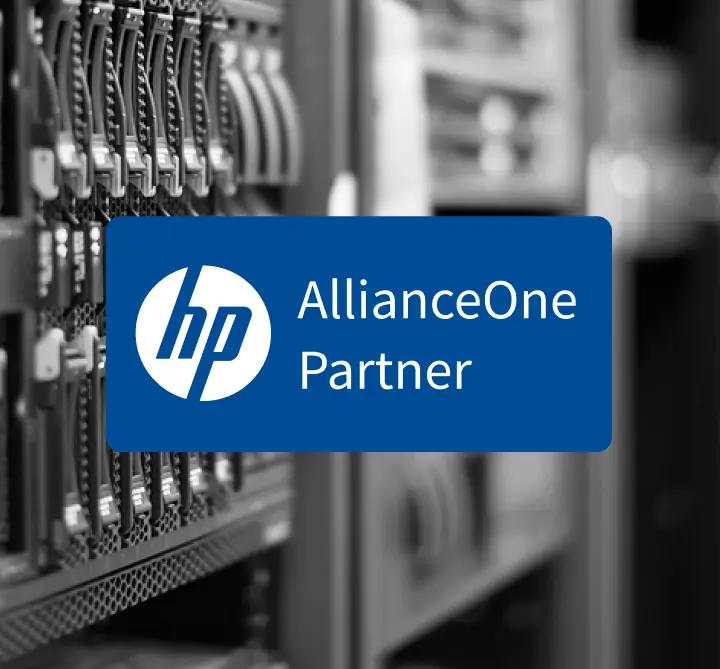 HP Data Recovery Services from an Industry Leader
Secure Data Recovery Services provides a comprehensive set of data loss solutions for all Hewlett-Packard computers, servers and storage systems. With a large network of offices and an experienced staff of data recovery engineers, we offer efficient services with a strong emphasis on security.
We offer data recovery options for every HP device including servers, personal computers and more.

Also known as HP, Hewlett-Packard is the world's largest personal computer manufacturer. The company manufactures and sells servers, laptops, desktops, enterprise systems and cloud storage systems, and HP has a strong reputation for its dependable hardware.
As HP AllianceOne Partner, Secure Data Recovery Services is uniquely qualified to efficiently perform repair and recovery services on any Hewlett-Packard storage device. Our services will not void active warranties, and because we invest in state-of-the-art technology, we offer exceptional success rates and fast turnaround times.
Data loss can affect any type of storage device, but by working with the experts at Secure Data Recovery Services, you can quickly restore your missing files to a fully functional condition. We offer free diagnostics for hard drives, RAID servers and various other digital storage devices; each diagnostic report includes a price quote and a detailed turnaround estimate.
Other advantages of working with Secure Data Recovery Services:
A 96 Percent Overall Success Rate
Dedicated RAID Repair Tools for All HP Servers and Systems
Affordable Rates and Flexible Turnaround Options
24/7/365 Same-Day Emergency Services
Multiple Offices for Efficient, Reliable Service
No Recovery, No Charge Guarantee
Secure Data Recovery Services provides the best options for HP data recovery, RAID data recovery and media repair, and our teams are ready to restore your data to a fully functional state. Contact our customer service team today to get started.
What to Do When You Cannot Access Data on an HP Storage Device
If your Hewlett-Packard system stops responding or if you cannot access your data normally, you should take immediate action to limit your losses. Turn your system completely off and disconnect its power source. This will prevent data overwrites, and if your system failed due to a hardware issue, shutting it down can prevent additional media damage.
In some cases, you may not be able to shut down your hardware completely. Isolate the affected partitions to prevent overwrites and contact Secure Data Recovery Services as soon as possible. Make a list of failure symptoms, but do not attempt to repair your system. Do not replace failed drives in a RAID array or attempt to rebuild the system if you cannot access your files.
By taking immediate preventative action, you can significantly improve your chances of a full recovery. Secure Data Recovery Services can provide a fast media diagnosis with a price quote and turnaround estimate, and our flexible pricing options provide an easy way to keep your case within your budget.
Advanced Technology for HP Data Recovery and Repair
Secure Data Recovery Services operates an advanced media repair and hard drive data recovery laboratory. We were the first HP data recovery provider to open a certified Class 10 ISO 4 Cleanroom, and our media library contains thousands of Hewlett-Packard devices. This allows for fast, effective and safe treatment. Our no recovery, no fee guarantee ensures that you will never pay a service charge if our teams cannot recover your most important files.
Our teams can treat all failure scenarios including:
Hard Drive Failures
RAID Rebuild Failures
File Deletion and Accidental Overwrites
Corruption
Virus Attacks
Smoke Damage, Water Damage and More
As the world's most secure data recovery company, we also invest in next-generation controls to protect our clients' privacy. We hold a SSAE 18 Type II SOC-1 certification as well as numerous compliance certifications. When you need to quickly regain access to important information after a hard drive failure, RAID rebuild issue or any other disaster, Secure Data Recovery Services can help. Call our customer service team today at 1-800-388-1266 to set up a free HP data recovery evaluation or for more information.