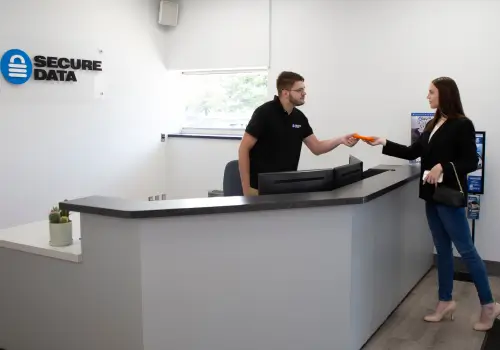 Data Recovery Services in Cincinnati - RAID, SSD & Hard Drive Recovery
Secure Data Recovery Services offers the industry's best hard drive recovery and RAID recovery solutions in Cincinnati. We combine expert technicians and world-class facilities to provide the most comprehensive strategies for successful data recovery from any digital storage device, smartphone, or server. In addition to a free comprehensive diagnostic and no-obligation price quote, we have an industry-best 96% success rate. Has your hard drive suffered physical damage from water, fire, or an accidental drop? Our friendly technicians can help with any data loss situation. Give us a call or drop by one of our local facilities for a free estimate.

Our customers rate our services:
We Helped Thousands Get Their Lost Data Back.
With over 5,453 satisfied customers and growing, we are proud to provide outstanding customer experience and quality service that consistently exceed customer expectations.
View All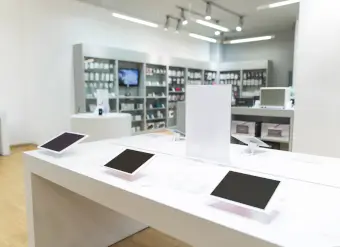 Secure Data Recovery Services
Emergency Services Available 24x7
Secure Data Recovery Services Near You
Visit us in Cincinnati north of downtown in West Chester Township off State Highway 747, or in the Central Business District a block west of the Taft Theatre on East 5th Street. We also have locations to the northeast in Columbus near Capital Square on East 3rd Street and on East Broad Street near the Columbus Museum of Art.
Data Recovery Company in Cincinnati, OH
Secure Data Recovery Services are the Cincinnati hard drive recovery, SSD recovery and RAID recovery experts. Since 2007, our data recovery company has helped tens of thousands of individuals and businesses of all sizes in Cincinnati successfully recover from every type of data loss scenario imaginable. We have seen your failure type before and our team understands the importance of data in the modern world. We're ready to recover your lost data with our flexible Economy and Standard data recovery services, or immediately with our Emergency data recovery option.
Recovery Services We Offer
Cincinnati, OH Data Recovery
Courtney Tong
Reviewed on Jul 09, 2023 | Mason, OH
I trusted Secure Data Recovery with one of my most precious belongings - thousands of photos and videos of my children. These photos had been saved to an external hard drive that became corrupted. Jonathan and the team at SDR were extremely responsive, answering all questions and following up with regular communication and status updates. I am extremely grateful to report that all our precious fil... Read Morees were recovered!! Thank you!!
Margot Osborne
Reviewed on Jun 06, 2023 | West Chester, OH
SDC shines for "the little guy" too!
Although I am not a corporate customer, SDC''s courtesy, attention to detail, and patience was always there as they recovered treasured family memorabilia for me. Jake Gambatese, Senior Data Specialist in particular, walked me through the process and was able to secure and return the precious data to me almost faster than I was able to respond to his requests for passwords etc. Glad that the peo... Read Moreple at Apple recommended this company.
Austin Sides
Reviewed on May 17, 2023 | Milford, OH
Scott was great to work with. He walked me through each step of the process of restoring my data and made sure everything was smooth and easy. I appreciated the way he was prompt to communicate, how he made me feel like a valued customer, and his continued effort to make sure my important data was returned to me. Thank you!
Krista Pohlmeyer
Reviewed on Aug 30, 2022 | Centerville, OH
I was very stressed and upset when I called Secure Data Recovery about my computer''s battery, which had unexpectedly stopped charging and died. I was sure I was going to lose all my data, since Apple solders the motherboard to the battery. Luckily, Tim R. was able to calmly assess the situation and prepared a shipping label for me to send my computer in for analysis. They received my computer the... Read More next day. Within a week, I was shown proof that all my data had been recovered and was on its way to me. I''m so grateful to this company for their hard work!
Alex Hask
Reviewed on Oct 21, 2021 | Cincinnati,
I had my SSD crash. Which was a pretty low feeling to have. There were really only a few things on there that were important. Otherwise, everything was either replaceable, expendable or unimportant. That being said, I had about 4 years of a game I played cataloged in a combination of photos and videos. Silly me had never backed up my drive before. (a lesson learned)
I decided that I wanted to... Read More see if the files were retrievable. I looked around the internet quite a bit. I queried into a number of different data recovery services. Often times, I needed to mail my drive across state lines to a company, that after reviewing their reviews, seemed, mediocre at best. Going into this process, I knew it wouldn''t be the cheapest endeavor. You Will Spend Some Money to get your data back. That being said, it was well worth it to me. After a few days of research, I stumbled upon SDR. They had good reviews, on both their website (which one should be wary of, due to the possibility of them only posting good/fake reviews) and the BBB website. What I liked a lot about SDR was that they have offices in a lot of the major cities in a decent number of states. Meaning, I could physically drive my broken SSD to their office in Cincy and hand deliver it, removing the possibility of if getting lost on that part of the journey. I also liked the proximity, because I could drive there and pick it up if things didn''t turn out well in any regard. Starting my adventure though, I sent a request in to their website and started the process. During this whole endeavor, I engaged with Elliot Fisher. (of whom, was a great person to work with)
I put the query in and heard back within the next day or so via email. Elliot reached out regarding my question.
Next, I want to inform everyone that, EVERY company I engaged with in regards to this type of recovery, were very "shy" about listing or giving you a price on their website or in any meaningful capacity prior to engaging with their people and being a bit far down the "I''d like to have you guys recover my data" road. So, this isn''t a slight against SDR, moreover, just be aware, you won''t find a "real" price until you''ve engaged with someone. That being said, dealing with Elliot was very cordial, when we talked about pricing and the different options they had, there was no pressure (in my opinion) to continue if I didn''t want to. He was very reasonable and willing to work with me on whatever came across my mind. I''m not sure exactly what I can say about pricing, but you will a good sum of money. On that note though, there is room for negotiation. I don''t make a lot of money myself, so when the cheapest option popped up on the screen for me, I definitely just stared at it for a minute, it was still a very hefty price-tag. This being said, Elliot worked with me to achieve a price that would work for me and my budget. (thank you, Elliot!)
I chose the Economy package, since I was in no hurry and had less than 100Gbs of data to recover. This was the cheapest option available. Unless you need data recovered quickly, I''d recommend this option as the prices are.. Fair, but - still costly. All this money-talk being said, this was well worth it!
The wait time for this option was 3 -5 weeks. My data was recovered in3 weeks, so that was cool.
After the three weeks passed, I received an email from Elliot saying the data was recovered and he attached a document which listed the files that could be recovered and the ones that couldn''t.
Here comes the AWESOME part. 99.97% of my data was recovered. They list out for you what was recovered and what wasn''t in a very nice-and-neat text document. There were literally just 4 items that weren''t recovered. (of which, none of those were important)
Seeing as they recovered all of the things I needed, in a timely fashion (given the Economy option that I chose) and was achieved at a price within my budget. I am very happy with my experience. I am writing this review before the flash drive has reached my house, but I am certain that when I check the contents of it, everything will be in working order. Overall, I highly recommend SDR and my experience with Elliot Fisher was awesome. I understand that they need to make money, but Elliot worked with me to achieve a price that worked for both of us. If you are having doubts about this company getting your data back, I would leave those aside. They are professional, efficient, and can work with you on pricing.
David Ickes
Reviewed on Oct 28, 2020 | Cincinnati, OH
I produce electronic music on Ableton, I have thousands of sound files & project files split between many different external hard drives. I have not backed up my hard drives even once since I have been producing in the last few years... I definitely thought I had learned my lesson the hard way when my hard drive started making a beeping sound & my computer was not reading the hard drive anymore no... Read More matter what I tried. I was so devastated, I reached out to secure data recovery regarding their services & Scott got back to me super fast. He & the secure data team were able to get SO much of my data back for all of my projects & audio files, I am eternally grateful for everything they were able to accomplish. I will definitely be backing up my work from now until forever lol. Thanks again for all your help & getting my data recovered!
Your Best Choice for Data Recovery
Secure Data Recovery Services has provided innovative solutions to all types of data loss situations for more than a decade. We have a distinguished record of achievement in resolving data loss for any make and model of hard drive, SSD, RAID array, Apple or Android smartphone, flash memory card, and virtual drive.
Our expert technicians offer a variety of data recovery options to meet any need. In addition to emergency 24-hour service, we also provide onsite and remote data recovery services where extra security or flexibility are needed. Whatever the cause of your data loss, we'll have you up and running with the least amount of downtime possible.
We Put Data Security at the Heart of Data Recovery
Our data recovery teams work in state-of-the-art facilities that undergo regular SSAE 18 SOC 1, 2, and 3 audits to demonstrate the effectiveness of more than 80 separate cybersecurity management controls. This means that your data remains safe from unauthorized access at every stage of the recovery process.
We also conduct all invasive diagnostics and recovery operations in a certified Class 10 ISO 4 cleanroom. These specialized environments use advanced air filtration and laminar airflow to remove harmful particulates that could damage the sensitive internal components of your hard drive. We take every precaution to keep your data safe.
BBB A+ Certified Data Recovery Company
Our Cincinnati office is accredited by the Better Business Bureau and maintains an A+ rating. We're committed to providing our customers with the highest quality of service for every data recovery case.
Call for a Free Estimate
We intimately understand all data loss scenarios and will exhaust all options technologically possible to reunite you with your lost data as quickly as possible. When you choose Secure Data Recovery Services, you get the most credentialed professionals in the industry and a documented 96% success rate. Call 513-252-2611 to speak to a data recovery expert 24x7.