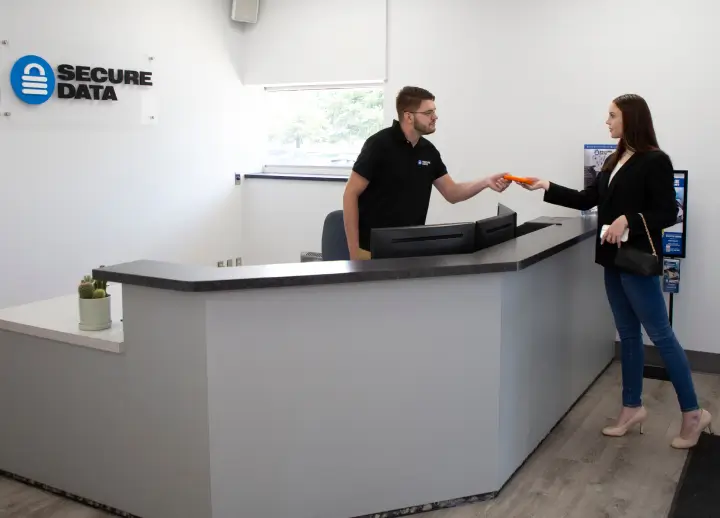 Professional Data Recovery Services in Ohio
Secure Data Recovery Services provides Ohio with professional hard drive data recovery, RAID services, and advanced media recovery. With industry-leading success rates and flexible turnaround options, we have built a reputation as the world's most trusted data repair company, and we operate local offices in Cincinnati, Columbus, and Cleveland.

Our Service Centers
Greater Cleveland Area
Greater Akron-Canton Area
Greater Columbus Area
Greater Cincinnati Area
Ohio is an extremely business-friendly state with several major metropolitan centers and a large financial sector. With more than 11.5 million residents, it is one of the largest states in the Midwest by population, and we have provided hard drive data recovery to businesses for many years through a network of more than 40 facilities across the United States.
Expert Data Recovery Services
Secure Data Recovery Services is the authority in Hard Drive Recovery, SSD Recovery and RAID Recovery. Since 2007, our data recovery company has helped tens of thousands of individuals and businesses of all sizes successfully recover from every type of data loss scenario. We understand the importance of data in the modern world and with our Economy, Standard and Emergency Data Recovery Options and state-of-the art technology we are ready to get your lost data back right now.
Experience total piece of mind with a "No Data, No Recovery Fee" Guarantee.
What Can We Recover For You Today?
At Secure Data Recovery Services, we know that confusion and down time often accompany data loss. We deliver a dependable resource for computer users by providing state-of-the-art technology and an extensive set of security credentials to protect you when you need to recover data. Our Ohio clients, including both businesses and individuals, trust us with all of their data recovery needs.
Our local offices provide fast access to our services, and we are proud to offer free standard diagnostics - complete with price quotes and turnaround estimates. Contact our customer service team today to drop off your media at one of the locations where we perform our certified data recovery services.
What to Do When a Digital Storage Device Fails
When your media fails, you need fast help from a professional data repair company. Never take any actions that could overwrite your files or contribute to physical media damage. Shut down your device as soon as you notice failure symptoms, and contact us right away
Do not run data recovery programs or any file utilities designed to test or treat your device. Keep your system powered off and contact Secure Data Recovery Services as soon as possible to set up risk-free diagnostics and obtain a free quote.
As Ohio's leading data recovery specialists, we understand how file loss affects our clients. We invest in our laboratory to provide our clients with the best possible success rates, and as the nation's most trusted data recovery company, we always take appropriate precautions when treating recovered files. This is true for all of our programs, including our professional RAID 5 data recovery services.
Secure Data Recovery Services offers:
Ohio's best data recovery success rates
Flexible turnaround options and 24/7/365 emergency services
No-recovery, no-charge guarantee for all cases
24/7 access to award-winning customer service
RAID repair, data tape repair, and other advanced services
Free evaluations for all standard data recovery cases
Our data recovery diagnostics provide you with an accurate price quote and turnaround estimate, which you can use to make an informed decision for your case. Secure Data Recovery Services maintains an overall success rate of 96 percent, and we never use procedures that could damage your media or void your warranty.
Advanced Data Recovery Resources Through Three Offices in Ohio
At Secure Data Recovery Services, we regularly develop and introduce new technologies to deliver consistent results for our clients who need hard drive repair services. We were the first provider to open a certified Class 10 ISO 4 Cleanroom, which allows our engineers to safely perform repairs on hard drives and other digital devices. By developing proprietary utilities and state-of-the-art tools, we provide outstanding success rates for all types of digital devices.
We also maintain excellent security credentials, and as the first data recovery provider to earn a SSAE 18 Type II certification, we implement updated network and encryption technologies to protect our clients' confidentiality. This means we are the best source for RAID data recovery in Ohio. No other online or in-person provider operates a safer environment for your data than Secure Data Recovery Services.
We offer data recovery for all media failure scenarios, including:
Physical media failures
RAID rebuild failures and parity loss
Media decay
Environmental damage, including fire and water damage
Unintentional formatting and file deletion
Virus damage, software malfunctions, and More
Secure Data Recovery Services is Ohio's most dependable media repair company. We offer expert hard drive data recovery, RAID repair, data tape repair, and dozens of other media services with fast access through our large network of offices, and thanks to our no-recovery, no-charge guarantee and risk-free diagnostics, we always provide consistent results for our Ohio clients. Contact us today to bring your media to our Cleveland, Cincinnati, or Columbus locations for data recovery services.
Secure Data Recovery Process
1
Free
Consultation
Power down the device and call us, 24x7 for a free consultation and quote.
2
Free Professional Diagnostics
Submit your device at one of our locations for a non-destructive evaluation by a data recovery expert.
3
Review &
Decide
Review the diagnostic results and approve the work order at a set price, payable upon success with our "No Data, No Recovery Fee Guarantee".
4
Data Recovery & Return
Submit payment and receive your recovered data on a new external drive.