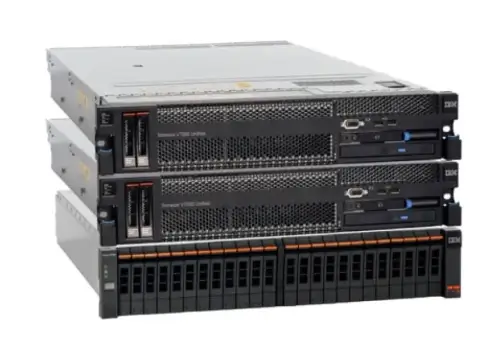 IBM Storwize Storage Device Data Recovery
IBM is one of the largest providers of business data storage solutions for companies of all sizes. Their IBM Storwize storage products offer virtualized storage in small, medium, and large-scale enterprises. However, when a Storwize system fails, a business will lose both time and money trying to recover data and get their operations back on track. Secure Data Recovery is available 24/7 to retrieve files from a failed IBM Storwize system and ensure businesses have the least amount of downtime.

Our customers rate our services:
We Helped Thousands Get Their Lost Data Back.
With over 5,331 satisfied customers and growing, we are proud to provide outstanding customer experience and quality service that consistently exceed customer expectations.
View All
Storage devices in the IBM Storwize family are configured using Storage Area Networks (SAN) and IBM SAN volume controllers. The drives within the configuration may be hard disk drives, solid-state drives, or flash media. These media types are prone to failure like any other digital device, which is why Secure Data Recovery engineers are trained to work with all media and operating systems whether in physical or virtual environments.
Failure Scenarios for IBM Storwize Systems
Storwize systems can experience logical, mechanical, or electrical failure, which can all lead to data loss. These systems use RAID (Redundant Array of Independent Disk) configurations such as RAID 5 or RAID 6 arrays. The systems may also use Storage Area Networks (SAN) in their configuration. The physical drives in an array mixed with the virtual environment for storage means failures can happen in many ways, whether it be a virus attack or the physical dropping of the system as a whole. Signs of IBM Storwize System failures include:
Slow network speeds
Hard drive failure
Drives are inaccessible
System errors
Rebuild failure
File system corruption
Power surges
Overwriting the configuration
Our engineers are trained to handle any type of failure from malware attacks and accidental deletion to fire and water damage. We are able to work on complex and severely damaged cases in our Class 10 ISO 4 Cleanroom to ensure your system does not experience any further damage during the recovery process.
We Work With All IBM Storwize Models
There are several different models of IBM Storwize devices and each has its benefits such as rapid cloud service deployment and the ability to store data in capacities up to Petabytes. Our engineers work with all digital device manufacturers and can recover data from all IBM Storwize systems including:
Storwize V3500
Storwize V3700
Storwize V5000, V5010, V5020, V5030
Storwize V7000, V7000F
No matter what type of Storwize system you have or where it is located, we will work to recover the information. Secure Data Recovery offers on-site, in-lab, and remote options for recovery to adapt to our customer's needs. If your server system is too large to be shipped to our lab, or holds classified information that can't leave the premises, our engineers are ready and able to perform our work on-site or remotely using our secure tools and certified practices.
We Are Manufacturer Approved
Asus
Acer
AMD
LSI
Adaptec
Symantec
Cisco
What to Do When Your IBM Storage Fails
When your IBM Storwize system fails, do not attempt to use data recovery software to retrieve your important files. Software will not be able to retrieve every file you need and in many cases will overwrite the existing data. After a complex system like a RAID or SAN experiences a failure, do not attempt to rebuild the array yourself without technical IBM knowledge. A failed rebuild can cause permanent deletion of corporate files.
The best course of action is to contact a professional data recovery company that can perform a variety of recovery services for servers including recovering lost data, retrieving web server data, and restoring data from virtual servers. Secure Data Recovery engineers create custom utilities for each case, which is why we can provide successful recoveries for a multitude of satisfied clients.
Why Choose Us?
Secure Data Recovery has an overall 96% success rate in recovering data from IBM Storwize storage systems and all server types. We have a dedicated R&D team who works to develop the latest recovery methods for existing media and servers that will soon come to market. With our advanced proprietary technology and engineers with decades of experience, we are the most certified company in the industry to work with your failed device.
Our recovery process begins with free diagnostics and once the recovery is approved, we offer a variety of service levels to meet our clients' needs. From expedited service to emergency service with an average 48-hour turnaround, our data recovery services fit your timeline and budget. If for some reason we are unable to recover your files, we stand by our "no data, no recovery fee" guarantee. So, start your risk-free case today by calling 1-800-388-1266.
IBM Storwize Data Recovery Reviews
Ivan Ramirez
Reviewed on Aug 03, 2020 | Greensboro, NC
Excellent Service and Care all around!
First, I''d like to say that I appreciate excellence in customer service. A company that cares about the needs of a customer. It is my honest opinion that Secure Data meets all that criteria. Chris McMacken, the specialist who managed the entire situation from start to finish was very professional, super responsive (even on the weekends). Explained the process very clearly and answered all the que... Read Morestions. He also explained every service option available in an expanded way beyond what the website had detailed already. Chris communicated constantly and almost immediately throughout the process. These are qualities hard to find in many service companies. I highly recommend Secure Data''s services. If Chris'' work ethic is what Secure Data''s values are about, then, I can say they''re one of the best companies for data recovery services. Well Done and Thank you!!
Sincerely,
Ivan Ramirez
Director, IT Infrastructure
ITG Brands, LLC
Greensboro, NC
J K
Reviewed on Apr 09, 2020 | Albuquerque, NM
Good Service from Jon King at RESPEC
Chris McMacken did a great job of following up making sure that I understood what was going on at each point and making sure everything came out smoothly.