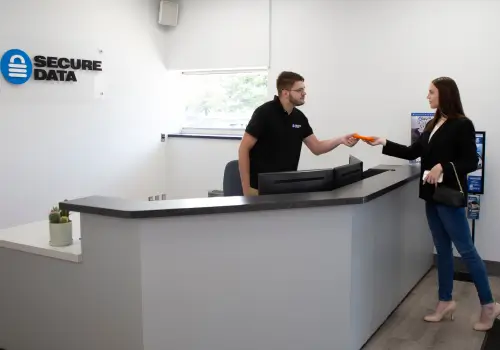 Data Recovery Services in Maryland - RAID, SSD & Hard Drive Recovery
Secure Data Recovery Services' Authorized Partner Location in Bethesda, MD

With 5.88 million residents and a relatively small area, Maryland is one of the most densely populated states. We have treated thousands of hard drives, RAID arrays and other devices for Maryland computer users through many years of service, and our Baltimore office provides a dedicated local option for professional media repair and recovery. Our professional team of certified service technicians is dedicated to providing the best data recovery services in Maryland. Our local office makes it easy for you to get the data recovery information you need with online resources and 24-hour emergency service. We work hard to stay abreast of the newest technology and do everything possible to become your first choice for data recovery services in Maryland. You can trust us for the latest in hard drive data recovery resources.
Expert Data Recovery Services
Secure Data Recovery Services is the authority in Hard Drive Recovery, SSD Recovery and RAID Recovery. Since 2007, our data recovery company has helped tens of thousands of individuals and businesses of all sizes successfully recover from every type of data loss scenario. We understand the importance of data in the modern world and with our Economy, Standard and Emergency Data Recovery Options and state-of-the art technology we are ready to get your lost data back right now.
Experience total piece of mind with a "No Data, No Recovery Fee" Guarantee.
Recovery Services We Offer
Reasons to choose Secure Data Recovery Services for Maryland data recovery:
No-recovery, no-fee policy and risk-free diagnostics
Fully outfitted facilities with a certified Class 10 ISO 4 Cleanroom
A 96 percent data recovery success rate
A local office in Baltimore
Fast turnaround times and flexible pricing options
24/7/365 emergency services
Support for all device types and operating systems
In addition to our state-of-the-art hard drive data recovery services, we offer reliable options for hard drive repair services, RAID data recovery, and more. For more information concerning data recovery in Maryland or to set up an evaluation at one of our facilities, contact our customer service team today.
What to Do When a Digital Storage Device Stops Responding
When hard drives, RAID arrays, and other computer systems stop responding to commands, you should take immediate action to limit potential damage in order to improve your chances of regaining access to your data. Call or contact us online to discuss how best to recover data. Maryland computer users state-wide have taken advantage of our services and made us their first resource for all data recovery needs, including RAID 5 data recovery.
Some of the most common failure symptoms include:
Clicking sounds and other unusual noises
File corruption
Error messages indicating unreadable data
Missing files or folders
Overheating
Visible damage from fire, smoke, or water
Signs of virus infection
As soon as you notice failure symptoms, turn your computer system off. This will prevent your media from taking excessive damage, allowing you to seek assistance from a professional data recovery provider. Do not attempt to repair your media: Never run any type of software once you discover a data problem, as you might cause additional read/write issues.
Secure Data Recovery Services' free diagnostics give Maryland computer users a safe way to assess the potential costs of the recovery process. Our diagnostic reports include a price quote and turnaround estimate, and we will not start work on your case until we receive your approval. We also protect every case with the industry's most comprehensive guarantee. If we cannot successfully recover your requested data, you will not pay the quoted service fee.
A Superior Resource for Data Recovery in Maryland
Our teams use advanced technology and draw from decades of combined experience when treating each case. Secure Data Recovery Services was the first Maryland data recovery company to open a fully certified Class 10 ISO 4 Cleanroom, which is a safe environment designed for hard drive repair and RAID repair procedures. We can treat any digital storage device regardless of size or format, and our teams have experience with all operating systems. Whether you have accidentally deleted files or your hard drive has substantial mechanical damage, our experts will provide you with fast, reliable results.
We also hold more security credentials than any other provider; our SSAE 18 Type II certification shows our commitment to next-generation standards, and our compliance certifications make the purchasing process easy for hospitals, government institutions, and other high-security clients.
Secure Data Recovery Services provides Maryland's best option for data recovery, file repair, and other media-related services. We have the technology and the credentials to safely treat all types of systems, and our free diagnostics limit your expenses following a data disaster. Most importantly, we have an experienced engineering team and an exceptional success rate of 96 percent. Contact our 24/7 customer service team to set up a media evaluation through our Baltimore office and obtain your free quote today.
Secure Data Recovery Process
1
Free
Consultation
Power down the device and call us, 24x7 for a free consultation and quote.
2
Free Professional Diagnostics
Submit your device at one of our locations for a non-destructive evaluation by a data recovery expert.
3
Review &
Decide
Review the diagnostic results and approve the work order at a set price, payable upon success with our "No Data, No Recovery Fee Guarantee".
4
Data Recovery & Return
Submit payment and receive your recovered data on a new external drive.