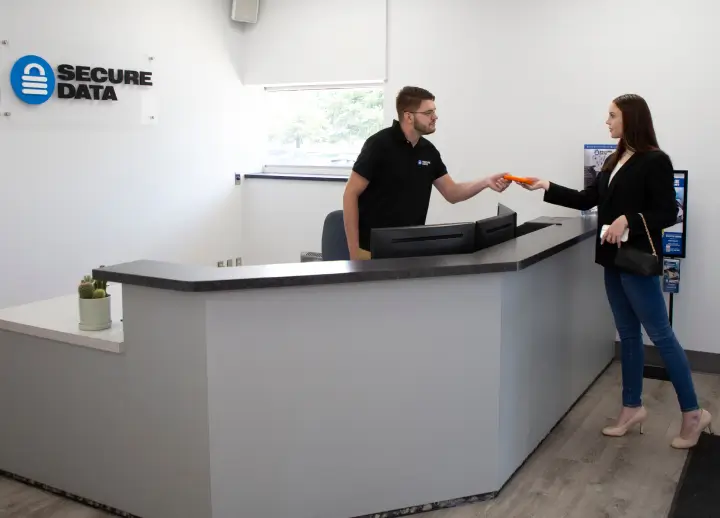 Certified Hard Drive Recovery Services in Baltimore
Secure Data Recovery Services provides media repair and data recovery services in Baltimore, Maryland, through an easily accessible local office.
With advanced security and an overall success rate of 96 percent, we provide the best options for local businesses and personal computer users.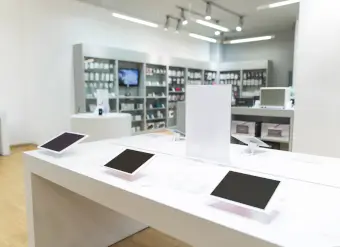 Secure Data Recovery Services
Emergency Services Available 24x7
Expert Data Recovery Services
Secure Data Recovery Services is the authority in Hard Drive Recovery, SSD Recovery and RAID Recovery. Since 2007, our data recovery company has helped tens of thousands of individuals and businesses of all sizes successfully recover from every type of data loss scenario. We understand the importance of data in the modern world and with our Economy, Standard and Emergency Data Recovery Options and state-of-the art technology we are ready to get your lost data back right now.
Experience total piece of mind with a "No Data, No Recovery Fee" Guarantee.
What Can We Recover For You Today?
Baltimore, MD Data Recovery Reviews
Mac Johnson II
Reviewed on Apr 13, 2023 | ,
A VERY PLESANT EXPIERENCE!!!
Thanks to Jake my contact he educated me on the process and kept me informed throughout the process. Turn around time was quicker that I expected.
More than 90% data recovered from a dead hard drive with heads crashed on the platter. If you need your data recovered and you want straight forward answers with no BS I recommend Secure Data Recovery.
Phillip Mace
Reviewed on Apr 07, 2023 | Dickerson, MD
They saved years of data history for me.
Tim was very helpful and kept in contact throughout the process.
Highly recommend to anyone needing recovery services.
Francesco Roberto Simonetti
Reviewed on Mar 10, 2023 | Baltimore, MD
Outstanding customer care!
Secure Data Recovery retrieved years of work in no time. I was advised to reach out to them by the IT department of my institution, and I am so happy I followed their suggestion. They received my broken USB drive the day after I requested the initial evaluation. Got all my data back in one week. The best part is the customer care; Jake guided me through the whole process seamlessly, making a very... Read More stressful experience much more manageable. Kudos to him!!! 100% recommended.
Jared Patalinghug
Reviewed on May 17, 2021 | Arnold, MD
Anthony and Secure Data are lifesavers! I lost a bunch of irreplaceable and important media on my hard dive and they retrieved 100% of it! Great company and employee. They we''re very persistent and clear with the whole process.
JD Fleming
Reviewed on May 11, 2021 | Severn, MD
Great Service, Successful Restoration!!!
Thanks to Timothy, my personal data was restored successfully. My only issue was I didn''t hear back from them until there was something to report. (I am a bit of a Type A)
The overall process went well. I would recommend them to anyone that needs a data restoration service.
Charles P. Kalina
Reviewed on Oct 15, 2020 | Silver Spring, MD
Excellent Service and Communication
I''m especially grateful to Mr. Robinson for shepherding me through the process. Potentially losing decades of one''s data tends to weigh on one''s mind. He kept me informed every step of the way, which was both very professional and a relief for me personally. He made me confident that there was someone making sure they did everything possible for me. And sure enough, everything was recovered... Read More, rapidly and for a relatively reasonable price. I strongly recommend both the company and Mr. Robinson in particular.
In order to offer you the highest standard of consumer confidence, we maintain full accreditation with the Better Business Bureau.
BBB of Baltimore Accredited Company with an A+ Rating
Maryland's consumers depend on the BBB to report on business practices across the state. Read the details of our A+ rating with the BBB in this detailed company review.
Baltimore is the largest city in Maryland, and its growing economy relies heavily on information technology. Data loss can present serious challenges for Baltimore residents, but our teams can repair any damaged computer system, achieving full data recovery. Prospective Baltimore clients can take advantage of fast turnaround times with our local facilities.
All of our standard data recovery services feature free diagnostics. Before our teams begin to work on your case, we will analyze your media failure to provide you with a full price quote and turnaround estimate.
We can treat all media failure scenarios, including:
Hard drive crashes and electronic failures
Failed servers and RAID arrays
Damage from viruses and malicious software
Flood and fire damage
File deletion and user error
Physically damaged solid-state drives, data tapes, and more
In addition to data recovery, we offer an advanced set of additional resources for local businesses. Secure Data Recovery Services provides electronic discovery, data tape repair, and RAID data recovery in Baltimore. Contact our customer service team for more information or to set up risk-free diagnostics.
Advanced Technology for Safe Data Recovery Services
Data recovery is a specialized service, and Secure Data Recovery Services has established a reputation as an industry leader by investing heavily in new technologies. We were the first provider of hard drive repair services in Baltimore to build and maintain a certified Class 10 ISO 4 Cleanroom, which provides essential protection during hard drive repair and RAID repair procedures. Our research department also develops proprietary tools for fast and accurate results.
Secure Data Recovery Services holds a number of credentials for our security systems, including SSAE 18 Type II certification and compliance certifications for HIPAA, PCI-DSS, and FERPA. We specialize in data recovery, and our teams engage in ongoing training programs in order to treat new failure scenarios effectively.
We proudly provide a guarantee with every data recovery: Baltimore clients do not pay any type of service fee if we do not restore access to your most important files. When coupled with our comprehensive diagnostics, our no-recovery, no-charge guarantee allows for a risk-free case process. Our Baltimore data recovery office also provides fast access to our services, and we can recover many cases in less than a day through our exclusive 24/7/365 emergency option.
What to Do When a Computer System Fails
To prevent your system from taking on serious damage, you should treat failure symptoms seriously. If your device makes unusual noises or if you notice any signs of physical damage, you should shut it down immediately to prevent internal components from taking damage. Likewise, you should shut down your computer system if you notice file corruption or if you accidentally delete data. This will preserve your media, allowing for the best possible chances of a full recovery.
Make a list of failure symptoms and contact a professional data recovery provider as soon as possible.
Reasons to use our Baltimore hard drive data recovery office:
Fast turnaround options and 24/7/365 same-day emergency services
Local drop-off and pick-up for faster results
No-recovery, no-charge policy
Free diagnostics and flexible rates
An overall success rate of 96 percent
Advanced resources for RAID data recovery and server repair
Support for all operating systems and device types
When you lose data from a hard drive, RAID array, solid-state drive, or any other digital device, you need qualified help from a professional provider. Secure Data Recovery Services offers the best resources for data recovery, hard drive recovery, and file repair.
Our teams have decades of combined experience, and with numerous credentials and certifications, we offer better security than any other company. Most importantly, our policies protect our clients from unnecessary expenses; every standard case includes a risk-free media analysis and free quote, and our no-recovery, no-charge policy guarantees that you don't pay unless we recover data.