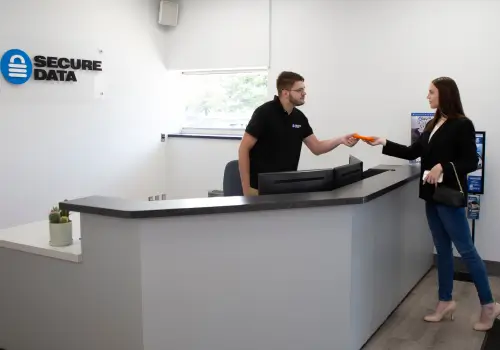 Data Recovery Services in New York City - RAID, SSD & Hard Drive Recovery
We have served New York City with industry-leading data recovery services since 2007. Recovering from a damaged or defective storage device has never been easier. Our store at 420 9th Avenue, between 33rd and 34th Streets in Manhattan, is available for walk-ins.
Trust the experts for hard drive data recovery in New York City. Our streamlined process includes a free consultation, and our experienced engineers have encountered all failure scenarios.
Our customers rate our services:
We Helped Thousands Get Their Lost Data Back.
With over 5,329 satisfied customers and growing, we are proud to provide outstanding customer experience and quality service that consistently exceed customer expectations.
View All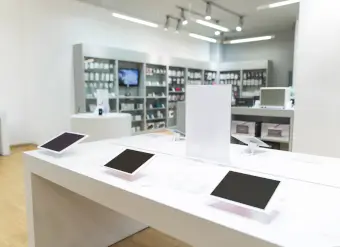 Secure Data Recovery Services
Emergency Services Available 24x7
With our data recovery New York City facility, we are proud to offer local data repair services to businesses and personal computer users. Secure Data Recovery Services has experienced engineers, advanced technology, and an extensive set of credentials, and we provide a simple way to get professional data recovery services with flexible turnaround options and reliable security.
Secure Data Recovery Near You
Need data recovery services in New York City? We have plenty of options for residents of the Big Apple and the surrounding area. We have a store in the Kensington neighborhood of Brooklyn on McDonald Avenue, near the intersection of 18th Avenue, next to the DiGilio Playground.
On Long Island, we have a Great Neck location at 350 Northern Boulevard, near the intersection with Merrivale Road. Or you can find us in the Hudson Valley at our Chester store on Brookside Avenue.
Call or visit one of our locations for certified New York City data recovery.
New York City Data Recovery Company
Secure Data Recovery Services is the authority in hard drive recovery, SSD recovery, and RAID recovery. Since 2007, our data recovery company has helped tens of thousands of individuals and businesses of all sizes in the Tri-State area successfully recover from every type of data loss scenario imaginable. We have seen your failure type before and our team understands the importance of data in the modern world. We're ready to recover your lost data with our flexible Economy and Standard data recovery services, or immediately with our Emergency data recovery option.
What Can We Recover For You Today?
New York City Data Recovery Reviews
Vincenzo Dimino
Reviewed on Sep 17, 2023 | New York, NY
Outstanding and Reliable Service
I reached out to Secure Data Recovery Services to help with file recovery on my 2TB Western Digital external drive that suddenly failed. I was connected with Scott who was very helpful in explaining the process and what each step of the recovery would be. I mailed in my external drive and once their team received it they instantly began the recovery process. Secure Data Recovery was able to recove... Read Morer all my files and placed them onto a new drive for me. They were extremely helpful every step of the way and completed the job in a timely matter. As a professional photographer, losing any sort of files is quite scary and luckily Secure Data Recovery was there to assist in this matter. Would highly recommend Secure Data Recovery to anyone in need of recovering files or damaged hard drives.

Kirsten Gill
Reviewed on Sep 15, 2023 | New York, NY
Corrupted files completely recovered
Secure Data managed to recover 100% of the corrupted video files I took of my brother''s wedding - so grateful!!!
Mitchel Holson
Reviewed on Aug 07, 2023 | New York, NY
I lost all my data on my drive and Elliot was super helpful and quickly walked me through the recovery process. Easy, painless, and all my data was recovered. Highly recommend!
Pape
Reviewed on Jul 07, 2023 | Corona, NY
Pretty good customer service
Everything is transparent from the work they do to the cost of services. You''ll be in good hands.
Pete Robertson
Reviewed on Jun 19, 2023 | Hurley, NY
I work as a sound engineer for a rock band touring all over the world. we record every show for archive purposes and possible live releases. typically I backup everyday but sometimes with our travel vs show schedules, I miss a day or two backing up.
we experienced a failure of our hard drive during a show. when i went to check the drive after the performance, the drive was dead.
of cours... Read Moree, the band wanted to use one of the shows on this drive for a live music release. Secure Data Recovery went to work and saved the day!!! All show files were recovered and the project was able to move forward. I couldn''t be happier with the customer service and the speed at which they completed the tasks. Thanks for everything!!!

Kakashi 1974
Reviewed on Jun 13, 2023 | Levittown, NY
From day one Secure Data was professional and courteous. Not only that they delivered and stayed true to their word, I totally recommend them for all your data recovery needs and more. I am just a regular person who happens to have had the opportunity to use secure data and they were able to securely retreive my data and return it to me safe and sound. They are the real deal, give them a chance I... Read More think you will not be disappointed.
Why Choose Secure Data Recovery in New York City?
Certified and Verified Secure
Transparent Process
Trusted and Guaranteed Results
Secure Data Recovery Services operates in world-class facilities that undergo regular SSAE 18 SOC 1, SOC 2, and SOC 3 audits to verify the integrity of all cybersecurity management control systems. This means that your data is protected at every stage of the recovery process.
Each of our Lab facilities also has a certified Class 10 ISO 4 cleanroom. This specialized environment provides state-of-the-art filtration to remove potentially harmful airborne particulates that could damage the sensitive internal components of storage devices.
Secure Data Recovery Services' facilities in New York City have accreditation with the Better Business Bureau and maintain an A+ business rating. Your complete satisfaction is our mission. We strive to deliver the highest quality of service for every data recovery case.
For more than a decade, the engineers at Secure Data Recovery Services have built a reputation as the most reliable provider of professional data recovery in the industry. Our expert team maintains a documented 96% successful recovery rate.
We maintain partnerships with every major digital storage manufacturer to ensure our custom solutions never threaten any existing product warranties. We also invest heavily in research and development to keep pace with rapidly evolving digital storage technology.
BBB A+ Certified Data Recovery Company
Like all of our locations, our New York City office is fully accredited with the Better Business Bureau. Our A+ rating with the BBB reflects a high level of compliance with their demanding standards.
BBB Accredited Company with an A+ Rating
You can view the complete history of our A+ Rating and accreditation with the BBB, including full documentation.
As the largest metropolitan area in the United States, New York is the cultural center of the East Coast and one of the most influential cities in the world. For many years, we have provided data recovery solutions for the city's 8.3 million residents through a large network of data recovery NYC offices.
Advantages of Secure Data Recovery Services in New York City:
Certified Class 10 ISO 4 Cleanroom data recovery
Expedited turnaround options for all services
SSAE 18 Type II and SAS 70 certification
Expert RAID services including 24/7 RAID repair
Proprietary data recovery tools and a 96 percent success rate
Full compliance with HIPAA, FERPA and PCI-DSS
Around-the-clock customer service
Secure Data Recovery Services is the best option for dependable, secure data repair in New York City. To get started, contact our customer service team today to set up a media evaluation. Our data recovery facility guarantees satisfactory results.
What to Do When Digital Devices Fail
While media failures often occur without warning, you can limit the costs of your data recovery case by addressing issues immediately. You should recognize some of the most common symptoms that precede data loss disasters and contact our hard drive recovery office as soon as these symptoms occur.
Common warning signs of media failure include:
Unusual clicking, grinding, or other mechanical noises
Error messages indicating corrupt or unreadable files
Computer does not recognize attached media
"Bad sectors" error
Inaccurate drive listing in BIOS
Visible damage to electronics
Fire, smoke, or water damage
Accidental file deletion or formatting
Operating system errors
The most important step that you can take to avoid additional damage is to turn your device off as soon as you notice unusual symptoms. Do not try to recover or repair your media under any circumstances. Never run data recovery software or disk utilities on your device, as commercial programs can contribute to file corruption and other issues.
At Secure Data Recovery Services, we offer completely risk-free diagnostics to give our New York City clients a fast, accurate way to assess the potential costs of data recovery. Our engineers can evaluate media within 48-72 hours, and we also offer expedited services for emergency data loss disasters. All cases receive fast treatment in a certified Class 10 ISO 4 Cleanroom.
When you work with Secure Data Recovery Services, you get the best possible chances of recovery for an excellent return on investment. Our hard drive data recovery facility will provide same-day diagnostics, which includes a price quote, turnaround estimate, media failure analysis, and list of recoverable files. We have built our reputation on our impeccable professionalism. Contact our New York hard drive repair facility and experience why top-notch organizations, such as YMCA and NASA, have come to us for help.
Choosing a Hard Drive Data Recovery Company
You should always consider credentials and available service options when choosing a professional data repair company. Secure Data Recovery Services holds more relevant credentials than any other company in the United States, and because our engineering teams have decades of combined experience with various types of digital devices, we always provide reliable and consistent results with our data recovery services. New York companies, organizations, and associations can rest assured when having their hard drives serviced by our certified and professional team.
We are one of the only data recovery companies on the East Coast with a 96 percent success rate, and our excellent security certifications give you an easy way to maintain compliance with various laws and standards surrounding our data recovery services. New York City computer users can have their hard drives assessed and priced online. We will provide a free quote for our certified and professional data recovery services. If you have lost data due to accidental file deletion, a hard drive failure, RAID failure, or any other reason, contact our customer service team today to set up a new case at our New York City facility.
Free Data Recovery Quote
We intimately understand all data loss scenarios and will exhaust all options technologically possible to reunite you with your lost data as quickly as possible. When you choose Secure Data Recovery Services, you get the most credentialed professionals in the industry.
Service times and exact pricing for a successful recovery always depend on the specific damage to the storage, which is why we offer free, no-risk diagnostics with every standard service.
Our quotes consist of:
Price for successful recovery
Time estimates for job
Key information about the events that led to data loss
Call 646-933-0167 to speak to a data recovery expert 24x7 and schedule your free data recovery consultation with a no-obligation price quote.