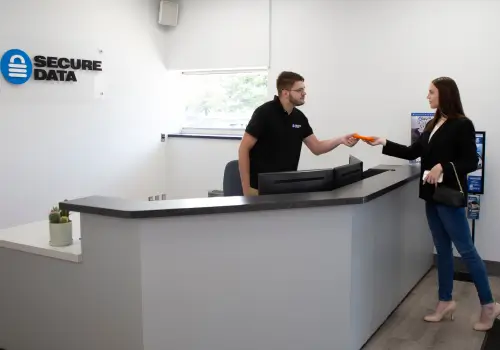 Data Recovery Services in New York - RAID, SSD & Hard Drive Recovery
With a local office in downtown Manhattan, Secure Data Recovery Services provides a reliable data recovery resource for businesses and personal computer users throughout New York State. We specialize in data repair, RAID repair, and hard drive data recovery; New York computer users can trust our facilities to provide dependable results with state-of-the-art technology and perfect security.
Our Service Centers
Greater New York City Area
Greater Buffalo Area
As the nation's leading center for banking, finance, and communication, the state of New York plays an incalculably large role in American culture. By establishing a facility in New York City as well as several other East Coast offices, we give our data recovery clients fast access to our award-winning services.
Our New York data recovery office features:
Industry-leading turnaround times and multiple service options
SSAE 18 Type II certified security
A certified class 10 ISO 4 Cleanroom
A 96 percent success rate for hard drive data recovery
NY local pick-ups and drop-offs for fast treatment
Data tape repair, RAID repair, and other specialized services
With our industry-leading success rates and flexible case options, we deliver a simple way to recover lost files from nearly any type of device. Our engineers have experience with every operating system, and we maintain consistent standards through regular investments in our laboratory.
Secure Data Recovery Services is one of the only professional hard drive repair services in New York to offer totally risk-free diagnostics for all standard data recovery cases. Each diagnostic report includes a free quote and turnaround estimate, and for hard drive recovery, New York residents can take advantage of our no-recovery, no-charge guarantee. Contact our customer service team today to start your case.
Expert Data Recovery Services
Secure Data Recovery Services is the authority in Hard Drive Recovery, SSD Recovery and RAID Recovery. Since 2007, our data recovery company has helped tens of thousands of individuals and businesses of all sizes successfully recover from every type of data loss scenario. We understand the importance of data in the modern world and with our Economy, Standard and Emergency Data Recovery Options and state-of-the art technology we are ready to get your lost data back right now.
Experience total piece of mind with a "No Data, No Recovery Fee" Guarantee.
What Can We Recover For You Today?
Industry-Leading Data Security and RAID Services
Data loss can strike at any time and for any number of reasons, and when you suddenly lose important files, you need to work with a qualified data recovery company to restore access as quickly as possible. Secure Data Recovery Services has a reputation as New York's most advanced data repair company, and we regularly research new technologies to provide excellent results.
Our laboratory has an on-site parts library, a certified Cleanroom, and dozens of proprietary tools that allow for better success rates. We can safely treat all types of damaged devices, and we never use destructive methods to recover your data. Secure Data Recovery Services is one of the only companies that can safely perform highly specialized services like data tape repair and RAID data recovery without risking media damage.
Additionally, since we have advanced security systems at our facilities for data recovery, New York customers can rest easy knowing that we'll keep your data safe and confidential.
Our facilities' security controls include:
Advanced encryption for all recovered data
Closed and protected data storage networks
Carefully managed media access controls
Full background checks on all staff members
Secure Data Recovery Services fully complies with HIPAA, FERPA, and PCI-DSS and holds certifications for SAS 70 and SSAE 18 type II standards. All of our certification documents are available online to simplify the purchasing process for compliant businesses.
What to Do If Your Digital Device Fails
Never operate a damaged device, especially if you notice unusual sounds or any visible signs of damage. Data storage devices can sustain permanent and severe damage when operating in a failed state. By shutting down and removing power to your system immediately when failure symptoms appear, you can significantly improve your chances of a full recovery.
At Secure Data Recovery Services, we are dedicated to providing the best professional data recovery services in New York. We provide flexible service options through our Manhattan office with affordable standard services and 24/7/365 emergency services, and our certified data recovery specialists are always prepared to help you create a customized disaster recovery plan to treat data loss quickly and effectively. Contact us online or call our customer service team today to set up a new case.
Secure Data Recovery Process
1
Free
Consultation
Power down the device and call us, 24x7 for a free consultation and quote.
2
Free Professional Diagnostics
Submit your device at one of our locations for a non-destructive evaluation by a data recovery expert.
3
Review &
Decide
Review the diagnostic results and approve the work order at a set price, payable upon success with our "No Data, No Recovery Fee Guarantee".
4
Data Recovery & Return
Submit payment and receive your recovered data on a new external drive.