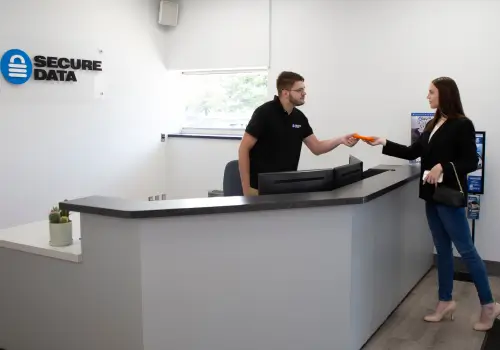 Data Recovery Services in Florida - RAID, SSD & Hard Drive Recovery
Secure Data Recovery Services in Florida offers professional data repair, hard drive data recovery, electronic discovery and other services to the sunshine state. We have built a reputation for our high recovery success rates, and with multiple service options and excellent security credentials, we offer the best set of hard drive repair services in FL.
Our Service Centers
Greater Jacksonville Area
Greater Orlando Area
Greater Tampa Bay Area
Greater Miami Area
Greater Broward West Palm Beach Area
Greater Deltona Area
Key West Area
Greater Fort Meyers Area
Sarasota Area
Greater Tallahassee Area
Florida has built an impressively diverse economy, and with more than 19 million residents, it is the fourth-largest state in the United States by population. Dozens of Fortune 500 businesses have a presence in Florida, including a number of healthcare and technology businesses, and Secure Data Recovery Services has served the state since 2007. Our services feature state-of-the-art security and an industry-leading 96 percent success rate, giving us the best chance to fully recover data. Prospective Florida customers should contact us right away for a free quote.
Expert Data Recovery Services
Secure Data Recovery Services is the authority in Hard Drive Recovery, SSD Recovery and RAID Recovery. Since 2007, our data recovery company has helped tens of thousands of individuals and businesses of all sizes successfully recover from every type of data loss scenario. We understand the importance of data in the modern world and with our Economy, Standard and Emergency Data Recovery Options and state-of-the art technology we are ready to get your lost data back right now.
Experience total piece of mind with a "No Data, No Recovery Fee" Guarantee.
Recovery Services We Offer
By establishing four offices in Florida, we offer a local option for hard drive data recovery and RAID data recovery. In Florida, we have offices in Tampa, Miami, Orlando and Jacksonville that provide fast access for all computer users and businesses. Contact us today to speak to a certified data loss professional, set up a risk-free evaluation, or to schedule a visit to one of our facilities.
What to Do When a Storage Device Fails
You should always take appropriate precautions when handling damaged media. Keep your device powered off; do not use the normal shutdown procedure, as you might accidentally overwrite key data. Shut down your computer directly by holding down your power button and do not turn your system on for any reason.
Never attempt to recover your damaged files, as you might accidentally overwrite key data. To set up a risk-free media evaluation, contact our nearest office in Florida. Hard drive data recovery is time-sensitive, so make sure to give us a call as soon as you suspect that your device is failing.
Secure Data Recovery Services' engineering teams can treat:
Failed or damaged hard drives and other digital devices
Overwritten or deleted files
Damaged databases
Virus and malicious software damage
Bad sectors and file corruption
Fire damage, water damage and more
Because we specialize in data recovery, we can use next-generation technology to treat all types of storage devices. We can provide a full evaluation report for your case, including a price and turnaround estimate, within several days of receiving your media.
An Industry Leader in Hard Drive Data Recovery
At our offices in Florida, hard drive data recovery services are taken very seriously, and we operate the most well-outfitted recovery facilities in the state. Secure Data Recovery Services was the first company in the state to open a certified Class 10 ISO 4 Cleanroom, and with a number of respected security credentials including SSAE 18 Type II certification, we always protect your confidentiality when performing our services.
Benefits of Secure Data Recovery Services' Florida offices include:
Fast turnarounds and a 96 percent success rate
Experienced data recovery teams
Guaranteed results with a no recovery, no charge policy
Advanced RAID services including RAID repair
Data repair services for all types of digital devices
Online case status lookup system
Full compliance with FERPA and PCI-DSS
Our flexible service options give you the results you need to protect your business from downtime and other costly consequences of data loss. For our customers in Florida, data recovery, excellent hard drive repair services, and true 24/7/365 emergency services are what put us ahead of the game. We have an average turnaround time of less than two days, and our standard service features completely risk-free evaluations. All of our services feature a full no recovery, no charge guarantee.
Secure Data Recovery Services in Florida offers the most advanced data repair option in the state, and with state-of-the-art facilities and experienced engineering teams, we can treat virtually any type of digital device. If you need hard drive data recovery, data tape repair or any other media service, our specialists are standing by to help you set up a recovery plan. Set up your case today by going online.
Secure Data Recovery Process
1
Free
Consultation
Power down the device and call us, 24x7 for a free consultation and quote.
2
Free Professional Diagnostics
Submit your device at one of our locations for a non-destructive evaluation by a data recovery expert.
3
Review &
Decide
Review the diagnostic results and approve the work order at a set price, payable upon success with our "No Data, No Recovery Fee Guarantee".
4
Data Recovery & Return
Submit payment and receive your recovered data on a new external drive.