Data Recovery Services in Boynton Beach - RAID, SSD & Hard Drive Recovery
We have offered data recovery services in Boynton Beach since 2007. Recovering lost data from damaged or defective storage devices has never been easier. Our location at 1010 Gateway Boulevard, near the intersection with High Ridge Road, in the Quantum Town Center shopping mall, is available for walk-ins.
Trust the experts in hard drive data recovery in Boynton Beach. Sudden data loss does not have to become permanent.
Our customers rate our services:
We Helped Thousands Get Their Lost Data Back.
With over 5,469 satisfied customers and growing, we are proud to provide outstanding customer experience and quality service that consistently exceed customer expectations.
View All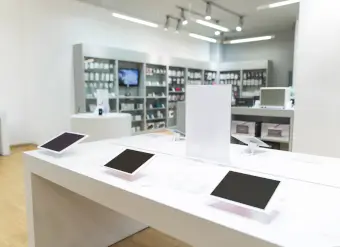 Secure Data Recovery Services
Emergency Services Available 24x7
Secure Data Recovery Near You
We have several locations through Palm Beach County. West Palm Beach residents can visit us at 100 Sansbury Way, near the intersection with Southern Boulevard. In Jupiter, customers can find us at 1695 West Indiantown Road, near the intersection with Center Street, in Sims Creek Plaza.
Need data recovery services in Fort Lauderdale? We have a Fort Lauderdale location at 2216 East Oakland Park Boulevard, on the corner of North Federal Highway, in the Coral Shores neighborhood. In Wilton Manor, we have a store at 314 East Oakland Park Boulevard, between Northeast 3rd and 4th Avenues.
We provide data recovery services in Miami to residents of South Florida. Our location at 130 Northwest 36th Street is in Miami's Wynwood neighborhood, off Exit 2A of Interstate 195, north of Roberto Clemente Park. Or visit our store at 801 Brickell Avenue, on the corner of Carlos Arboleya Boulevard, south of downtown Miami.
Boynton Beach data recovery is within reach.
Contact us or visit one of our representatives to start a case and receive a free media evaluation.
Recovery Services We Offer
Boynton Beach, FL Data Recovery
Carlos Aramburo
Reviewed on Oct 18, 2023 | Boynton Beach, FL
Timothy Rutan gave great service
Timothy saved my life. My external hardrive stopped working and I was not able to load anything anymore. Timothy was quick about everything and helped get all my personal/professional documents back.
Daryl Cornutt
Reviewed on Jun 07, 2022 | Lake Worth, FL
Elliot did a great job walking me through the process and setting expectations for recovery. In the end, they were able to recover 100% of the data. Will use again if the need ever arises.
Ainar Aijala
Reviewed on May 11, 2021 | Ocean Ridge, FL
Scott did a great job getting my son's MacBook Air data recovered. Kudos!
Taylor Lethcoe
Reviewed on Jun 21, 2018 | Boca Raton, FL
I went on a trip to the Bahamas and I had one of the most incredible experiences of my life. The sea plane took us from island to island to see all of the beautiful sights, it couldn't have been better. Then when we went to snorkel in Stuart's Cove, where the famous James Bond movie was filmed, I dropped my phone in the water getting off the boat. I thought all of the photos from my beautiful adve... Read Morenture had been lost. Days went by and my phone still wouldn't turn on. Apple said there was no possible way to recover the images lost, only what was backed up by icloud. I called many different data recovery companies, all of whom told me salvaging photos from an iPhone X that wouldn't turn on couldn't be done. I expedited my phone to Secure Data Recovery, my last hope. I received the best and speediest customer service from my representative, Fred. I was updated hourly and knew exactly what was going on. I received all of my photos and videos back from my trip within just a couple days. I'm so thankful!
Noel Leblanc
Reviewed on Jan 31, 2018 | Land O Lakes, FL
The team saved all my music and videos, even some that I had forgotten about. Alex was very accommodating, provided excellent updates and was able to work with me on price. I am more than satisfied and will recommend to others. Thanks SDR!!
Xavier Baquero
Reviewed on Dec 11, 2016 | Miami, FL
99% recovery plus an excellent customer service. Alec Sakenes was a pleasure to work with, he was very diligent and he answered every question promptly.
Why Choose Secure Data Recovery in Boynton Beach?
Certified and Verified Secure
Transparent Process
Trusted and Guaranteed Results
Secure Data Recovery Services operates in world-class facilities that undergo regular SSAE 18 SOC 1, SOC 2, and SOC 3 audits to verify the integrity of all cybersecurity management control systems. This means that your data is protected at every stage of the recovery process.
Each of our Lab facilities also has a certified Class 10 ISO 4 cleanroom. This specialized environment provides state-of-the-art filtration to remove potentially harmful airborne particulates that could damage the sensitive internal components of storage devices.
For more than a decade, the engineers at Secure Data Recovery Services have built a reputation as the most reliable provider of professional data recovery in the industry. Our expert team maintains a documented 96% successful recovery rate.
We maintain partnerships with every major digital storage manufacturer to ensure our custom solutions never threaten any existing product warranties. We also invest heavily in research and development to keep pace with rapidly evolving digital storage technology.
Free Data Recovery Quote
We intimately understand all data loss scenarios and will exhaust all options technologically possible to reunite you with your lost data as quickly as possible. When you choose Secure Data Recovery Services, you get the most credentialed professionals in the industry.
Service times and exact pricing for a successful recovery always depend on the specific damage to the storage, which is why we offer free, no-risk diagnostics with every standard service.
Our quotes consist of:
Price for successful recovery
Time estimates for job
Key information about the events that led to data loss
Call 561-342-5431 to speak to a data recovery expert 24x7 and schedule your free data recovery consultation with a no-obligation price quote.