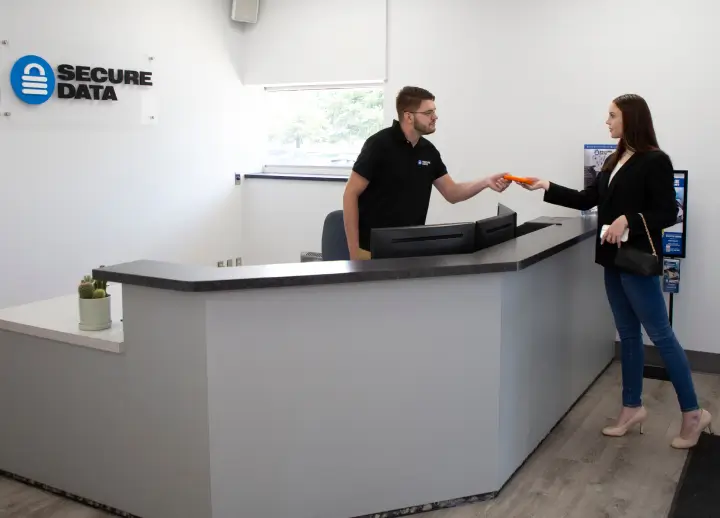 Data Recovery Services in Tampa - RAID, SSD & Hard Drive Recovery
Recovering important data from a failed storage device has never been simpler for Tampa residents. With award-winning customer service and experienced engineers, we are prepared to address all data loss events. Visit our store in Hyde Park at 114 South Oregon Avenue, near the intersection with West Cleveland Street, located a quarter of a mile from the University of Tampa campus.
Trust the experts for hard drive data recovery in Tampa. Take advantage of our "No Data, No Recovery Fee" guarantee.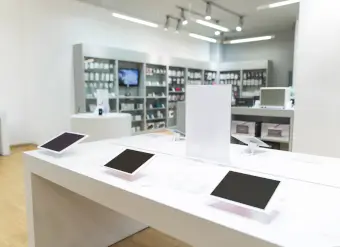 Secure Data Recovery Services
Emergency Services Available 24x7
Secure Data Recovery Near You
Need data recovery services in Tampa? We have several locations along Central Florida's Gulf Coast. You can find us in the Pebble Creek neighborhood of northeast Tampa at 19651 Bruce B Downs Boulevard, south of Regents Park Drive. Or visit us in the County Line Plaza on West Hillsborough Avenue, across from North Bay Shopping Center.
We also have a Riverview store in Winthrop Town Centre, right off Bloomingdale Avenue. East of Tampa, we have a location in Lakeland at 2929 Florida Avenue South, on the corner of Palencia Place. For residents of Pinellas County, we have stores in Clearwater on McMullen Booth Road, near the intersection with Enterprise Road.
We are the most reliable provider for Tampa data recovery.
Call or stop into one of our stores to schedule a free consultation.
Tampa Data Recovery Company
Secure Data Recovery Services is the authority in hard drive recovery, SSD recovery, and RAID recovery. Since 2007, our data recovery company has helped tens of thousands of individuals and businesses of all sizes in the Tampa Bay area successfully recover from every type of data loss scenario imaginable. We have seen your failure type before and our team understands the importance of data in the modern world. We're ready to recover your lost data with our flexible Economy and Standard data recovery services, or immediately with our Emergency data recovery option.
What Can We Recover For You Today?
Michelle Causby
Reviewed on Apr 29, 2023 | Macclenny, FL
Scott McMacken was Amazing
Scott was amazing in assisting me with data recovery of my laptop. His customer service was excellent and he kept me updated on the process. I have the data I need and I am so thankful.
Thalia B
Reviewed on Apr 05, 2023 | Tampa, FL
Secure Data Recovery Services came in clutch just when I thought all my data and photos would be lost forever. From their excellent customer service follow thorough to the data recovery process, it was nothing short of greatness. Thank you, Secure Data!
Water Waster
Reviewed on Mar 09, 2023 | Riverview, FL
Thank you so much Daniel and Secure data recovery!
After dropping my drive I was worried that I might have lost 8 years of my personal work. I gave my drive to be recovered, and the service was fast. Daniel was fast to reply to my questions, and the whole process was easy and understandable. I''m so happy that Everything that was needed got recovered. Thank you so much Secure data recovery, and thank you Daniel for your great customer service!
Christian Simmons
Reviewed on Jul 31, 2022 | Tampa, FL
When my computer crashed, I was in shock, especially since it happened in the middle of me typing! When I realized that it wasn't an easy restart kind of fix, and that I needed the help of some big-league professionals, I definitely started to panic!! As a teacher and a mother, the thought of losing all of my files was not only terrifying to me, but also heartbreaking. However, when I made contact... Read More with Tim and the rest of the team at Secure Data Recovery, they calmed my fears and reassured that they would most likely be able to help me. And they did just that, more than that! They made this technologically challenging time for me much less stressful. Every timely communication was polite, courteous, helpful. Not only were they able to save over nearly everyone one of my over 13,000 files, they did it in a very timely manner—much faster than originally promised. And, they were able to help me by working within my budget —all while still delivering excellent service quickly. I cannot thank Tim and the whole team at Secure Data Recovery enough for everything they've done to rescue and my data. If I am ever to be in need of this level of service again, I will undoubtedly reach back out to Tim! Again, many, many thanks; you are greatly appreciated!!
Taylor Steinberg
Reviewed on Sep 14, 2021 | Tampa, FL
I had an SD card fail on me and found this company searching online. I filled out a form describing my issue and they were very quick to respond and get started. My SD card was sent and received in like a day and another day to diagnose the issue and get me a quote with a plan of action for how to recover the data.

Unfortunately, I was unable to agree on the price for the service but ... Read MoreI thank Dmitry for being extremely helpful and patient with me.
Jaime Duran
Reviewed on Sep 08, 2021 | Tampa, FL
Val was very responsive, detailed, and professional! He provided an excellent customer service experience through the process. Thank you, Val!
Why Choose Secure Data Recovery in Tampa?
Certified and Verified Secure
Transparent Process
Trusted and Guaranteed Results
Secure Data Recovery Services operates in world-class facilities that undergo regular SSAE 18 SOC 1, SOC 2, and SOC 3 audits to verify the integrity of all cybersecurity management control systems. This means that your data is protected at every stage of the recovery process.
Each of our Lab facilities also has a certified Class 10 ISO 4 cleanroom. This specialized environment provides state-of-the-art filtration to remove potentially harmful airborne particulates that could damage the sensitive internal components of storage devices.
Secure Data Recovery Services' facilities in Tampa have accreditation with the Better Business Bureau and maintain an A+ business rating. Your complete satisfaction is our mission. We strive to deliver the highest quality of service for every data recovery case.
For more than a decade, the engineers at Secure Data Recovery Services have built a reputation as the most reliable provider of professional data recovery in the industry. Our expert team maintains a documented 96% successful recovery rate.
We maintain partnerships with every major digital storage manufacturer to ensure our custom solutions never threaten any existing product warranties. We also invest heavily in research and development to keep pace with rapidly evolving digital storage technology.
BBB A+ Certified Data Recovery Company
All of our Tampa, FL offices are accredited by the Better Business Bureau and maintain an A+ business rating. We strive for our customers' total satisfaction, and we work hard to provide the highest quality of service to every data recovery case.
BBB of Tampa Accredited Company with an A+ Rating
You can view the complete history of our A+ Rating and accreditation with the BBB of Tampa, including full documentation.
Free Data Recovery Quote
We intimately understand all data loss scenarios and will exhaust all options technologically possible to reunite you with your lost data as quickly as possible. When you choose Secure Data Recovery Services, you get the most credentialed professionals in the industry.
Service times and exact pricing for a successful recovery always depend on the specific damage to the storage, which is why we offer free, no-risk diagnostics with every standard service.
Our quotes consist of:
Price for successful recovery
Time estimates for job
Key information about the events that led to data loss
Call 813-463-0036 to speak to a data recovery expert 24x7 and schedule your free data recovery consultation with a no-obligation price quote.
Frequently Asked Questions
How does the process work?

Our goal is to return a fully functional copy of your data to you as quickly and as easily as possible. Our hassle-free process gives you an easy way to get started.

Contact us online or by calling 1-813-463-0036.
Drop off your device at one of our 150 nationwide locations.
Our engineers will inspect your media inside of a certified Class 10 ISO 4 Cleanroom facility.
We offer FREE diagnostics with our standard service and you are under no-obligation to move forward after receiving the diagnostic results.
Diagnostic results and exact pricing for recovery is provided once analysis is completed.
We offer a No Data No Recovery Fee policy. Payment for recovery services is only required upon success.
Once successfully recovered, the data will be returned on new storage media.

Do I need an appointment?

No appointment is needed. All you have to do is contact us to set up a help request.

How much does data recovery cost?

We have developed a transparent method for evaluating our services. Pricing for recovery is based on the exact scope of work required to retrieve the data safely and reliably.

To Get Started: Please give us a call at 1-813-463-0036 or fill out a help request on our website.
No Data - No Recovery Fee Guarantee: We aim for full recoveries with every case we receive. If we could not recover your required or target data, we do not charge you for the work.
No Hidden Charges. There are no hidden charges. All potential fees for the data recovery services are given up front in a price quote. Customers must approve the quote before the recovery job is carried out.

Why Choose Us?

Secure Data Recovery has a documented success rate of 96% since 2007.
Best-In-Class data recovery security.
Risk-free evaluations and guaranteed results inside of certified Class 10 ISO 4 facilities.
Award-winning customer service & support team.

What are your Office Hours in Tampa, FL?

Hours vary, as we have multiple locations in the Tampa area. Most locations are open over the weekend.