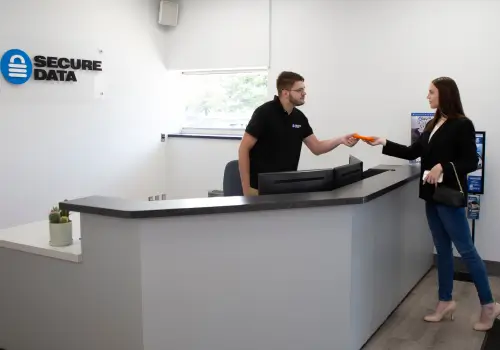 Data Recovery Services in Tampa - RAID, SSD & Hard Drive Recovery
Recovering important data from a failed storage device has never been simpler for Tampa residents. With award-winning customer service and experienced engineers, we are prepared to address all data loss events. Visit our store in Hyde Park at 114 South Oregon Avenue, near the intersection with West Cleveland Street, located a quarter of a mile from the University of Tampa campus.
Trust the experts for hard drive data recovery in Tampa. Take advantage of our "No Data, No Recovery Fee" guarantee.
Our customers rate our services:
We Helped Thousands Get Their Lost Data Back.
With over 5,453 satisfied customers and growing, we are proud to provide outstanding customer experience and quality service that consistently exceed customer expectations.
View All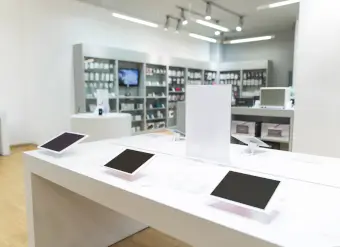 Secure Data Recovery Services
Emergency Services Available 24x7
Secure Data Recovery Near You
Need data recovery services in Tampa? We have several locations along Central Florida's Gulf Coast. You can find us in the Pebble Creek neighborhood of northeast Tampa at 19651 Bruce B Downs Boulevard, south of Regents Park Drive. Or visit us in the County Line Plaza on West Hillsborough Avenue, across from North Bay Shopping Center.
We also have a Riverview store in Winthrop Town Centre, right off Bloomingdale Avenue. East of Tampa, we have a location in Lakeland at 2929 Florida Avenue South, on the corner of Palencia Place. For residents of Pinellas County, we have stores in Clearwater on McMullen Booth Road, near the intersection with Enterprise Road.
We are the most reliable provider for Tampa data recovery.
Call or stop into one of our stores to schedule a free consultation.
Data Recovery Company in Tampa, FL
Secure Data Recovery Services are the Tampa hard drive recovery, SSD recovery and RAID recovery experts. Since 2007, our data recovery company has helped tens of thousands of individuals and businesses of all sizes in Tampa successfully recover from every type of data loss scenario imaginable. We have seen your failure type before and our team understands the importance of data in the modern world. We're ready to recover your lost data with our flexible Economy and Standard data recovery services, or immediately with our Emergency data recovery option.
Recovery Services We Offer
Julio V.
Reviewed on Nov 07, 2023 | Wesley Chapel, FL
Amazing work and great customer support
Secure data saved my life! A big thank you to Secure Data and Scott McMacken who was our Data Recovery Specialist. You guys saved our families memorable moments. Thanks for making this process so easy for us. We are forever thankful. We still can''t believe you saved all our pictures from our broken USB drive.

Nils Lenz
Reviewed on Sep 01, 2023 | Zephyrhills, FL
Excellent Service by Jacon
Jacob Medina provided an EXCELLENT in the process of recovery the data in my Western Digital Passport portable hard drive in a very expeditious matter!
Martin Williams
Reviewed on Jul 13, 2023 | New Port Richey, FL
Scott and the team are simply the best in the industry! The quality of the work and professionalism and outright kindness and understanding of the team is second to none. We thought we lost pictures of loved ones that have passed... they have no idea how much they helped. Thank you.
Travis Failey
Reviewed on Jul 01, 2023 | Tampa, FL
Jonathan and Data Recovery
Jonathan did a great job and went above and beyond in getting the files recovered that I needed in a timely and cost efficient manner.

I highly suggest this company for your data recovery needs.
Darron Jones
Reviewed on Jun 13, 2023 | ,
Excellent results, excellent customer service, and flexible payment terms. Eric was the best. He help me find a payment schedule I could handle, kept me in the loop every step of the way of the recovery process, and supper fast shipping! Secure Data, highly recommended!
Christie Weaver
Reviewed on Jun 06, 2023 | Oldsmar, FL
When my flashdrive that contained years of work and personal information was broke, Eric was able to assist with getting it looked at to determine the cause. When the cause was found, we were kept informed of our options for repair and were able to make an informed decision. The work was done in a timely manner and all my data was retrieved! I was relieved that they were able to get everything bac... Read Morek! I also appreciate the fact that they gave payment options. While I hope I never have to go through this again, it is good to know that this company can assist should I ever need it in the future!
Why Choose Secure Data Recovery in Tampa?
Certified and Verified Secure
Transparent Process
Trusted and Guaranteed Results
Secure Data Recovery Services operates in world-class facilities that undergo regular SSAE 18 SOC 1, SOC 2, and SOC 3 audits to verify the integrity of all cybersecurity management control systems. This means that your data is protected at every stage of the recovery process.
Each of our Lab facilities also has a certified Class 10 ISO 4 cleanroom. This specialized environment provides state-of-the-art filtration to remove potentially harmful airborne particulates that could damage the sensitive internal components of storage devices.
Secure Data Recovery Services' facilities in Tampa have accreditation with the Better Business Bureau and maintain an A+ business rating. Your complete satisfaction is our mission. We strive to deliver the highest quality of service for every data recovery case.
For more than a decade, the engineers at Secure Data Recovery Services have built a reputation as the most reliable provider of professional data recovery in the industry. Our expert team maintains a documented 96% successful recovery rate.
We maintain partnerships with every major digital storage manufacturer to ensure our custom solutions never threaten any existing product warranties. We also invest heavily in research and development to keep pace with rapidly evolving digital storage technology.
Free Data Recovery Quote
We intimately understand all data loss scenarios and will exhaust all options technologically possible to reunite you with your lost data as quickly as possible. When you choose Secure Data Recovery Services, you get the most credentialed professionals in the industry.
Service times and exact pricing for a successful recovery always depend on the specific damage to the storage, which is why we offer free, no-risk diagnostics with every standard service.
Our quotes consist of:
Price for successful recovery
Time estimates for job
Key information about the events that led to data loss
Call 813-463-0036 to speak to a data recovery expert 24x7 and schedule your free data recovery consultation with a no-obligation price quote.
Frequently Asked Questions
How does the process work?

Our goal is to return a fully functional copy of your data to you as quickly and as easily as possible. Our hassle-free process gives you an easy way to get started.

Contact us online or by calling 1-813-463-0036.
Drop off your device at one of our 150 nationwide locations.
Our engineers will inspect your media inside of a certified Class 10 ISO 4 Cleanroom facility.
We offer FREE diagnostics with our standard service and you are under no-obligation to move forward after receiving the diagnostic results.
Diagnostic results and exact pricing for recovery is provided once analysis is completed.
We offer a No Data No Recovery Fee policy. Payment for recovery services is only required upon success.
Once successfully recovered, the data will be returned on new storage media.

Do I need an appointment?

No appointment is needed. All you have to do is contact us to set up a help request.

How much does data recovery cost?

We have developed a transparent method for evaluating our services. Pricing for recovery is based on the exact scope of work required to retrieve the data safely and reliably.

To Get Started: Please give us a call at 1-813-463-0036 or fill out a help request on our website.
No Data - No Recovery Fee Guarantee: We aim for full recoveries with every case we receive. If we could not recover your required or target data, we do not charge you for the work.
No Hidden Charges. There are no hidden charges. All potential fees for the data recovery services are given up front in a price quote. Customers must approve the quote before the recovery job is carried out.

Why Choose Us?

Secure Data Recovery has a documented success rate of 96% since 2007.
Best-In-Class data recovery security.
Risk-free evaluations and guaranteed results inside of certified Class 10 ISO 4 facilities.
Award-winning customer service & support team.

What are your Office Hours in Tampa, FL?

Hours vary, as we have multiple locations in the Tampa area. Most locations are open over the weekend.