Data Recovery Services in Dallas - RAID, SSD & Hard Drive Recovery
We are the Dallas data recovery service with over 15 years of experience serving the Metroplex. Customers looking to recover data from failed hard drives, SSDs, RAIDs, iPhones, or other storage devices can stop into our store at 4727 Frankford Road, near the intersection with Dallas Parkway, less than a mile west of Katie Jackson Park, in the Frankford Crossing shopping center.
Trust the experts. Experience the difference with our unrivaled expertise, exceptional customer service, and "No Data, No Recovery Fee" guarantee. We recover your data, or you pay nothing.
Our customers rate our services:
We Helped Thousands Get Their Lost Data Back.
With over 5,331 satisfied customers and growing, we are proud to provide outstanding customer experience and quality service that consistently exceed customer expectations.
View All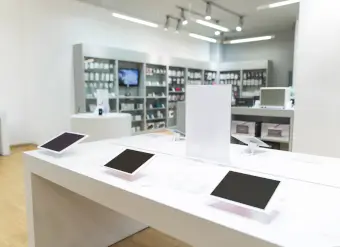 Secure Data Recovery Services
Emergency Services Available 24x7
Secure Data Recovery Near You
Looking for a professional data recovery company in Dallas? We are Secure Data Recovery. The name that thousands of organizations and home users trust to recover their lost data. Wherever you are, we have a convenient location near you with stores throughout the Dallas-Fort Worth metroplex.
We have an additional Dallas location at 1327 Empire Central Drive, off the Stemmons Freeway, southwest of Dallas Love Field Airport.
Need data recovery in Plano? Stop into our store on Preston Road, near the junction with Dexter Drive, a few blocks south of Collin Community College. We have another store in Irving at 259 East Grauwyler Road, a couple miles east of the Hospital District. Or visit us in Carrollton at 1908 East Belt Line Road.
Those looking for Fort Worth data recovery can find us at 5034 Trail Lake Drive, off the Ronald Reagan Memorial Highway.
Stop into one of our stores for professional Dallas data recovery or call us for your free consultation.
Data Recovery Company in Dallas, TX
Since 2007, our data recovery company has helped tens of thousands of individuals and businesses of all sizes in Dallas and North Texas recover from every data loss scenario imaginable.
Our team understands the importance of data and the impact of sudden data loss. We resolve thousands of cases each year and heavily invest in research and development. That is how we maintain a documented 96% success rate.
Your complete satisfaction is our mission. We strive to provide the best service and deliver results for each hard disk drive (HDD), solid-state drive (SSD), USB flash drive, SD card, iPhone, and Android mobile device. Our data recovery experts can perform manual file repair to restore data in cases of malware and accidental deletion or formatting, regardless of storage device. Our sophisticated tools and techniques allow us to offer professional SSD data recovery for damaged or defective components.
We specialize in developing data loss solutions for businesses and organizations with complex cases. We provide enterprise-grade data recovery services for failed RAID, network-attached (NAS and SAN) storage systems, and virtual machines. We have a large library of RAID controllers to facilitate complicated repairs. Our engineers have decades of RAID data recovery experience and can restore files from all storage levels.
We have seen your failure before and are ready to recover your lost data with our flexible Economy and Standard service options. Or receive immediate, around-the-clock assistance with our Emergency data recovery services to reduce downtime.
Hard Drive Recovery in Dallas
Our hard drive recovery experts deliver customized solutions to Dallas customers that suffered data loss. We can address hard drive failure caused by physical damage, mechanical breakdowns, electrical issues, and logical errors. We have experience with hard drives from every data storage manufacturer and maintain an extensive collection of replacement parts. Our technicians can recover any file type from numerous operating systems.
Whether you lost valuable photos, important documents, or sensitive business files, we have the expertise to ensure your data is successfully recovered, safe and secure. By diagnosing and repairing your hard drive in a Class 10 ISO 4 cleanroom, we can restore your device to working condition without risking further media damage and jeopardizing the original data.
We combine cutting-edge technology with an unwavering commitment to our customers. The result is an innovative data recovery service that helps you regain what matters most.
Data Recovery Dallas
Dallas draws millions to North Texas annually with world-class attractions, including a diverse food and nightlife scene, the biggest concerts and sporting events, renowned aquariums and zoos, stunning art and educational exhibits, and beautiful botanical gardens and public parks. Dallas offers a unique experience for every family and tourist. Those experiences become terabytes of digital data on HDDs or SSDs, mobile devices, SD cards, and thumb drives. Drops, spills, or accidental formatting can wipe away those memories, but Secure Data Recovery can prevent data loss from becoming permanent.
Our data recovery specialists can retrieve data from all storage devices for individuals, small businesses, and large organizations. Trust the experts to recover corrupted, deleted, or inaccessible data. Our state-of-the-art laboratories, certified personnel, and specialized hardware and software can resolve even the most challenging cases.
What Can We Recover For You Today?
Dallas, TX Data Recovery Reviews
Jana Puetz-Bement
Reviewed on Sep 28, 2023 | Whitewright, TX
Outstanding customer service
This is the only company you should use for any data recovery! Jacob and his team went above and beyond my expectations. I had a WD passport that stopped working and they were able to recover our most important files that our company uses daily! Don''t look anywhere else, just call them, you will not be disappointed. Their customer service is outstanding!! I can''t thank them enough. If I coul... Read Mored give them more stars, I would!! Thank you again!!!!!! I can breathe a little easier now!
Landon Campbell
Reviewed on Sep 27, 2023 | Dallas, TX
Priceless Data Recovered!
I had a network storage device die on me, and it had all of my family photos since my children were born! Thanks to Scott and the SDR team, all of that has been recovered, and the process was painless. I also appreciate their thoughtfulness in returning the data to me in two shipments -- new data, original drive -- to avoid the possibility of losing both in one shipment. That is the kind of thinki... Read Moreng you don''t see every day!
Robert Moran
Reviewed on Sep 04, 2023 | Dallas, TX
Great customer service and timely recovery, professional.
Erich Wendel
Reviewed on Aug 28, 2023 | Fort Worth, TX
I just received my data report back from Secure Data Recovery. My name is Erich and I am a private chef and owner of a catering and in-home event business and I use my smartphone for 90 percent of my business needs. As you can imagine, when I encounter a major issue with my phone, it becomes a major issue in every aspect of my life including my business. I had a secure folder option on my devic... Read Moree which I could use for my important business documents, proprietary recipes, photos of my events for my websites and social media accounts, invoices, catering packages and menus. Recently, my phone bit the dust and I found out the hard way how secure my secure folder was. It does not store anything on my on external media and also does not back up to the cloud. When my phone went dark, I took it to tech support at the chain store I purchased it and the support plan from and it was so compromised that they couldn''t even get it to register on their system when they connected it to diagnose. They sent me a new phone, but offered no solution for my precious data that was lost. After my new phone arrived and before I sent my old one in to be recycled, I made one last effort to recover and Googled data extraction services. This brought me to Secure Data Recovery Service. I filled out their contact form and within an hour, I received a call, from an actual person, and so began my experience with Secure Data Recovery. Scott McMacken was in charge of my case from the jump. He was in very close contact with me throughout the whole process, explaining every step and what they would need from me to complete the work. Once they had accessed the storage areas and verified that there was in fact data that could be recovered, they sent me an itemized list of files that were recovered for me to approve before moving forward and provided an estimate of what it would cost to complete. He even worked with me and spoke to his higher ups to provide options that would bring it more in line with what I had budgeted for the work to be done. I can''t even begin to express how much weight Scott and his team lifted off of me with their flexibility and desire to assist. I am looking forward to receiving my flash drive soon and getting back to business. If I hadn''t found Scott and his dedicated team, all of this would have been lost forever. Thanks Scott and Secure Data Recovery for saving this Chef in Distress!!!
Ranee Huff
Reviewed on Aug 25, 2023 | Azle, TX
All of my work for the last 3 years was on an external hard drive that fell off my desk from slightly adjusting my laptop to bring it closer to me for a Zoom call. That one move made the hard drive fall in such a way that it was damaged and no longer working. After crying for about an hour, then taking it to Best Buy and crying in the line for about another hour, and waiting 4 weeks to find out th... Read Moreey could do NOTHING to help, I was determined to find someone that could help.

Fast forward to me finding Secure Data Recovery from a Google search, I called the number on the website and Scott McMacken answered my call on the 2nd ring. He told me that they help with stuff like this all the time, talked me off the ledge, and helped me throughout the process with prompt responses. I never worried one time about anything throughout the process. Scott called and followed up with me, checked on me via email, and made sure I felt confident in SDR''s services. THANK YOU SO MUCH SCOTT!!!
Mel Unantenne
Reviewed on Jul 04, 2023 | Irving, TX
Definitely less costly than other options. So far it's been easy working with them.

Lost my data from a mobile data storage unit that I dropped. Per their summary report, it looks like I got 80% of the data back.
Why Choose Secure Data Recovery in Dallas, TX
Certified and Verified Secure
Transparent Process
Trusted and Guaranteed Results
Secure Data Recovery Services operates in world-class facilities that undergo regular SSAE 18 SOC 1, SOC 2, and SOC 3 audits to verify the integrity of all cybersecurity management control systems. This means that your data is protected at every stage of the recovery process.
Each of our Lab facilities has a certified Class 10 ISO 4 cleanroom. This controlled environment provides state-of-the-art filtration to remove harmful particulates that could damage the sensitive internal components of storage devices.
For more than a decade, the engineers at Secure Data Recovery have built a reputation as the industry's most reliable provider of professional data recovery. Our expert team maintains a documented 96% success rate, the most industry-specific certifications, and the fastest turnaround times.
We maintain partnerships with every major data storage manufacturer to ensure our custom solutions do not threaten existing product warranties. We also invest heavily in research and development to keep pace with rapidly evolving storage technology. Discover why you should choose professional data recovery services.
Free Data Recovery Quote
We understand all data loss scenarios and will exhaust every available option to quickly reunite with your lost files. When you choose Secure Data Recovery, you get the most credentialed professionals in the industry.
Service times and exact pricing for a successful recovery always depend on the specific damage to the storage device, which is why we offer free diagnostics with every standard service.
Our quotes consist of:
Price for successful recovery
Time estimates for job
Key information about the events that led to data loss
Call 214-871-7714 to speak to a data recovery expert 24x7 and schedule your free consultation with a no-obligation price quote.
Frequently Asked Questions
How does the data recovery process work?

Call to speak to a data recovery adviser who will provide you with a reference number and a free estimate. Get your failed drive to the lab, where the recovery process starts:

Diagnostics: A professional data recovery specialist will begin with a comprehensive analysis of the drive and develop a plan to retrieve the files.
Media Repair: If the storage device is not operable, a dedicated data recovery technician will repair it to its original state using special data recovery hardware and software.
Image Creation: When the physical device is operable, a software image is created. This process copies the data from the failed drive to a new drive, ensuring that no original data will be lost during the data recovery process.
Data Recovery Procedure: After the image has been successfully created, data is extracted from the image.
Data Integrity Check: Once the data has been successfully recovered from the image, it is saved to a secure destination. A lab technician will then validate the data using software to ensure that all the necessary files have been recovered.
Data Delivery: The recovered data is then delivered to you in a safe and secure manner, via any new external drive of your choice.

Do I need an appointment?

No appointment is necessary, but we do strongly recommend you call ahead to speak to a data recovery adviser and set up a reference number, which will save you time.

What are the Store Hours in Dallas, TX?

Our 4727 Frankford Road Suite 301, Dallas, TX 75287 store is open Monday through Friday 8:30AM - 6PM and Saturday 10AM - 2PM. Closed Sundays. If you have an emergency, please call our hotline 214-871-7714 for immediate assistance.