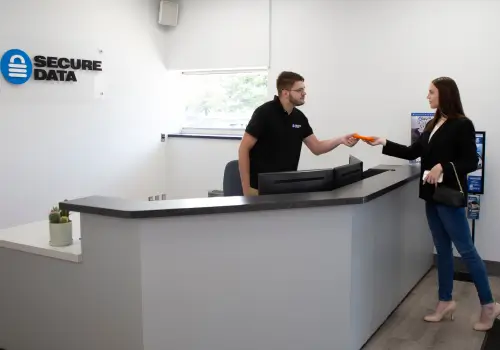 Data Recovery Services in Carrollton - RAID, SSD & Hard Drive Recovery
We have served residents of Carrollton, TX for over 15 years, supplying innovative data recovery solutions. Whether it's a broken hard drive or crashed server, we have the certified experts, facilities, and tools to retrieve your lost data. Our 1908 East Belt Line Road store is located near the intersection with South Josey Lane. No appointments are needed.
When it comes to data loss, trust the professionals for hard drive data recovery in Carrollton, TX. We offer valuable services, such as a no-cost consultation and a risk-free estimate, alongside our "No Data, No Recovery Fee" Guarantee.
Our customers rate our services:
We Helped Thousands Get Their Lost Data Back.
With over 5,329 satisfied customers and growing, we are proud to provide outstanding customer experience and quality service that consistently exceed customer expectations.
View All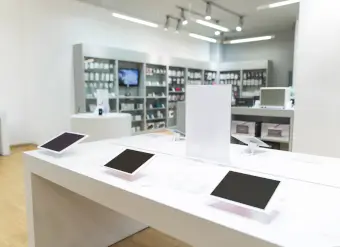 Secure Data Recovery Services
Emergency Services Available 24x7
Secure Data Recovery Near You
Besides the listed store, we have a number of other locations in the area. Need data recovery in Dallas? Our 1327 Empire Central Drive store is just off the Stemmons Freeway. Our other Dallas location at 2911 Turtle Creek Boulevard is east of Reverchon Park. In Plano, you can find us at 1400 Preston Road, at the corner Dexter Drive. For Irving residents, we have a store at 259 East Grauwyler Street, near the Irving Village shopping plaza. In Grapevine, we are located at 2030 Glade Road, in the Vineyard Marketplace.
Data recovery services in Carrollton, TX are more convenient than ever.
Contact us or visit one of our stores to get started.
Data Recovery Company in Carrollton, TX
Secure Data Recovery Services are the Carrollton hard drive recovery, SSD recovery and RAID recovery experts. Since 2007, our data recovery company has helped tens of thousands of individuals and businesses of all sizes in Carrollton successfully recover from every type of data loss scenario imaginable. We have seen your failure type before and our team understands the importance of data in the modern world. We're ready to recover your lost data with our flexible Economy and Standard data recovery services, or immediately with our Emergency data recovery option.
What Can We Recover For You Today?
In addition to hard drive recovery and RAID recovery, we specialize in complex data loss solutions for SSD drives and other NAND-based flash memory devices, iPhone and Android smartphones and mobile devices, network-attached (NAS and SAN) storage systems, and virtual machines.
Carrollton, TX Data Recovery Reviews
Braylee Flaska!
Reviewed on Aug 02, 2021 | Carrollton, TX
Jonathan was amazing to help me with the whole process with data recovery. I had so many questions and he helped me work through all of them! 10/10 recommend!
Panda Cuenca
Reviewed on Sep 17, 2020 | Carrollton, TX
Jeff H. - Truly helpful, knowledgeable, and kind.
I sent a request to be contacted by Secure Data Recovery regarding my hard drive that I so clumsily broke. Within minutes, Jeff Hart contacted me with questions about my situation. The questions were straightforward and direct. Immediately after that, Jeff sent my FedEx shipping label. I was impressed by how quickly he responded!

Even though I could not recover my data, I felt like Jeff... Read More really was on top of everything to make sure I felt important as a customer. When I asked SDR to destroy my hard drive instead of sending to back, I could tell Jeff was empathetic to my situation. I will definitely use Secure Data Recovery in the future as long as they keep employing people like Jeff Hart!
Jennifer Wax
Reviewed on Nov 18, 2019 | Bowie, TX
I am a wedding photographer, and when my external hard drive crashed, I for sure thought I lost it all. I finally was told to contact Secure data Recovery. I sent in a inquire and within 30 minute Chris gave me a call. He explain to me it happens all the time, that he has worked with multiple photographers and it will be okay. He made the process so easy and worry free. He worked with me on the pr... Read Moreice, the schedule and explained to me the documents and paper work. I hope I never have to go through this again, but if I do, Chris will be the one I call. Thank you so much, I'd have no idea how much you saved me.
Shyan Houk
Reviewed on Aug 29, 2019 | Royse City, TX
Great Customer Service From Beginning to End
I had an external hard drive that was no longer being recognized by my computer and of course, it had all of my photos, videos, and documents for at least 5 years. I was referred by the manufacturer to contact Secure Data Recovery. It was easy to go online and request help and very quickly I was contacted by Eli Robinson. He stayed in contact with me for the entire process and was nothing but g... Read Morereat! With how much I needed to communicate with him, it almost became like talking to a friend. I''m so thankful that I am getting my files back!
Jacquie Presson
Reviewed on Aug 05, 2019 | Colleyville, TX
Retrieved data off dropped external HD
I dropped my external HD with many years of family photos stored on it. Elijah, with Secure Data, walked me through the necessary steps to recovering the data. I was able to bring it to a nearby computer store who works with Secure Data and they packed it off and sent it to the proper location where a clean room and data recovery specialist received it. Elijah kept me posted along the way with eac... Read Moreh step. They were able to recover/restore 100% of my data and load it on a new military grade external hard drive. I was so upset at the thought of losing all
of these irreplaceable family photos. I am so grateful to Elijah and the Secure Data team for their kindness, professionalism, and tech abilities! I would highly recommend!
Brandon Lindsey
Reviewed on Jul 15, 2019 | Carrollton, TX
Great supportive assistance - Recovered
This team did an excellent job of recovering my files. I''ve been suffering for about 5 years with a corrupt external drive. They were my last stop before just trashing thousands of pictures of my past. Jeff Hart was my contact through the whole process and we spoke often with updates and check ins. He was a good guy and very transparent, which I appreciate. Forgive me forgetting the gentleman''s... Read More name who did the work on my hard drive but he was quite informative of what happened to my drive and what they did to resolve. They carefully explained the price and the processes that they used.
It was a good experience overall.
Why Choose Secure Data Recovery in Carrollton, TX?
Certified and Verified Secure
Transparent Process
Trusted and Guaranteed Results
Secure Data Recovery Services operates in world-class facilities that undergo regular SSAE 18 SOC 1, SOC 2, and SOC 3 audits to verify the integrity of all cybersecurity management control systems. This means that your data is protected at every stage of the recovery process.
Each of our Lab facilities also has a certified Class 10 ISO 4 cleanroom. This specialized environment provides state-of-the-art filtration to remove potentially harmful airborne particulates that could damage the sensitive internal components of storage devices.
Secure Data Recovery Services' facilities in Carrollton, TX have accreditation with the Better Business Bureau and maintain an A+ business rating. Your complete satisfaction is our mission. We strive to deliver the highest quality of service for every data recovery case.
For more than a decade, the engineers at Secure Data Recovery Services have built a reputation as the most reliable provider of professional data recovery in the industry. Our expert team maintains a documented 96% successful recovery rate.
We maintain partnerships with every major digital storage manufacturer to ensure our custom solutions never threaten any existing product warranties. We also invest heavily in research and development to keep pace with rapidly evolving digital storage technology.
Free Data Recovery Quote
We intimately understand all data loss scenarios and will exhaust all options technologically possible to reunite you with your lost data as quickly as possible. When you choose Secure Data Recovery Services, you get the most credentialed professionals in the industry.
Service times and exact pricing for a successful recovery always depend on the specific damage to the storage, which is why we offer free, no-risk diagnostics with every standard service.
Our quotes consist of:
Price for successful recovery
Time estimates for the job
Key information about the events that led to data loss
Call 800-388-1266 to speak to a data recovery expert 24x7 and schedule your free data recovery consultation with a no-obligation price quote.