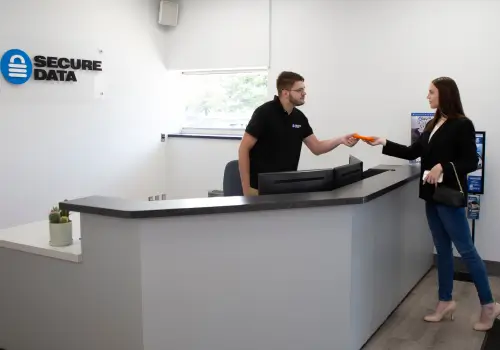 Data Recovery Services in Texas - RAID, SSD & Hard Drive Recovery
Data recovery in Texas has never been more convenient. Secure Data Recovery has over 40 locations in the Lone Star State. Our services come with free diagnostics and a 96% success rate for SSD, RAID, and hard drive recovery in Texas. Find a data recovery center near you by browsing the list below or give us a call to receive a free consultation.
Our Service Centers
Greater Houston Area
Greater Dallas Area
Greater Fort Worth Area
Greater Waco Area
Greater Austin Area
Greater San Antonio
Greater El Paso Area
Greater Amarillo Area
Secure Data Recovery provides Texas with a dedicated resource for professional data recovery through facilities in Austin, Dallas, Houston, and San Antonio metropolitan areas. Texas is the second-largest state by population, with more than 26 million residents. It has one of the most diverse state economies and several major metropolitan centers, and we proudly serve the Lone Star State through our network of local offices. Our facilities are equipped to treat any type of digital device regardless of failure scenario or operating system, and our varied service options allow our clients to maintain control over turnaround time and pricing.
Expert Data Recovery Services
Secure Data Recovery Services is the authority in Hard Drive Recovery, SSD Recovery and RAID Recovery. Since 2007, our data recovery company has helped tens of thousands of individuals and businesses of all sizes successfully recover from every type of data loss scenario. We understand the importance of data in the modern world and with our Economy, Standard and Emergency Data Recovery Options and state-of-the art technology we are ready to get your lost data back right now.
Experience total piece of mind with a "No Data, No Recovery Fee" Guarantee.
Recovery Services We Offer
By maintaining strict security protocols and by investing in research and development, Secure Data Recovery Services has established a reputation as an industry leader. Go online to get a free quote. You can also contact our customer service team or visit one of our facilities to start your case today!
State-of-the-Art Technology for Reliable Data Repair
Our data recovery services in Texas require a number of specialized tools and extensive experience. We maintain our excellent 96 percent success rate by investing in our state-of-the-art facility and in ongoing training for our professional engineering staff. Our high success rate makes us the go-to place for Texas hard drive data recovery.
Our engineers can treat any data loss scenario, including:
Physical or electronic hard drive damage
Accidental file deletion, formatting, and overwrites
Fire and smoke damage
Water damage
Failed RAID rebuilds and parity loss
Virus and malicious software damage
Media decay, operating system failures, and more
Secure Data Recovery Services operates an expansive network of offices across the United States. We have four facilities in Texas that recover data: Texas' 26 million residents have easy access to our valuable services! Each of our facilities use advanced security systems to protect your data, and we fully comply with HIPAA, FERPA, PCI-DSS, and other laws that affect Texas businesses.
What to Do When Your Digital Storage Device Fails
Never operate a failed hard drive, RAID array, or any other digital storage device, as you might unintentionally cause additional damage that will limit your chances of a successful recovery. Turn your system off as soon as possible and look for a certified data recovery company.
At Secure Data Recovery Services, we know that data loss presents serious challenges for computer users. Whether you lose a single file or several Terabytes of data, you need help from experienced data recovery engineers in order to avoid system down time. With our risk-free evaluations and our exclusive no-recovery, no-charge guarantee, you can enjoy peace of mind when using our hard drive repair services in TX. We take the necessary steps to deliver the best possible chances of a successful outcome in every case.
Benefits of our Texas facilities include:
Experienced data recovery engineers and dedicated equipment
A certified Class 10 ISO 4 hard drive data recovery Cleanroom
SSAE 18 Type II security certification and full compliance with federal information privacy laws
Multiple service options including 24/7/365 emergency services
RAID repair and other advanced RAID services
Online status updates and a knowledgeable customer service team
Secure Data Recovery Services has the experience and technology to help you recover from any type of data loss disaster. Hard drive data recovery, data tape repair, and other advanced media services are just a few examples of what we offer our customers. Our certified specialists are ready to create an effective recovery plan for your unique case. We encourage you to view our testimonials and certifications to see why Texas businesses choose Secure Data Recovery Services for RAID 5 data recovery, hard drive data recovery, and other advanced services. If you would like to start a case or if you have questions about any of our services, contact our customer service team today.
Secure Data Recovery Process
1
Free
Consultation
Power down the device and call us, 24x7 for a free consultation and quote.
2
Free Professional Diagnostics
Submit your device at one of our locations for a non-destructive evaluation by a data recovery expert.
3
Review &
Decide
Review the diagnostic results and approve the work order at a set price, payable upon success with our "No Data, No Recovery Fee Guarantee".
4
Data Recovery & Return
Submit payment and receive your recovered data on a new external drive.