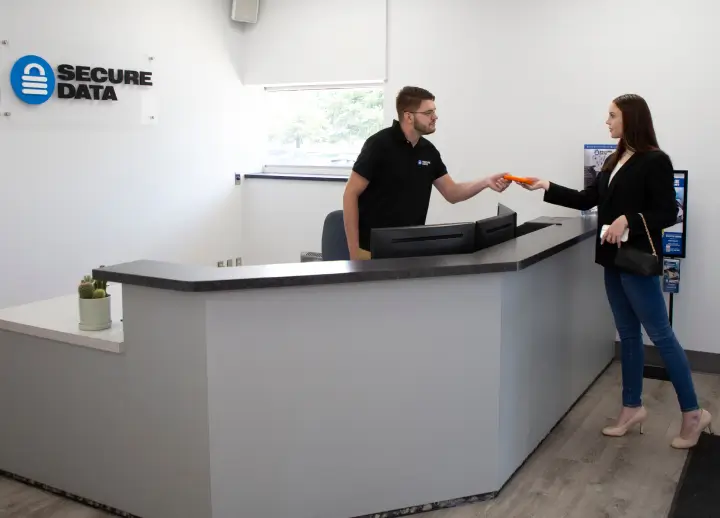 Data Recovery Services in El Paso - RAID, SSD & Hard Drive Recovery
Secure Data Recovery Services has the best-certified and most experienced data recovery team in El Paso. We operate out of world-class facilities that receive regular SSAE 18 SOC 1, 2 & 3 audits to verify the integrity of our cybersecurity management control systems. Our engineers have decades of combined experience and maintain a documented 96% successful recovery rate, making us your most reliable option for professional RAID recovery and hard drive recovery. We provide free diagnostics and a no-obligation price quote. Is your computer constantly crashing or not powering on? Our certified technicians are ready to help residents of West Texas with any data loss situation. Give us a call today or drop by one of our El Paso offices for a free consultation.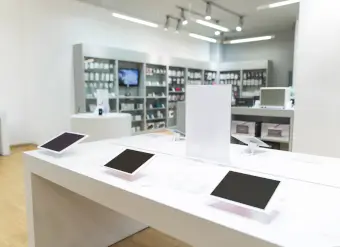 Secure Data Recovery Services
Emergency Services Available 24x7
Expert Data Recovery Services
Secure Data Recovery Services is the authority in hard drive recovery, SSD recovery and RAID recovery. Since 2007, our data recovery company has helped tens of thousands of individuals and businesses of all sizes successfully recover from every type of data loss scenario. We understand the importance of data in the modern world. We're ready to recover your lost data immediately with our Economy, Standard, or Emergency data recovery options and state-of-the art technology.
What Can We Recover For You Today?
El Paso, TX Data Recovery Reviews
Jeremiah Sustaita
Reviewed on Apr 28, 2021 | El Paso, TX
HANDS DOWN BEST SERVICE AROUND
This is an amazing company with the best service in the world they got the job done in just 2 days!! Anthony was amazing, I requested the emergency package for a device that been completely destroyed. The first place I took it to was phone repair company who told me they cannot fix the phone and then that's when I found Secure Data Recovery they were able to get the pictures and files I need from ... Read Morethe broken device and sent the information I need to me via fed ex over night delivery they are sent heaven sent. Please if you have any data recovery issues secure data recovery is the best company for the job.
Katie Puccetti
Reviewed on Jun 04, 2018 | Albuquerque, NM
Amazing Results and Great Customer Service
So I am a university student and dropped my external hard drive with all of my notes on it a week before finals week. The drive was no longer detectable and to put it lightly, I was panicking. I called Secure Data Recovery and got Luke Marrali as my representative. As I said, I was a mess, but Luke still took his time to work with me through different options and explain everything I needed to kno... Read Morew about the process, the cost, and how long it would take. He was available to answer any of my questions and did so clearly, concisely, and promptly. I really am very thankful for his patience with me working through this whole ordeal. In the end, they were able to recover 99.9% of the data I had lost, which is more than I had originally thought possible. I highly recommend this if you need your data recovered. And again, Luke was amazing. Thank you again!
Anton Saad
Reviewed on Jul 21, 2017 | El Paso, TX
Chris McMacken has your back. I mean, your data.
A few weeks back a close friend accidentally dropped an external drive to the floor. It broke. He called me because he has no technical expertise. When I arrived not only the drive would fail to open its contents on Windows, but I thought I heard a faint clicking inside. I turned the drive off and didn't want to plug it again to avoid more damage.

I was disheartened. This drive contain... Read Moreed very important files and there was no copy of them. So I take the drive home and make no promises. I, then, start shopping for data recovery services. I find the manufacturer of the drive offers data recovery services, but I notice they don't have very good reviews. I search some more and I find Secure Data Recovery. Solid five stars, certified by many manufacturers, own clean room, confidentiality agreements in place, highly recommended. Still a bit skeptical, I started my case on their web site. It was really easy and straightforward. I did not think more of it and I thought I would later decide what my next move would be when I got a call from these guys. It was Chris.

Chris explained the process to me, what they would do to the drive, how would they diagnose the problem and what the next steps would be. Then he gave me a label to overnight my drive the them for evaluation, free of charge. At this point I was getting comfortable by the quality of service I was getting. I was not even a customer yet and here I have Chris calling, offering an overnight label and offering all kinds of explanations.

So I eased my anxiety and sent the drive over. They got it next day and started working on it. In two business days they had good news: Data was partially recoverable and they had a quote. Before I agreed to the price I was given a chance to explore what data was recoverable and what was lost due to disk damage. My friend was lucky; it was only ~25GB out of ~500GB that was unrecoverable. In a few calls and emails we agreed to the price and the recovery work started.

About ten days later the data was recovered and a brand new drive sent my way.

I can't express enough how happy my friend was to see his data recovered. All the important information was there. His life work, no less.

So I am taking the opportunity to thank all the people involved in my project, who I did not see but certainly worked hard and well. Most importantly, I want to thank Chris for his excellent customer service and attention. The level of communication and commitment to this project really helped easing the worries I initially had. He was there on every step paying attention and communicating.

The services are top notch, and the customer service is not a bit less.

I would definitively recommend this company.
Secure Data Recovery Locations Near You
Our data recovery experts serve communities across El Paso, including locations in South Belvidere, in Kern Place just off North Mesa Street, and on Dyer Street near Milagro Hills. Outside of Big Bend Country, we also provide expert data recovery to the north in Amarillo in the Texas Panhandle.
Your Best Option for Successful Data Recovery
Secure Data Recovery Services specializes in advanced data recovery procedures for the most complex data loss situations. Our engineers conduct all invasive recovery procedures within a Class 10 ISO 4 cleanroom to protect your device's sensitive internal components from airborne particulates.
Our data recovery team also has the most industry-specific certifications of any service provider. They keep up to date on all new advances in storage technology, but they also provide expert services for older drives and legacy storage systems. Every customer is covered by our "no data, no recovery fee" guarantee. If we can't restore your data, you pay nothing.
Is Your Hard Drive Clicking or Grinding?
Any unusual sound coming from your hard drive is likely a signal of imminent failure. If you hear grinding, the drive's read/write heads have probably made contact with the magnetized platter that stores your data and is causing media damage and potentially permanent data loss.
If you hear any unusual sounds when your drive spins up, power it down immediately and call us. Continued use almost always results in permanent data loss. Make a note of the kind of sounds, when you first noticed them, and any other relevant information. The more we know, the better we can help you.
We're Ready to Recover Your Data
We intimately understand all data loss scenarios and will exhaust all options technologically possible to reunite you with your lost data as quickly as possible. When you choose Secure Data Recovery Services, you get the most credentialed professionals in the industry and a documented 96% success rate. Call 915-331-4414 to speak to a data recovery expert 24x7.