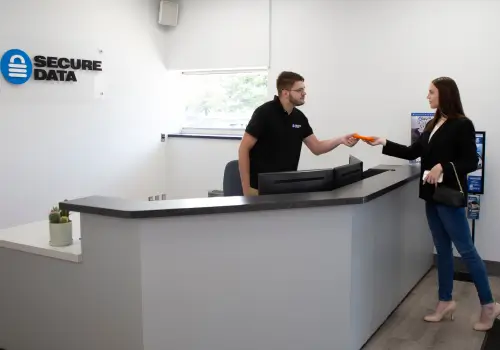 Data Recovery Services in Austin - RAID, SSD & Hard Drive Recovery
We have served Central Texas with data recovery in Austin since 2007. Our technicians have the tools and techniques to recover files in numerous data loss situations. Visit our location at 2304 Whitis Avenue, in the Peter T. Flawn Academic Center on the University of Texas at Austin campus, next to the UT Tower.
Trust the Austin data recovery experts. We offer a free consultation as part of our services and a "No Data, No Recovery Fee" guarantee.
Our customers rate our services:
We Helped Thousands Get Their Lost Data Back.
With over 5,453 satisfied customers and growing, we are proud to provide outstanding customer experience and quality service that consistently exceed customer expectations.
View All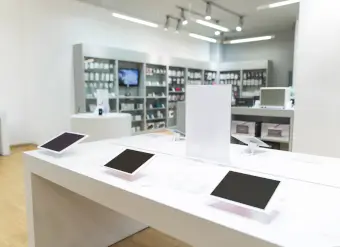 Secure Data Recovery Services
Emergency Services Available 24x7
Secure Data Recovery Near You
Are you looking for data recovery services in Austin? In addition to the campus computer store, we have another location in the northern hills of Austin at 7000 North Mopac Expressway, near the intersection with Far West Boulevard.
You can also find us throughout Greater Austin, including a Georgetown store at 3303 Shell Road. Residents of San Marcos and students at Texas State University can access our services at any of our nearby locations.
Austin data recovery is more convenient and secure than ever.
Call us or stop into one of our locations to speak with a data recovery specialist.
Data Recovery Company in Austin, TX
Since 2007, our data recovery company has helped tens of thousands of individuals and businesses of all sizes in Austin and Central Texas recover from every data loss scenario imaginable.
Our team understands the importance of data and the impact of sudden data loss. We resolve thousands of cases each year and heavily invest in research and development. That is how we maintain a documented 96% success rate.
Your complete satisfaction is our mission. We strive to provide the best service and deliver results for each hard disk drive (HDD), solid-state drive (SSD), USB flash drive, SD card, iPhone, and Android mobile device. Our data recovery experts can perform manual file repair to restore data in cases of malware and accidental deletion or formatting, regardless of storage device. Our sophisticated tools and techniques allow us to offer professional SSD data recovery for damaged or defective components.
We specialize in developing data loss solutions for businesses and organizations with complex cases. We provide enterprise-grade data recovery services for failed RAID, network-attached (NAS and SAN) storage systems, and virtual machines. We have a large library of RAID controllers to facilitate complicated repairs. Our engineers have decades of RAID data recovery experience and can restore files from all storage levels.
We have seen your failure before and are ready to recover your lost data with our flexible Economy and Standard service options. Or receive immediate, around-the-clock assistance with our Emergency data recovery services to reduce downtime.
Hard Drive Recovery in Austin
Our hard drive recovery experts deliver customized solutions to Austin customers that suffered data loss. We can address hard drive failure caused by physical damage, mechanical breakdowns, electrical issues, and logical errors. We have experience with hard drives from every data storage manufacturer and maintain an extensive collection of replacement parts. Our technicians can recover any file type from numerous operating systems.
Whether you lost valuable photos, important documents, or sensitive business files, we have the expertise to ensure your data is successfully recovered, safe and secure. By diagnosing and repairing your hard drive in a Class 10 ISO 4 cleanroom, we can restore your device to working condition without risking further media damage and jeopardizing the original data.
We combine cutting-edge technology with an unwavering commitment to our customers. The result is an innovative data recovery service that helps you regain what matters most.
Data Recovery Austin
As the state capital of Texas, Austin exemplifies being big and bold. It is home to the University of Texas at Austin, one of the largest educational institutions in the country, and dozens of live music venues. Residents and visitors can also take advantage of an incredible culinary scene, a variety of attractions and activities, and hundreds of green spaces. Those experiences become terabytes of digital data on HDDs or SSDs, mobile devices, SD cards, and thumb drives. Drops, spills, or accidental formatting can wipe away those memories, but Secure Data Recovery can prevent data loss from becoming permanent.
Our data recovery specialists can retrieve data from all storage devices for individuals, small businesses, and large organizations. Trust the experts to recover corrupted, deleted, or inaccessible data. Our state-of-the-art laboratories, certified personnel, and specialized hardware and software can resolve even the most challenging cases.
Recovery Services We Offer
Austin, TX Data Recovery Reviews
Brittany Singer
Reviewed on Oct 05, 2023 | Georgetown, TX
We were so afraid we had lost all of the pictures of our newborn and many other things on my phone when it shut down, but Timothy saved the day! He was very kind, communicative, and helped work with our budget. They were able to retrieve everything and even finished ahead of schedule.
Cristian Prundeanu
Reviewed on Aug 23, 2023 | Pflugerville, TX
I had not one, but two phones die before I could back them up, taking valuable data with them. After much research and having the devices looked at (without success) by several local repair shops, I chose to go with SecureData Recovery - and was not disappointed. Jacob, who handled my account, was professional, very nice and prompt, and helped move the process forward seamlessly. I never felt push... Read Moreed to make the purchase even though the diagnostic is free. All the data was recovered and sent back to me conveniently and securely. Would recommend.
Pavneet Matharoo
Reviewed on Aug 09, 2023 | Austin, TX
The team was more than happy to work within my budget and had an incredible turn-around time! Couldn't recommend them more.
Brajesh Narayan
Reviewed on Jun 29, 2023 | Austin, TX
I recently had to use the data recovery services provided by SecureData, and I am absolutely delighted with the exceptional service I received. From the moment I contacted them to the successful recovery of my research data, their professionalism, expertise, and most notably, the outstanding communication skills of their representative, Scott, made the entire process seamless and stress-free. Thr... Read Moreoughout the entire data recovery journey, Scott''s exceptional communication skills were a standout feature. He promptly responded to my initial inquiry, addressing all my concerns and kept me updated during the whole process.
I recommend Secure Data for their data recovery services, with a special shout-out to Scott for his exceptional communication skills and unwavering commitment to customer satisfaction. Thank you, Scott, and the entire team at Secure Data, for your outstanding work and for helping me recover my invaluable data.
Joel Jackson
Reviewed on Apr 27, 2023 | Melissa, TX
Quick, Effective Recovery
The process was simple and the representative professional and helpful. All but 4 files of 20 GB of data were recovered from a drive physically damaged by failed read-write heads. The recovery was complete and data returned even more quickly than promised.
Winnie Tu, SPHR, GPHR
Reviewed on Apr 26, 2023 | ,
Thanks Flliot Fisher;

I cannot say more about how prompt and responsive Elliot was to go through the process of recovering loss of data with me. Everything was taken care of very quickly. Highly recommend Secure Data Recovery and do ask for Elliot when you call!
Elliot was very professional, patience, and supportive of the whole process. Will highly recommend Secure Data Recovery... Read More to anyone I know. Thanks Winnie
Why Choose Secure Data Recovery in Austin, TX?
Certified and Verified Secure
Transparent Process
Trusted and Guaranteed Results
Secure Data Recovery Services operates in world-class facilities that undergo regular SSAE 18 SOC 1, SOC 2, and SOC 3 audits to verify the integrity of all cybersecurity management control systems. This means that your data is protected at every stage of the recovery process.
Each of our Lab facilities has a certified Class 10 ISO 4 cleanroom. This controlled environment provides state-of-the-art filtration to remove harmful particulates that could damage the sensitive internal components of storage devices.
For more than a decade, the engineers at Secure Data Recovery have built a reputation as the industry's most reliable provider of professional data recovery. Our expert team maintains a documented 96% success rate, the most industry-specific certifications, and the fastest turnaround times.
We maintain partnerships with every major data storage manufacturer to ensure our custom solutions do not threaten existing product warranties. We also invest heavily in research and development to keep pace with rapidly evolving storage technology. Discover why you should choose professional data recovery services.
Free Data Recovery Quote
We understand all data loss scenarios and will exhaust every available option to quickly reunite with your lost files. When you choose Secure Data Recovery, you get the most credentialed professionals in the industry.
Service times and exact pricing for a successful recovery always depend on the specific damage to the storage device, which is why we offer free diagnostics with every standard service.
Our quotes consist of:
Price for successful recovery
Time estimates for job
Key information about the events that led to data loss
Call 512-675-5291 to speak to a data recovery expert 24x7 and schedule your free consultation with a no-obligation price quote.
Frequently Asked Questions
How does our data recovery process work?

After speaking to a data recovery adviser, you will receive a reference number and a free estimate. The recovery process starts once your storage device arrives at one of our laboratories.

Diagnostics: A data recovery professional begins with a comprehensive evaluation of the media and develops a plan to retrieve the files.
Repair: If the device is inaccessible, a data recovery technician will restore it to a working condition using specialized hardware and software.
Imaging: Once operable, an engineer creates a byte-for-byte clone of the failed device, ensuring the original data remains intact throughout the data recovery process.
Extraction: A data recovery specialist extracts the recoverable files from the device's image.
Validation: A technician saves the data to a secure destination and uses software to confirm the required files have been successfully recovered.
Delivery: Our team returns the recovered data in a secure manner on a chosen external drive.

Do I need an appointment?

Appointments are not necessary, but we strongly recommend calling ahead to speak with a data recovery adviser and receive a reference number, which will save time.

What are the store hours in Austin, TX?

Our store at 2304 Whitis Avenue is open Monday through Friday from 8 AM to 6 PM. It is closed on Saturday and Sunday. In case of emergency, call 512-675-5291 for immediate assistance.