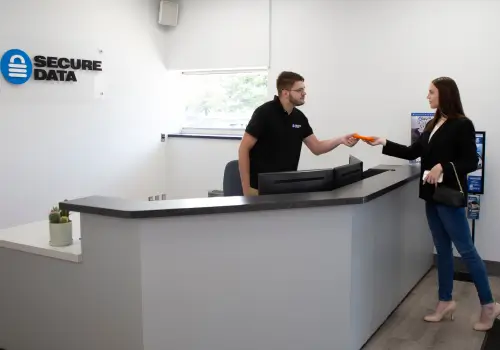 Data Recovery Services in Milwaukee - RAID, SSD & Hard Drive Recovery
Recovering from a failed hard drive, SSD, RAID, or other storage device has never been easier for residents of Milwaukee, WI and the surrounding area. Our South Side location at 1221 West Forest Home Avenue, within the Historic Mitchell Street neighborhood, is less than a mile west of Interstate 94. No appointments needed.
Trust the best for hard drive data recovery in Milwaukee, WI and experience total peace of mind with our "No Data, No Recovery Fee" guarantee.
Our customers rate our services:
We Helped Thousands Get Their Lost Data Back.
With over 5,329 satisfied customers and growing, we are proud to provide outstanding customer experience and quality service that consistently exceed customer expectations.
View All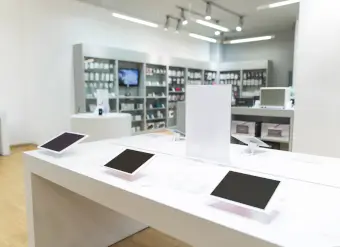 Secure Data Recovery Services
Emergency Services Available 24x7
Secure Data Recovery Near You
Need data recovery in Milwaukee, WI? Our Historic Mitchell Street store is centrally located and serves customers in Walker Square, Muskego Way, Lincoln Village, and all suburbs of Milwaukee, WI.
We also provide data recovery in Chicago along the southwestern shore of Lake Michigan. With multiple locations downtown and a store in the northern suburb of Schaumburg, we have options for Southern Wisconsin residents.
Milwaukee, WI data recovery is convenient.
Call or visit one of our stores to schedule a free data recovery consultation.
Milwaukee, WI Data Recovery Company
Secure Data Recovery Services is the authority in hard drive recovery, SSD recovery, and RAID recovery. Since 2007, our data recovery company has helped tens of thousands of individuals and businesses of all sizes in Metro Milwaukee, WI successfully recover from every type of data loss scenario imaginable. We have seen your failure type before and our team understands the importance of data in the modern world. We're ready to recover your lost data with our flexible Economy and Standard data recovery services, or immediately with our Emergency data recovery option.
What Can We Recover For You Today?
In addition to hard drive recovery and RAID recovery, we specialize in complex data loss solutions for SSD drives and other NAND-based flash memory devices, iPhone and Android smartphones and mobile devices, network-attached (NAS and SAN) storage systems, and virtual machines.
Milwaukee, WI Data Recovery Reviews
Nicole Taylor
Reviewed on Jun 13, 2023 | Milwaukee, WI
Preston was awesome with facilitating my data recovery. He got me the best service at a reasonable price, and communicated with me during every step of the process. I would definitely refer others to Secure Data Recovery!
Jose Rosas
Reviewed on Feb 08, 2022 | Milwaukee, WI
Recovered all my important files
I had an external hard drive become damaged after unplugging without safely removing. This is the first time something like this happened to me, and I didn''t know what to do. I reached out to Secure Data Recovery based on their online reputation, and they were incredibly understanding of problem as they worked within my budget to recover my lost files. Nearly all my files were recovered. Val, my ... Read Morededicated account representative was exceptional. He explained to me the extent of the damage and reassured me that SDR could recover the files based on their comprehensive and timely diagnostics. Val was very responsive by phone and email. He was very professional, honest and I am very satisfied with the outcome and service. I highly recommend them to experiencing data loss.
MARIANA REYES
Reviewed on Jan 31, 2022 | West Allis, WI
Timothy Rutan and the technicians at Secure Data Recovery are amazing! I had a virus. We tried for weeks to try to clear it. I gave up. I was devastated. I thought for sure that I was going to lose all my treasured pictures, of my children, grandchildren, the treasured pictures of my recently deceased Mom. Then my son told me that he heard some great reviews about Secure Data Recovery. Within a w... Read Moreeek, not only did they recover all my pictures but also my documents. They work so fast. Timothy Rutan is incredible. The customer service is one of kind. I highly recommend Secure Data Recovery.
Rajarsi Mitra
Reviewed on Dec 27, 2021 | Milwaukee, WI
Fast and hassle free data retrieval
Timur was prompt and their online account let me see all the details without having to go back and forth via E-mail. Retrieval was done quickly and got access to all my data easily.
Fred Jacobson
Reviewed on May 18, 2021 | Cudahy, WI
Anthony Lupica provided perfect service!
I''m very impressed with Secure Data. The customer service from Anthony was very professional, prompt, easy to follow instructions with great results. I couldn''t be happier and would recommend Secure Data based on this customer service experience.
John Aasen
Reviewed on Mar 12, 2021 | Kenosha, WI
After my hard drive crashed a year ago and many unsuccessful attempts to restore it, I was ready to give up. But after going through the evaluation process with Anthony and getting feedback on the condition of the hard drive, I felt so relieved. He was able to get the files that I desperately needed and let me tell you, a huge weight was lifted off my shoulders! I would highly recommend this compa... Read Moreny for any data recovery.
Why Choose Secure Data Recovery In Milwaukee, WI?
Certified and Verified Secure
Transparent Process
Trusted and Guaranteed Results
Secure Data Recovery Services operates in world-class facilities that undergo regular SSAE 18 SOC 1, SOC 2, and SOC 3 audits to verify the integrity of all cybersecurity management control systems. This means that your data is protected at every stage of the recovery process.
Each of our Lab facilities also has a certified Class 10 ISO 4 cleanroom. This specialized environment provides state-of-the-art filtration to remove potentially harmful airborne particulates that could damage the sensitive internal components of storage devices.
For more than a decade, the engineers at Secure Data Recovery Services have built a reputation as the most reliable provider of professional data recovery in the industry. Our expert team maintains a documented 96% successful recovery rate.
We maintain partnerships with every major digital storage manufacturer to ensure our custom solutions never threaten any existing product warranties. We also invest heavily in research and development to keep pace with rapidly evolving digital storage technology.
Free Data Recovery Quote
We intimately understand all data loss scenarios and will exhaust all options technologically possible to reunite you with your lost data as quickly as possible. When you choose Secure Data Recovery Services, you get the most credentialed professionals in the industry.
Service times and exact pricing for a successful recovery always depend on the specific damage to the storage, which is why we offer free, no-risk diagnostics with every standard service.
Our quotes consist of:
Price for successful recovery
Time estimates for the job
Key information about the events that led to data loss
Call 414-296-4099 to speak to a data recovery expert 24x7 and schedule your free data recovery consultation with a no-obligation price quote.