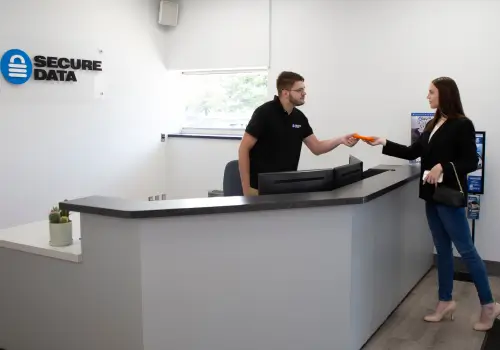 Data Recovery Services in Wisconsin - RAID, SSD & Hard Drive Recovery
With dedicated offices in Minnesota, Illinois and Wisconsin Secure Data Recovery Services provides hard drive repair, RAID data recovery, data tape recovery and other advanced services for Wisconsin and it's surrounding states. We have served Wisconsin business and individuals for many years, and with our certifications and the highest success rate in the industry we give you the best chance at recovering your data.
While Wisconsin is famous for its healthy agriculture industry, the state's economy has diversified significantly over the past decade. Information technology drives many of the major businesses in Milwaukee and Madison, and data loss costs Wisconsin tens of millions of dollars each year in lost revenue and productivity.
Expert Data Recovery Services
Secure Data Recovery Services is the authority in Hard Drive Recovery, SSD Recovery and RAID Recovery. Since 2007, our data recovery company has helped tens of thousands of individuals and businesses of all sizes successfully recover from every type of data loss scenario. We understand the importance of data in the modern world and with our Economy, Standard and Emergency Data Recovery Options and state-of-the art technology we are ready to get your lost data back right now.
Experience total piece of mind with a "No Data, No Recovery Fee" Guarantee.
What Can We Recover For You Today?
Secure Data Recovery Services' engineers can restore damaged computer systems to a working state in order to retrieve databases, documents and other important files. We specialize in data recovery, and with a 96 percent success rate, we offer a reliable option for Wisconsin computer users.
If you cannot read data from a hard drive, flash drive, web server or any other device, our teams can perform free diagnostics to identify the source of media damage. We offer a local pick-up service for emergency cases, and our 24/7/365 same-day service helps to prevent downtime for Wisconsin businesses. Most importantly, all of our service options feature a no recovery, no service fee guarantee and best-in-class security. Call us today to get started or for a detailed description of our services.
Choosing a Certified Hard Drive Data Recovery Provider
Hard drives, RAID arrays and other modern storage devices are extremely complex, and engineers need years of experience in order to safely treat all failure scenarios effectively. As an industry leader, Secure Data Recovery Services has a full staff of certified media experts capable of treating all file loss scenarios by using state-of-the-art technology.
Some of the features of our facilities:
Safe Repairs in a Certified Class 10 ISO 4 Cleanroom
SSAE 18 Type II SOC-1 Certified Security
Advanced Hardware Library for Faster Repairs
Specialized File Utilities for All Operating Systems
A Team of Engineers with Decades of Combined Experience
A Certified GSA Contractor
Our technology sets our business apart from competitors. Secure Data Recovery Services is able to maintain high success rates for various media formats by investing heavily in development and research, and we offer the best available options for Wisconsin data recovery. From mechanical hard drive failures to complex RAID failures, we can safely treat any case while controlling costs and turnaround time.
What to Do When Your Computer Loses Data
Due to the complex nature of modern storage devices, you should never attempt to operate, repair or recover a damaged computer. By doing so, you risk permanent media damage and data loss. Instead, turn your computer completely off and unplug its power supply as soon as you can. Make a note of any errors that occurred before the failure and contact our customer service team to discuss your options.
Because we invest in researching new technologies and in ongoing training programs for our staff, we offer the best options available for hard drives, RAID arrays, solid-state drives and dozens of other types of digital devices. All of our cases feature a no files, no recovery fee guarantee and exceptional security.
More reasons to choose Secure Data Recovery Services:
Online Tools for Monitoring Case Status
Fast Turnaround Options Including a Same-Day Emergency Service
The Industry's Most Complete Set of Security Credentials
Fast Access for Wisconsin Through a Network of Offices
Secure Data Recovery Services proudly provides Wisconsin with expert data loss solutions. We back every case with a no recovery, no fee guarantee, and our 96 percent success rate ensures reliability. With certified security, free media diagnostics and an experienced engineering staff, our Wisconsin data recovery resources give you a simple way to recover from any sudden computer disaster. Call us today at 1-800-388-1266 to get started or for detailed information on any of our services.
Secure Data Recovery Process
1
Free
Consultation
Power down the device and call us, 24x7 for a free consultation and quote.
2
Free Professional Diagnostics
Submit your device at one of our locations for a non-destructive evaluation by a data recovery expert.
3
Review &
Decide
Review the diagnostic results and approve the work order at a set price, payable upon success with our "No Data, No Recovery Fee Guarantee".
4
Data Recovery & Return
Submit payment and receive your recovered data on a new external drive.