Data Recovery Services in Chicago - RAID, SSD & Hard Drive Recovery
Recovering data from a failed hard drive, SSD, RAID, or other storage device has never been more convenient for residents in the Chicago area. Our Mount Greenwood location at 3209 West 103rd Street, on the corner of South Kedzie Avenue, east of Saint Xavier University, is available for walk-ins. No appointment necessary.
We are the experts for hard drive data recovery in Chicago. Experience total peace of mind with a "No Data, No Recovery Fee" guarantee.
Our customers rate our services:
We Helped Thousands Get Their Lost Data Back.
With over 5,469 satisfied customers and growing, we are proud to provide outstanding customer experience and quality service that consistently exceed customer expectations.
View All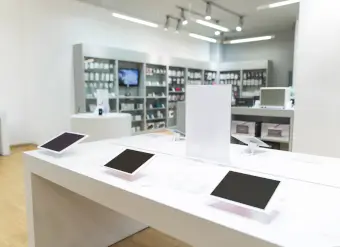 Secure Data Recovery Services
Emergency Services Available 24x7
Secure Data Recovery Near You
We have multiple locations throughout the Windy City. You can find us in the Loop at 332 South Michigan Avenue, just down the street from the Art Institute of Chicago and Millennium Park. Our Canal Street store in the South Loop Marketplace is located west of Grant Park and Museum Campus. We have another location at 6314 North Western Avenue in Little India, south of Warren Park.
We have other locations throughout Chicagoland, including stores in the western suburb of Naperville, located on North Aurora Road, in the Riverbrook Shopping Center. In the suburb of Schaumberg, we have a store at 1821 Walden Office Square, north of the Woodfield Mall. You can also visit us in Merrionette Park on West 115th Street in the Stonebrook Plaza.
Data recovery in Chicago, IL is easier than ever.
Call us or stop into one of our stores for a free consultation and a no-obligation quote.
Data Recovery Company in Chicago, IL
Secure Data Recovery Services are the Chicago hard drive recovery, SSD recovery and RAID recovery experts. Since 2007, our data recovery company has helped tens of thousands of individuals and businesses of all sizes in Chicago successfully recover from every type of data loss scenario imaginable. We have seen your failure type before and our team understands the importance of data in the modern world. We're ready to recover your lost data with our flexible Economy and Standard data recovery services, or immediately with our Emergency data recovery option.
Recovery Services We Offer
In addition to hard drive recovery and RAID recovery, we specialize in complex data loss solutions for SSD drives and other NAND-based flash memory devices, iPhones and Android smartphones, network-attached (NAS and SAN) storage systems, and virtual machines.
Chicago, IL Data Recovery Reviews
Mary Moodhe
Reviewed on Nov 13, 2023 | Buffalo Grove, IL
Fast Turnaround and great customer service
I recently experienced the dreaded sound of a clicking hard drive, and the sinking feeling in my stomach was indescribable. Years of memories, photos, and important documents were seemingly on the verge of being lost forever. Enter Securit Data Recovery, Timothy and his team of experts, the true heroes of the digital age.

From the moment I contacted them, their professionalism and exper... Read Moretise were evident. The initial diagnostic process was swift, and they provided a detailed explanation of the issue and the potential for recovery. The transparency in their communication immediately put my mind at ease, as they outlined the steps they would take to salvage my precious data.

The turnaround time for the recovery was surprisingly quick, considering the severity of the hard drive failure. When they informed me that they had successfully retrieved all the data, the relief was overwhelming. It''s difficult to put into words the gratitude I feel for the technicians.

What truly sets them apart is their understanding of the emotional value attached to the data they recover. The moment I received the recovered files, including the irreplaceable photos from the past few years, was nothing short of emotional. Each click and whirl of the hard drive being brought back to life felt like a triumph over an impending digital catastrophe.

While the price was more than I wanted to spend, it was worth it given the nature of the service provided, and there were no hidden fees or surprises. The professionalism, efficiency, and, most importantly, the successful recovery of all my data make SDR a beacon of hope for anyone facing the nightmare of a failing hard drive.

If you find yourself facing the heart-wrenching sound of a clicking hard drive, do yourself a favor and reach out to them. They turned a potentially devastating situation into a success story, and for that, I am forever grateful. Highly recommended!
Moira Doman
Reviewed on Sep 23, 2023 | Chicago, IL
Tim helped me along the way and worked with my needs. I never thought that the external hard drive I bought to "be safe" would end up breaking.
Leewon Brad
Reviewed on Sep 12, 2023 | Chicago, IL
Secure Data Recovery Experience
My recovery experience with SDR was GREAT! The primary reason for that was my Rep. Jake, who was absolutely wonderful. My man was Professional and very inviting. He made me feel comfortable and at ease. He followed- up and made sure that the SDR experience was the best that I ever experienced. Thanks to Jake and SDR for taking care of my emergency recover.
James Spector Bishop
Reviewed on Jul 21, 2023 | Chicago, IL
Very flexible and communicative, they do their best to meet you where you're at. These people really know what they are doing.
Molly Kelly
Reviewed on Jul 20, 2023 | La Grange, IL
Service from Scott McMacken was great!
I reached out to 3 different data recovery services and decided to go with Secure Data Recovery. I initially spoke to Scott who explained where the clean room is located, the process of getting my hard drive to the clean room, and a price range of what it would cost to pull the data off the drive and send it back. Since this wasn''t something paid for by a big company, I was mainly making my dec... Read Moreision based on cost, however, Scott was very helpful from start to finish. I even had trouble finding all the files once I received the external memory stick and he emailed me back within 5 minutes directing me where to look for the files. I had a great experience and definitely recommend this company and Scott for anyone who has lost data on their computer. It was a lifesaver!
Rachel Koopman
Reviewed on Jul 05, 2023 | Chicago, IL
The person I worked with (Eric) was super helpful and all my data was returned to me very quickly.
Why Choose Secure Data Recovery in Chicago?
Certified and Verified Secure
Transparent Process
Trusted and Guaranteed Results
Secure Data Recovery Services operates in world-class facilities that undergo regular SSAE 18 SOC 1, SOC 2, and SOC 3 audits to verify the integrity of all cybersecurity management control systems. This means that your data is protected at every stage of the recovery process.
Each of our Lab facilities also has a certified Class 10 ISO 4 cleanroom. This specialized environment provides state-of-the-art filtration to remove potentially harmful airborne particulates that could damage the sensitive internal components of storage devices.
Secure Data Recovery Services' facilities in Chicago have accreditation with the Better Business Bureau and maintain an A+ business rating. Your complete satisfaction is our mission. We strive to deliver the highest quality of service for every data recovery case.
BBB of Chicago Accredited Company with an A+ Rating
The Better Business Bureau of Chicago publishes company reports on all of its accredited members. As a top-ranking company with the BBB, we show a continuing commitment to fairness, transparency, and exceptional business practices.
For more than a decade, the engineers at Secure Data Recovery Services have built a reputation as the most reliable provider of professional data recovery in the industry. Our expert team maintains a documented 96% successful recovery rate.
We maintain partnerships with every major digital storage manufacturer to ensure our custom solutions never threaten any existing product warranties. We also invest heavily in research and development to keep pace with rapidly evolving digital storage technology.
Free Data Recovery Quote
We intimately understand all data loss scenarios and will exhaust all options technologically possible to reunite you with your lost data as quickly as possible. When you choose Secure Data Recovery Services, you get the most credentialed professionals in the industry.
Service times and exact pricing for a successful recovery always depend on the specific damage to the storage, which is why we offer free, no-risk diagnostics with every standard service.
Our quotes consist of:
Price for successful recovery
Time estimates for job
Key information about the events that led to data loss
Call 312-598-4600 to speak to a data recovery expert 24x7 and schedule your free data recovery consultation with a no-obligation price quote.