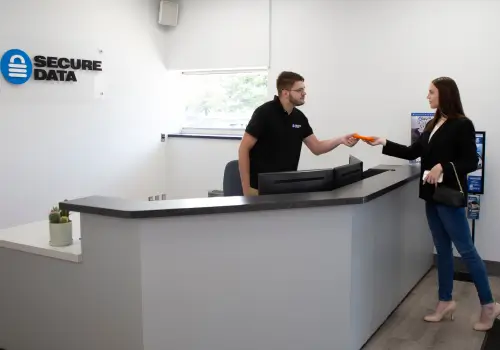 Data Recovery Services in Houston - RAID, SSD & Hard Drive Recovery
For over a decade we've served the greater Houston area by successfully recovering lost data from broken SSDs, failed RAIDs, and damaged hard drives. Visit our main Houston store conveniently located near the corner of Crescent Green Drive and Interstate 10 frontage road a few blocks from the Westlake Business Park just west of George Bush Park.
Trust the specialists at Secure Data Recovery Services for hard drive data recovery in Houston with Free diagnostics and our "No Data, No Recovery Fee" guarantee.
Our customers rate our services:
We Helped Thousands Get Their Lost Data Back.
With over 5,318 satisfied customers and growing, we are proud to provide outstanding customer experience and quality service that consistently exceed customer expectations.
View All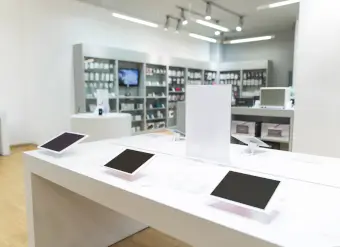 Secure Data Recovery Services
Emergency Services Available 24x7
Come get your failed device recovered with Secure Data Recovery, the authority in data recovery. Whether you have a broken laptop, crashed server or deleted files from your external drive, our data recovery engineers will exhaust every option possible to reunite you with your data. Our experts consistently produce the highest success rates in the industry and we always put your privacy first by having the most industry specific certifications of any data recovery company. We are your best option for crashed servers and NAS recovery, phone data recovery, and hard drive recovery in Houston.
Secure Data Recovery Near You
Do you need data recovery in Houston? With locations throughout Harris, Waller, Fort Bend, and Galveston counties, we have a convenient location near you. Our W.19th Street store is located in Houston Heights. We also serve suburbs throughout the greater Houston area including locations in Katy just north of the Interstate 10 frontage road off the Merchants Way exit. If you need data recovery in Spring, our office in Klein Square just off Steubner Airline Road can help with your data loss.
Call us or stop by to set up a free data recovery consultation and no-obligation price quote.
Data Recovery Company in Houston, TX
Secure Data Recovery Services are the Houston hard drive recovery, SSD recovery and RAID recovery experts. Since 2007, our data recovery company has helped tens of thousands of individuals and businesses of all sizes in Houston successfully recover from every type of data loss scenario imaginable. We have seen your failure type before and our team understands the importance of data in the modern world. We're ready to recover your lost data with our flexible Economy and Standard data recovery services, or immediately with our Emergency data recovery option.
What Can We Recover For You Today?
In addition to hard drive recovery and RAID recovery, we specialize in complex data loss solutions for SSD drives and other NAND-based flash memory devices, iPhone and Android smartphones and mobile devices, network-attached (NAS and SAN) storage systems, and virtual machines.
Houston, TX Data Recovery Reviews
Hosanna Rull
Reviewed on Sep 22, 2023 | Houston, TX
Excellent Customer Service
Secure Data Recovery saved my external hard drive that had my whole life in it. It had photos of my son to years of business files. I was impressed with how responsive Eric Dvorin was. Always keeping me up to date and responding to my emails quickly. He answered any questions I had and made the whole process as fast as possible so I could get my hard drive back so I could be back in business.
D C
Reviewed on Sep 14, 2023 | Houston, TX
Secure Data Recovery is Amazing
Secure Data is certainly amazing. They retrieved 100% of my data in a timely matter. Thank you so much!
Bagandscalpel
Reviewed on Sep 01, 2023 | Houston, TX
Would like to extend my thanks to Tim and team for recovering all my data. Instantly managed to turn around my dread when I was told it could all be saved after sudden failure claimed it. Cheers, y''all.
YOUNGSIZZLE21
Reviewed on Aug 30, 2023 | Houston, TX
My Son''s Basketball game
I would Really like to thank Secure Data Recovery for all there help and support for helping me retrieve data from my SD card. I first went to my local Geek Sqaud but they were not able to help but they referred Secure Data Recovery and the amazing team there helped save my family memories. Just wanted to thank you guys for everything and if I ever need Data recovery service again I now know wh... Read Moreo to call.
Jay Zee
Reviewed on Jul 22, 2023 | Houston, TX
Excellent service and very professional
I have utilized the hard drive recovery service on 2 separate occasions, both assisted by Mr. Eric Dvorin. The quote request and communication was very prompt, and it was very clear what to do and how to get the drive to them. On both counts, it was an HDD that failed, and both times the data were recovered in a timely manner and successfully transferred to a new SSD drive I provided to the team. ... Read MoreThe options and costs they were very transparent about, allowing me to choose the route that best fit my budget and needs. Eric was very helpful, always in communication, and the shipment of the drive back was prompt and properly packaged. I am extremely satisfied with the service and recommend this service to others. Eric did a great job!
Heath Janecka
Reviewed on Jun 27, 2023 | Houston, TX
Secure Date Recovery Services is the BEST !!!
You know honestly, I could have gone my entire life, without ever having known anything about secure data recovery services, and I would have been just fine with that. But I'll tell you this... I sure as hell am glad I know about them now!

Because, one day, all of a sudden, my old reliable, 20 year old, western digital external hard drive, would not even turn on anymore. It was just dea... Read Mored. I nearly had a heart attack, because that WAS my only backup hard drive over the years, and I was seriously panicking.

So I called a couple computer tech guys that I trusted, and had them look at it. but they both told me that it needed some serious surgery, and they didn't want to touch it. So I thought, GREAT, what the hell am I gonna do now? I just lost ... "Everything".

I used to own a sign and graphics company, for like 20 years.. the work ranged from, business cards, to animated digital billboards, and just about everything in between.

So basically my entire life''s portfolio was on that external hard drive, along with all my music files, Family photos, Important business documents, personal budget spreadsheets, IRS stuff, movies and things like that. But the files I was most concerned about, was all the artwork, logo designs and animation files, that I created over the years, using special graphic programs, some of which I don't have anymore.

So I figured, if I''m gonna spend the money to do this, I wasn''t looking for just any help.
I wanted, true, straight up, honest professionals. And they better have a strong reputation with a long track record of successful data recovery, and they must be extremely trustworthy.... I mean, I''m giving them my life''s work, right?

So after doing some research, I found exactly what I was looking for, with secure data recovery services. when i reached out to them, I was lucky enough, to speak to Mr. Scott McMacken. He was very knowledgeable and professional. he took the time to make sure that I understood the entire process, and went over the cost options available, which I believe were very reasonable. especially considering how valuable those files are to me personally.

After speaking with Scott, and asking one of the tech guys a few concerning questions, I quickly came to understand, that these guys, seriously, straight up, know what the hell their doing. So that gave me the confidence to move forward with letting them take care of my situation.
AND I COULDN''T BE ANY HAPPIER!!!!

Because, when he told me, that the data recovery rate, was 100 percent. .. I swear i heard the heavens open up and an angel get it's wings or something, because I didn't hear anything he said after that. I couldn''t believe it. they recovered everything? i mean how awesome is that? Right?

So if anyone is on the fence about whether or not to do business with secure data recovery services, I'm here to tell you from experience, that you can stop looking right now, because you will not find someone better, more knowledgeable, more reliable, more trustworthy or more reasonably priced and professional than these guys.

That's why, I will happily and enthusiastically recommend secure data recovery services to anyone that needs help with this kind of problem. I am so grateful for the extraordinary job well done!!!

William Heath
Houston, Texas
Why Choose Secure Data Recovery In Houston?
Certified and Verified Secure
Transparent Process
Trusted and Guaranteed Results
Secure Data Recovery Services operates in world-class facilities that undergo regular SSAE 18 SOC 1, SOC 2, and SOC 3 audits to verify the integrity of all cybersecurity management control systems. This means that your data is protected at every stage of the recovery process.
Each of our facilities also has a certified Class 10 ISO 4 cleanroom. This specialized environment provides state-of-the-art filtration to remove potentially harmful airborne particulates that could damage the sensitive internal components of storage devices.
Secure Data Recovery Services' facilities in Houston have accreditation with the Better Business Bureau and maintain an A+ business rating. Your complete satisfaction is our mission. We strive to deliver the highest quality of service for every data recovery case.
BBB of Houston - Accredited Company with an A+ Rating
The BBB is Texas's most trusted protector of consumer confidence. In our detailed company review, updated periodically by the BBB, you can investigate our track record of compliance and consistently high ratings.
For more than a decade, the engineers at Secure Data Recovery Services have built a reputation as the most reliable provider of professional data recovery in the industry. Our expert team maintains a documented 96% successful recovery rate.
We maintain partnerships with every major digital storage manufacturer to ensure our custom solutions never threaten any existing product warranties. We also invest heavily in research and development to keep pace with rapidly evolving digital storage technology.
Free Data Recovery Quote
We intimately understand all data loss scenarios and will exhaust all options technologically possible to reunite you with your lost data as quickly as possible. When you choose Secure Data Recovery Services, you get the most credentialed professionals in the industry.
Service times and exact pricing for a successful recovery always depend on the specific damage to the storage, which is why we offer free, no-risk diagnostics with every standard service.
Our quotes consist of:
Price for successful recovery
Time estimates for the job
Key information about the events that led to data loss
Call 713-609-1002 to speak to a data recovery expert 24x7 and schedule your free data recovery consultation with a no-obligation price quote.