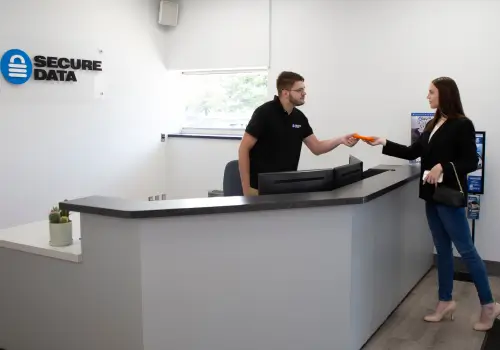 Data Recovery Services in Raleigh - RAID, SSD & Hard Drive Recovery
Secure Data Recovery Services offers media repair, hard drive data recovery, and other data services to North Carolina through our local office in Raleigh.
Our engineering teams have decades of combined experience, and with a certified Class 10 ISO 4 Cleanroom and dozens of advanced data repair tools, and we provide exceptional results for Wake County computer users or others who need data recovery services in Raleigh. At Secure Data Recovery Services, we understand how missing files can affect computer users.
Our customers rate our services:
We Helped Thousands Get Their Lost Data Back.
With over 5,331 satisfied customers and growing, we are proud to provide outstanding customer experience and quality service that consistently exceed customer expectations.
View All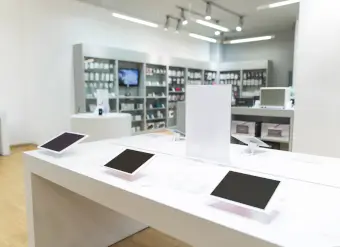 Secure Data Recovery Services
Emergency Services Available 24x7
Raleigh is a naturally gorgeous city with a strong, progressive business climate. By establishing an office in the city, we offer Raleigh's 1.18 million residents an unprecedented local resource for professional data recovery.
Expert Data Recovery Services
Secure Data Recovery Services is the authority in Hard Drive Recovery, SSD Recovery and RAID Recovery. Since 2007, our data recovery company has helped tens of thousands of individuals and businesses of all sizes successfully recover from every type of data loss scenario. We understand the importance of data in the modern world and with our Economy, Standard and Emergency Data Recovery Options and state-of-the art technology we are ready to get your lost data back right now.
Experience total piece of mind with a "No Data, No Recovery Fee" Guarantee.
What Can We Recover For You Today?
Raleigh, NC Data Recovery Reviews
Brad Bennett
Reviewed on Aug 21, 2023 | Raleigh, NC
Secure Data Recovery recovered all my data!
Kudos to my Secure Data rep, Scott McMacken, and his company on a job well done recovering data from my failed hard drive. My data was still there, mostly intact, but the moving arms inside the drive were failing. I tried everything, even went to a local computer shop, and they could not recover my data. But they could detect it was still there. Secure Data Recovery connected my drive in a dus... Read Moret-free room, installed new reader arms on my disks, and were able to read my data from it and save it all to a new hard drive. I had years of tax data, family photographs, etc., on that old drive and thought I had lost it all. Now I have it back and I am so thankful for this company. Thanks again, Scott!

Jason Murphy
Reviewed on Aug 18, 2023 | Jacksonville, NC
Top-notch Services - Entrust Your Data!
I recently had the pleasure of working with Elliot Fisher from Secure Data Recovery. I have nothing but positive things to say about my experience with him. Elliot went above and beyond to help me recover my data after my hard drive malfunctioned. From our initial interaction, he instilled confidence in me and kept me informed throughout the entire recovery process.

Elliot''s communicat... Read Moreion was prompt, professional, and reassuring. He demonstrated exceptional technical expertise and was able to retrieve my data successfully. He was also polite and professional, which made the entire experience stress-free.

In a data recovery market where pricing can be outrageous, Elliot and his company provided top-notch services at a competitive price. I highly recommend entrusting your data to Elliot and the team at Secure Data Recovery. They truly stand out for their dedication and commitment to their clients. If you ever find yourself in a situation requiring data recovery, don''t hesitate to contact them.
Casey Wiltgen
Reviewed on Aug 14, 2023 | Raleigh, NC
Daniel N. at Secure Data made this potentially stressful process a little easier to manage! Turnaround time was fairly quick and I appreciate the transparency. Would recommend if others are in a similar spot.
Chris Summers
Reviewed on Jul 11, 2023 | Raleigh, NC
While not cheap, the quality and professionalism of the work, from the prompt response to my initial inquiry to rapid undertaking and resolution of the job, was outstanding. I would heartily recommend Secure Data Recovery to anyone who experiences the potential loss of a decade of work - in less than two weeks, they made everything better!
Alec Langbeen
Reviewed on Jul 10, 2023 | Wilmington, NC
Patient with all my questions
Scott really helped me out in a time where we were worried we lost all of our data. As an IT provider, I had a lot of questions as to how the data was going to be recovered and Scott answered all of them with patience and speed.
Michael Schupp
Reviewed on Jul 08, 2023 | Raleigh, NC
Quick and confidential - who you are looking for
Eric and SDRS have been extremely professional and exactly the right team with exactly the right attitude during my moment of crisis. What could have been a potentially confusing and stressful situation was completely avoided with a combination of considerate patience and technical confidence from Eric and SDRS. If you find yourself needing help to recover data while maintaining confidentiality wi... Read Moreth rapid delivery look no further than SDRS - A+++++
All of our locations are accredited with the Better Business Bureau, and our A+ rating reflects a commitment to exceptional customer interaction with every case.
BBB of Raleigh, NC Accredited Business with an A+ Rating
The BBB issues company reviews to report accreditation levels and ratings. Our latest review details the standards that led to our top rating of A+.
Our Raleigh office provides:
Fast turnaround times and 24/7/365 emergency services
Experienced data recovery engineering teams
Expert RAID services, including RAID data recovery
Guaranteed results with a no-recovery, no-charge policy
Flexible service options for businesses and personal computer users
Many of our professional clients face significant down time and other severe consequences, and our goal is to provide exceptional services that simplify the disaster recovery process and succeed in hard drive repair services. Unlike other hard drive data recovery companies in North Carolina, we offer free media evaluations and a comprehensive no-recovery, no-charge policy for all of our hard drive data recovery options.
Call us today to schedule a visit to our Raleigh office. You can also drop in at any time to discuss your case with an expert in data recovery. Local Raleigh businesses and individuals trust us with their data needs, and so can you.
Advanced Media Repair Facilities with Certified Technology
Data recovery is a specialized service, and general computer repair shops do not have the necessary tools to address hard drive malfunctions, RAID rebuild failures, and other common data loss scenarios.
At Secure Data Recovery Services, we have invested heavily in research and development for data recovery. Prospective Raleigh clients should know that we operate North Carolina's only certified Class 10 ISO 4 Cleanroom, which allows our engineers to safely treat hard drives and other devices. We also have dozens of specialized tools that allow us to provide RAID repair, data tape repair, and many other advanced services to help you recover data. Local Raleigh residents and businesses simply have no better place to turn for their data recovery needs.
Additionally, we maintain strong security systems to protect your confidentiality. Secure Data Recovery Services holds a SSAE 18 Type II certification, and we hold additional compliance certifications to make the purchasing process easier for hospitals, government offices, and other high-security clients who need RAID data recovery.
We fully comply with:
PCI-DSS
HIPAA
FERPA
General Services Administration (GSA) contractor schedule
NIST and more
For more information about security compliance, contact our customer service team or view our certification documents online.
What to Do When Your Media Fails
When you cannot access files on a digital device, you should immediately shut down your computer. Directly disconnect power to your machine by using its power button or by unplugging it from the wall. This prevents the normal shutdown procedure from contributing to data corruption.
Never attempt to repair your own media, or run any data recovery software or hard drive management utilities. The safest course of action is to shut your device down and get a professional media analysis as soon as possible. We are here to provide the most qualified data recovery services in Raleigh, North Carolina.
If you need a professional source for hard drive data recovery, RAID services, data tape repair, or any other specialty media repair service, Secure Data Recovery Services has the technology to give you reliable results. We maintain an overall recovery success rate of 96 percent, and our staff follows extensive protocols to protect your confidentiality. Our Raleigh office accepts drop-offs and can pick up your media in emergency situations. To start your case today or get a free quote, contact our customer service team.