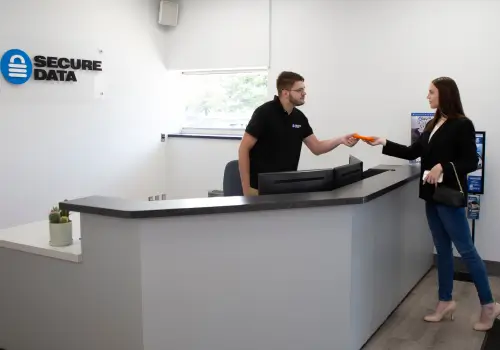 Data Recovery Services in Detroit - RAID, SSD & Hard Drive Recovery
We have provided professional data recovery in Detroit for over 15 years. Our experienced engineers deliver the best outcomes in the business, even with the most complex cases. Stop into our store in Troy, located on the corner of Rochester Road and Harris Avenue, to start the process and recover lost data.
With a free consultation, no-obligation quote, and guaranteed results, we are the proven option for hard drive data recovery in Detroit.
Our customers rate our services:
We Helped Thousands Get Their Lost Data Back.
With over 5,453 satisfied customers and growing, we are proud to provide outstanding customer experience and quality service that consistently exceed customer expectations.
View All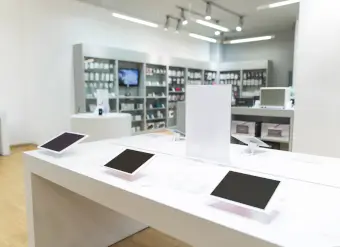 Secure Data Recovery Services
Emergency Services Available 24x7
Secure Data Recovery Near You
Need data recovery services in Detroit? We have stores throughout Motor City and the surrounding areas.
We have a location in Canton at 42114 Ford Road, near the intersection with North Lilley Road. You can also find us in north Eastpointe on the corner of East 10 Mile Road and Gratiot Avenue. We have another store in Macomb at 15715 Hall Road, a little over a mile east of the Mall at Partridge Creek. In Ypsilanti, we have a location at 663 South Hewitt Road, near the intersection with Western Michigan Avenue.
Detroit data recovery has never been more convenient.
Call or drop by one of our stores to begin the data recovery process.
Detroit Data Recovery Company
Secure Data Recovery Services is the authority in hard drive recovery, SSD recovery, and RAID recovery. Since 2007, our data recovery company has helped tens of thousands of individuals and businesses of all sizes in Metro Detroit successfully recover from every type of data loss scenario imaginable. We have seen your failure type before and our team understands the importance of data in the modern world. We're ready to recover your lost data with our flexible Economy and Standard data recovery services, or immediately with our Emergency data recovery option.
Recovery Services We Offer
Detroit, MI Data Recovery Reviews
Zhuang1512
Reviewed on Aug 22, 2023 | Novi, MI
At the beginning, I was a little anxious since I've never requested data recovery services before. After speaking with Scott McMacken, I felt at ease because he took the time to explain the process in detail. In addition, Scott also discussed different plans and pricing, and explained why it costs this much to extract the data from a broken hard drive. During the process, Scott communicated prompt... Read Morely and answered my questions clearly.

Thank you, Scott, for your patience and great service and most importantly getting my hard drive data fully recovered according to my requested timeframe.

Thanks again, Scott!


Kyle Wallace
Reviewed on May 15, 2023 | Grand Blanc, MI
So Thankful for Data Saved
I had a hard drive die on me in college over a decade ago, and I thought my photos and files were lost forever. 15 years later, and Secure Data Recovery was able to get everything back. So grateful to have this data back! Special thanks to Scott McMacken for guiding me through the process. He explained everything really simply and gave me peace of mind over the process.
Nikki Szymkowski
Reviewed on Apr 03, 2023 | Port Huron, MI
My HP laptop hard drive crashed and I tried 3 companies to try to recover any data from it with no luck. After calling Secure Data and sending my hard drive to them for review. Scott McMacken was a miracle worker in dealing with me deciding if I could afford the restore. After much thought and his patience, I went through with the data recovery. I am very thankful to him for assisting me through t... Read Morehe process with much professionalism. It was expensive but worth it for me to recover all my business files and artwork that took years to collect. Thank you Scott for your help. I would recommend Secure Data Recovery to anyone.
Daniel Butchko
Reviewed on Mar 02, 2023 | Rochester Hills, MI
Jonathan was Super Helpful!!
I had a random failure that damaged the hard drive on my MacBook Pro. I would recommend Secure Data Recovery Services and Jonathan as a tech. advisor. My experience with Jonathan at SDR was smooth, efficient, and positive. If you ever have the need to recover data, highly recommend Secure Data Recovery. Super quick responses and clear timely communication. Great Job!!
Tony D. Alesandro
Reviewed on Jan 27, 2023 | Troy, MI
Professional, Responsive, and Recovered My Data
I had a Samsung internal SSD that got corrupt while BitLocker was unencrypting the drive. I took the SSD to Best Buy (Geek Squad) they were not able to recover any data from my SSD. I looked on the Internet and came across Secure Data Recovery. Due to the positive reviews I decided to contact them. I was able to drop off my SSD to a local computer repair center that sent my SSD to Secure Data Reco... Read Morevery's lab via Next Day Air. My representative was Danial Novak. Danial was very responsive and kept me updated throughout the process. I was informed that they would be able to recover most of my data. As part of the process, they provided me with a view that allowed me to see the data that they were able to recover, it included my most important data, family photos, videos, and important documents. Danial provided me with great customer service and recovered my data. I am truly very appreciative that they were able to recover the data that was most important to me. Thank you Danial and team!
Chelsea Suddon
Reviewed on Jan 23, 2023 | Romeo, MI
Our company contacted Secure Data Recovery for recovering data from an external hard drive. They recovered data for us that wouldn''t spin up when connected to the PC. The price for recovery was fair & the team was able to recover the data in a timely manner. Payment was easy through their website. They were prompt in answering any questions we had.
Why Choose Secure Data Recovery in Detroit?
Certified and Verified Secure
Transparent Process
Trusted and Guaranteed Results
Secure Data Recovery Services operates in world-class facilities that undergo regular SSAE 18 SOC 1, SOC 2, and SOC 3 audits to verify the integrity of all cybersecurity management control systems. This means that your data is protected at every stage of the recovery process.
Each of our Lab facilities also has a certified Class 10 ISO 4 cleanroom. This specialized environment provides state-of-the-art filtration to remove potentially harmful airborne particulates that could damage the sensitive internal components of storage devices.
Secure Data Recovery Services' facilities in Detroit have accreditation with the Better Business Bureau and maintain an A+ business rating. Your complete satisfaction is our mission. We strive to deliver the highest quality of service for every data recovery case.
For more than a decade, the engineers at Secure Data Recovery Services have built a reputation as the most reliable provider of professional data recovery in the industry. Our expert team maintains a documented 96% successful recovery rate.
We maintain partnerships with every major digital storage manufacturer to ensure our custom solutions never threaten any existing product warranties. We also invest heavily in research and development to keep pace with rapidly evolving digital storage technology.
BBB A+ Certified Data Recovery Company
We adhere to all of the Better Business Bureau's standards for full accreditation with an A+ rating.
BBB of Michigan - Accredited Company with an A+ Rating
The BBB establishes guidelines for fair, ethical relationships between customers and businesses. We have always followed BBB standards, and our record of success is detailed in our company review.
Known as Motor City for its prominent role in automotive manufacturing, Detroit has benefited in recent years from a diversified economy based on entertainment and technology. The city is now home to a vibrant arts community, and several major Fortune 500 businesses are headquartered here. By establishing our local office and providing data recovery and other vital services, Secure Data Recovery Services contributes to Detroit's growing business community.
Some of the advantages of Secure Data Recovery Services include:
No-recovery, no-charge guarantee
Experienced and professional data recovery engineering staff
Advanced facilities with dedicated data repair technology
Overall recovery success rate of 96 percent
Free evaluations for standard data recovery cases and a free quote
RAID repair, data tape repair, and other specialized services
Data loss can drain a business' resources and leave personal computer users without access to essential files, leaving them in need of data recovery. Detroit turns to Secure Data Recovery Services for a solution in situations like this. Secure Data Recovery Services offers the most reliable options in Detroit, and our specialists are standing by to help you plan your disaster recovery. To get started, contact our customer service team by phone or online or visit our Detroit office today.
What to Do When a Digital Storage Device Stops Working
Media failures can occur at any time and leave you in need of services including, but not limited to, RAID data recovery. In order to avoid accidental damage, you need to take immediate steps when you notice symptoms of a serious mechanical or logical issue.
Common symptoms of data loss include:
Visible damage to the printed circuit board
Unusual noises
Error messages indicating bad sectors or file corruption
Computer does not recognize attached media
Disappearing or unreadable files
Extremely slow read/write operations
Shut your device off as soon as you can when failure symptoms occur. Do not attempt to recover your own data; digital storage devices are sensitive, and you may accidentally cause additional damage by running software or by simply booting your computer. Instead you'll want to contact us for assistance and to help you recover data. Detroit computer users like yourself should also know not to use their computers. Instead, keep the system powered off until you can speak with a data recovery specialist.
Our engineers can perform a full evaluation to provide you with a turnaround estimate and other important case information. When in need of our hard drive repair services, you can drop your device off at our Detroit office, and we offer pick-up services for our 24/7/365 emergency data recovery option.
Our Hard Drive Data Recovery Technology
At Secure Data Recovery Services, we know the importance of strong security controls and advanced technology when it comes to data recovery. Detroit business can rest assured in the knowledge that we invest heavily in our hard drive data recovery facilities in order to maintain our high recovery rates.
Secure Data Recovery Services was the first company to establish a certified Class 10 ISO 4 Cleanroom. This is a dedicated environment that allows us to safely treat physically damaged media when performing our data recovery services in Detroit, Michigan. Our engineers engage in ongoing training, and our unique team-based approach allows for creative solutions to complex data loss scenarios.
As a hard drive data recovery business, we also invest in state-of-the-art security systems. Secure Data Recovery Services was the first data repair company in Michigan to earn a SSAE 18 Type II certification. We hold full compliance certifications for HIPAA, FERPA, PCI-DSS and various other federal privacy laws.
When you need fast data recovery, reliable data tape repair, or expert RAID services, Secure Data Recovery Services offers the best option in Detroit. We offer data recovery for every type of media regardless of operating system or failure scenario, and as a certified company, our specialists are ready to help you restore mission-critical files. To schedule a visit to our Detroit facility or for a comprehensive overview of our service offerings, contact our customer service team today.
Free Data Recovery Quote
We intimately understand all data loss scenarios and will exhaust all options technologically possible to reunite you with your lost data as quickly as possible. When you choose Secure Data Recovery Services, you get the most credentialed professionals in the industry.
Service times and exact pricing for a successful recovery always depend on the specific damage to the storage, which is why we offer free, no-risk diagnostics with every standard service.
Our quotes consist of:
Price for successful recovery
Time estimates for job
Key information about the events that led to data loss
Call 313-286-0067 to speak to a data recovery expert 24x7 and schedule your free data recovery consultation with a no-obligation price quote.