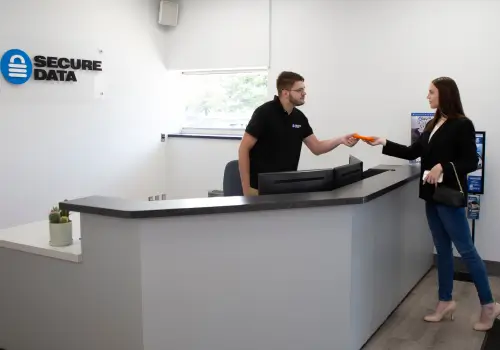 Data Recovery Services in Michigan - RAID, SSD & Hard Drive Recovery
Secure Data Recovery Services is a certified company that provides data repair, hard drive data recovery, and other media services to Michigan through an extensive network of offices.
Our Service Centers
Greater Detroit Area
Greater Mid Michigan Area
Greater Lansing Area
Michigan is a powerful hub for information technology research, manufacturing, and natural resource production. The state has more than 9.8 million residents and is home to a multitude of businesses that can benefit from our recovery and hard drive repair services. Secure Data Recovery Services serves both the Upper and Lower Peninsula of Michigan through a series of offices. We offer a specialized resource for data recovery and media repair. In addition, our data recovery services in Michigan are performed by skilled and professional engineers and technicians.
Expert Data Recovery Services
Secure Data Recovery Services is the authority in Hard Drive Recovery, SSD Recovery and RAID Recovery. Since 2007, our data recovery company has helped tens of thousands of individuals and businesses of all sizes successfully recover from every type of data loss scenario. We understand the importance of data in the modern world and with our Economy, Standard and Emergency Data Recovery Options and state-of-the art technology we are ready to get your lost data back right now.
Experience total piece of mind with a "No Data, No Recovery Fee" Guarantee.
What Can We Recover For You Today?
Our Michigan facility provides:
A 96 percent data recovery success rate
Experienced engineering teams
Fast turnaround times and multiple service options
Risk-free media diagnostics
Support for all types of digital devices and storage systems
RAID repair and other RAID services
With more than 40 facilities throughout the United States, Secure Data Recovery Services has the reliable services that you need to avoid permanent data loss. Thanks to our best-in-class security credentials and well-outfitted facilities, we can safely repair any damaged digital device in a matter of days. When people need to recover data, Michigan computer users can trust us to provide them with the best service possible.
When you need RAID data recovery in Michigan, or any of our other services, contact our data recovery specialists today to set up a risk-free evaluation for your device.
What to Do When a Digital Device Fails
Hard drives, RAID arrays, and other digital storage devices can lose data at any time and greatly hinder businesses in Michigan. RAID 5 data recovery is just one of our recovery and repair services that may be needed if this should occur. For the best chances of a completely successful recovery, you should turn off your device as soon as you notice signs of damage. Never run software on a failing hard drive, especially if you hear clicking sounds or if you see signs of physical damage. Instead, contact us regarding our data recovery services in Michigan.
Make a list of the symptoms that preceded your media failure. Some of the most common warning signs of data loss include:
Unusual noises, including clicking, whirring, and grinding
Error messages that indicate missing or unreadable data
File corruption
Bad sectors
Computer does not recognize attached storage devices
Virus infection and malicious software damage
If you are a businesses or personal computer user with a data emergency in Michigan, hard drive data recovery is a service that you will need. Bring your media to our Detroit office for a free evaluation or contact us online to set up an appointment. Our specialists will perform a full analysis to determine whether your device has recoverable data and provide you with a price quote and turnaround estimate. Secure Data Recovery Services is one of the only companies in Michigan with completely free diagnostics and a free quote. In addition, our no-recovery, no-charge policy gives you a simple way to recover data without risk.
Advanced Hard Drive Data Recovery in Michigan
For many Michigan computer users, data loss means days of down time and heavy reconstruction costs. We know that a sudden media failure can have major repercussions for your personal and professional life, and we take every possible step to treat your case quickly and effectively. As a result, our Michigan hard drive data recovery services are invaluable.
Secure Data Recovery Services is the only data recovery company in Michigan with a certified Class 10 ISO 4 Cleanroom, and our flexible turnaround options provide a way to effectively manage the costs of your case. Our 24/7/365 emergency hard drive data recovery and RAID repair services have an average turnaround of less than 48 hours, and all of our services feature the same excellent recovery rates and best-in-class security.
We specialize in data repair and always take appropriate precautions when handling your files. Whether you need hard drive data recovery, data tape repair or any other advanced media service, Secure Data Recovery Services' specialists are ready to help. To set up a new case or for more information about our services and technology, contact us today.
Secure Data Recovery Process
1
Free
Consultation
Power down the device and call us, 24x7 for a free consultation and quote.
2
Free Professional Diagnostics
Submit your device at one of our locations for a non-destructive evaluation by a data recovery expert.
3
Review &
Decide
Review the diagnostic results and approve the work order at a set price, payable upon success with our "No Data, No Recovery Fee Guarantee".
4
Data Recovery & Return
Submit payment and receive your recovered data on a new external drive.