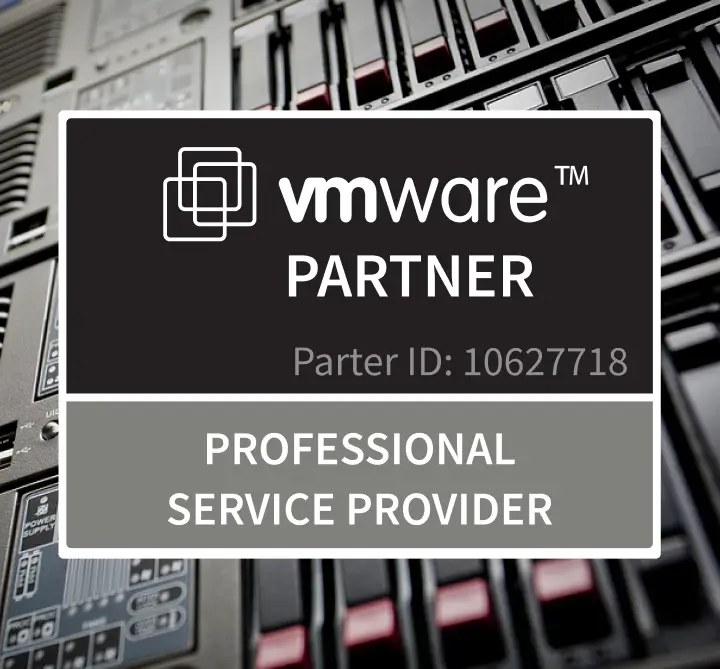 VMware Data Recovery from an Industry Leader
Secure Data Recovery Services provides VMware data recovery, cloud server repair and related services for hundreds of businesses throughout North America every year. With a network of offices and the industry's best set of security credentials, we offer an excellent set of dependable resources for VMware users.

We were one of the first data recovery providers to offer warranty-safe services for VMware virtualization platforms.

VMware, Inc. is a major name in cloud computing and virtualization software. Thousands of companies use the company's products, which are versatile, scalable and powerful. VMware's hypervisors are particularly popular with enterprises, and since the mid-2000s, VMware, Inc. has acquired a number of related brands including DynamicOps, SlideRocket and Virsto.
While many of VMware's products provide ample safeguards against sudden data loss, no system can offer perfect protection. User error, major hardware failures and other events can have serious ramifications for VMware users. In some cases, losses could cause downtime and other serious issues, but a qualified data recovery company can return damaged systems to a functional state.
As a VMware partner, Secure Data Recovery Services can safely treat any device without putting your data at risk. We will not void any active warranties by performing our services, and our free diagnostics give you a simple way to control costs. We are a leader in cloud server data recovery, and our engineers have experience with all virtualization platforms.
Some of the advantages of our services include:
Safe Media Repairs in a Certified Class 10 ISO 4 Cleanroom
No Recovery, No Charge Guarantee
Numerous Security Credentials Including SSAE 18 Type II SOC-1 Certification
Dedicated Tools for Cloud Data Recovery and RAID Data Recovery
Flexible Turnaround Options Including 24/7/365 Emergency Services
Secure Data Recovery Services is proud to offer risk-free standard diagnostics for all servers, hard drives, and cloud systems; our teams will provide you with a detailed price quote and turnaround estimate before starting work on your case. We have a VMware partner identification number, and our team is ready to help you recover from any data loss event.
What to Do When Your VMware System Fails
In order to prevent costly downtime, you should monitor your system regularly and take immediate steps as soon as you notice signs of data loss.
When losses occur, turn your system off or isolate the affected partitions. Do not attempt to repair any damaged hardware. Never run recovery software on a VMware system, as this could cause substantial damage under certain circumstances.
Contact Secure Data Recovery Services as soon as possible to set up diagnostics. Our team will issue a professional analysis with a turnaround estimate and price quote, and after receiving your approval, we will safely recover your data while following strict procedures to protect your security.
As a leader in VMware recovery and server repair services, we invest heavily in our technology. We are one of the only providers offering a full no recovery, no charge guarantee with every case, and our teams always use advanced security controls to protect sensitive data throughout the process.
Working with a VMware Data Recovery Partner
By choosing a VMware data recovery partner, you ensure the highest possible chances of a successful case outcome. Secure Data Recovery Services maintains an overall success rate of 96 percent, and our data recovery technicians have experience with all operating systems and file systems.
Our teams can treat all VMware failures including:
Accidental Deletion, Formatting and Repartitioning
Software Errors
Data Corruption
Hardware Failures and RAID Rebuild Failures
Fire Damage, Water Damage and More
At Secure Data Recovery Services, we regularly implement new technologies and carry out extensive research in order to treat every case as effectively as possible. We offer flexible options for VMware data recovery, including our same-day 24/7/365 emergency services, and we protect our clients with certified security. Thanks to our comprehensive no recovery, no charge guarantee, you will never pay a service charge if we cannot restore important data. Call us today at1-800-388-1266 to get started or for more information.