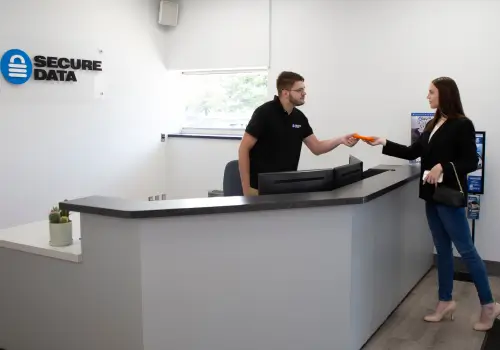 Data Recovery Services in Katy - RAID, SSD & Hard Drive Recovery
Secure Data Recovery Services deliverers the best data recovery options for Katy, Texas residents by offering services for any type of device that holds data. We specialize in file recovery, hard drive data recovery, RAID data recovery and many other data services.
Our customers rate our services:
We Helped Thousands Get Their Lost Data Back.
With over 5,453 satisfied customers and growing, we are proud to provide outstanding customer experience and quality service that consistently exceed customer expectations.
View All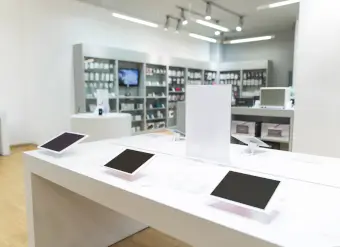 Secure Data Recovery Services
Emergency Services Available 24x7
We stand by our no data, no recovery fee guarantee, which means if we can't recover the information that you are searching for, then you are not responsible for the recovery cost. We are also proud to offer same-day diagnostics and 24-hour-a-day service to those clients who need it.
Data Recovery Company in Katy, TX
Secure Data Recovery Services are the Katy hard drive recovery, SSD recovery and RAID recovery experts. Since 2007, our data recovery company has helped tens of thousands of individuals and businesses of all sizes in Katy successfully recover from every type of data loss scenario imaginable. We have seen your failure type before and our team understands the importance of data in the modern world. We're ready to recover your lost data with our flexible Economy and Standard data recovery services, or immediately with our Emergency data recovery option.
Experience total piece of mind with a "No Data, No Recovery Fee" Guarantee.
Recovery Services We Offer
Katy, TX Data Recovery Reviews
Vicki Melnar
Reviewed on Jan 31, 2023 | Fulshear, TX
The services were awesome. Great communication and super helpful.
Stuart G
Reviewed on Dec 31, 2022 | Katy, TX
Delivered what was promised
Secure Data Recovery was able to recover 99+% of the files on my external hard drive including 100% of the ones I considered critical / irreplaceable. My Data Recovery Specialist Scott McMacken, was very professional. He explained the typical time frame for the different levels of service for diagnostics & data recovery and answered all of my questions. Both diagnostic work & data recovery service... Read Mores were completed within the timeframe (actually a bit sooner) than estimated. I was given an explanation of what damage had occurred to the external hard drive and a listing of files that were recoverable as well as those that were bad. He communicated both via e-mail & cell phone to keep me informed of the status of my job and responded timely to any e-mail inquiries I submitted. For any others who make the same mistake I did of not backing up data regularly and then has an issue with their hard drive, these are the people to go to resolve your problem.
Kevin Malo
Reviewed on Sep 06, 2022 | Simonton, TX
A recent power surge at my home fried one of my external hard drives and wouldn''t you know it was the one that had the majority of my photos it! Thank goodness for Secure Data Recovery, y''all really came through with being able to restore not only recent photos but thousands of scanned photos from my childhood, of which many of the original photos had been destroyed in a flood a few years back. ... Read MoreThanks to the dedicated hard work and professionalism of Eric Dvorin I now have peace of mind and a smile back on my face once again. Corresponding with Eric was a breeze and y''all are very fortunate to have him as a team member! God forbid I should ever require your services again but if I do I''ll definitely reach out to Eric for assistance! Color me a very happy camper! :-)
Gerardo Acevedo Jr.
Reviewed on Mar 30, 2022 | Rosenberg, TX
I had an old WD MyCloud that stopped working and I was unable to have access to photos and videos from 10+ years ago. I searched online for a reputable company that I would be able to trust and found Secure Data Recovery. A bit skeptical at first, I sent an email to see how much it would cost to extract my data. Elliot Fisher called me within minutes and we had a conversation about my drive. I imm... Read Moreediately sent my drive and he was able to assist from start to finish. I was updated with the process throughout the entire time and now I finally have the memories that at once I thought were lost. I will say the price is reasonable, but definitely not the cheapest. I''d say if you want the job done right along with exceptional service, this is the place to go to. Thank you Elliot and your team for everything!
Swapan Sahoo
Reviewed on Feb 01, 2022 | Fulshear, TX
Excellent service and behaviors.
Very efficient, fast correspondance and get the job done. Really enjoyed working with Eric Dvorin. He helped me from the begining with the case and got my data recovered. Highly recommend the personal communication as well as professionalism of the Eric and the company.
Jason Caddy
Reviewed on Jul 14, 2021 | Katy, TX
Scott was very honest and understanding. He was able to recover all of my data and worked with me on the pricing. The turnaround was amazing and his communication was timely and detailed. I will definitely recommend someone in need of their services.

Our engineers have decades of experience in data recovery. Unlike some of our competitors, Secure Data Recovery Services has many routinely audited certifications, and we provide full access to any of the audit reports online. Here are some of our regularly audited certifications:
Class 10 ISO 4 Cleanroom
GSA Contractor
Certified Mac Technician
D & B Verified Business
BBB Accredited Business
The most common types of data recovery issues that our engineers deal with on a daily basis are problems that other firms consider unrecoverable. Data failure can happen at any moment for a number of different reasons. Often times when a failure occurs, businesses of individuals do not know the correct steps to take to prevent further data loss. The first step is to shut off the device. Leaving the device running can result in severe data loss. Do not attempt to repair your own device. Our engineers have over 20 years' experience with hard drive repair and are dedicated to recovering your data.
We take pride in our 96 percent success rate, and we are here to help Texas with any type of data failure.
Data Failure Scenarios our Engineers most commonly treat
Damaged read-write heads
Damaged platters
Bad sectors
Corrupt files
Missing files
Accidental deletion
Our customer support team is highly skilled at identifying your data recovery needs. They are available 24 hours a day, 7 days a week year round. Stop by our Katy office for excellent face to face support, or call 1-800-388-1266 to learn about additional services and support we can provide.