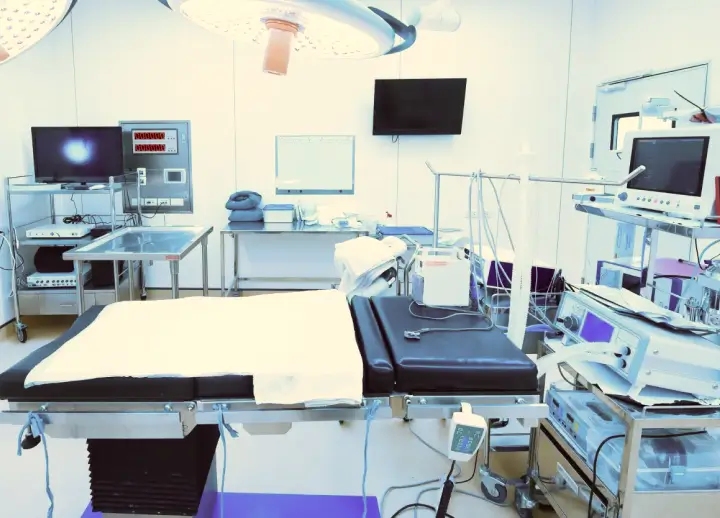 Professional Data Recovery Services for Healthcare Providers
Secure Data Recovery Services provides the world's most advanced set of media services for healthcare providers and institutions. We regularly work with hospitals, insurers, private practices and other clients in the healthcare industry, and our engineers can quickly repair virtually any data storage device while protecting your confidentiality.
Healthcare providers need to work with a secure, certified data recovery company in order to avoid compliance violations.
Data loss is a major problem in the healthcare industry. Many institutions depend on RAID arrays, hard drives and other digital storage devices for everyday activities, and a sudden media failure can have dramatic consequences.
Some of the most common causes of data loss include:
Hard Drive Failures and Mechanical Media Issues
File Corruption
File Access Issues Due to Encryption
RAID Failures and Rebuild Issues
Accidental File Deletion and User Error
Virus Damage
Fire Damage, Flood Damage and More
Data recovery engineers can repair damaged media to restore access to lost files. Unfortunately, many data recovery providers use incomplete security practices, which can lead to compliance violations for healthcare businesses.
By investing in cutting-edge technology, we have developed a well-outfitted media repair laboratory with a number of relevant security credentials. Secure Data Recovery Services provides a flexible set of turnaround options including 24/7/365 emergency data recovery, and our experienced teams can treat virtually any failure scenario effectively. We also offer other media services including RAID repair, media migration and data tape transfer.
Additionally, Secure Data Recovery Services provides risk-free diagnostics for clients in the healthcare industry. To get started or for more information, contact our customer service team today.
What to Do When a Digital Storage Device Fails
Data loss can occur without any warning, leaving your institution without access to patient records, accounting information and other important files. To reduce your chances of permanent media damage, you should shut off any malfunctioning device as soon as you notice symptoms.
Do not attempt to rebuild a damaged RAID and never run any data recovery software, especially if you hear unusual noises or notice signs of physical damage. Keep your system powered down. Look for a qualified data recovery provider and get a professional media evaluation as soon as possible.
Secure Data Recovery Services regularly invests in technology research, and as one of the only data recovery companies with a certified Class 10 ISO 4 Cleanroom, we are uniquely qualified to perform hard drive data recovery and other specialized services. Our engineers have access to advanced tools including proprietary file utilities and hardware, and we offer an overall success rate of 96 percent.
We always provide the best possible chances of a full, successful recovery while maintaining excellent security controls. All of our services feature a no recovery, no charge guarantee, and our flexible service options help you control your downtime after virtually any data loss event.
Advanced Data Recovery for Medical Institutions
Healthcare providers need a secure provider that takes appropriate precautions when handling sensitive data. We developed our reputation by investing in next-generation encryption and laboratory controls, and as the first data recovery company to earn a SSAE 18 Type II certification, we can securely restore information from any type of digital storage device.
Other reasons to choose Secure Data Recovery Services include:
Full HIPAA Compliance Certification and Other Credentials
Remote Data Recovery and 24/7/365 Emergency Services
Risk-Free Standard Data Recovery Diagnostics
High Success Rates for All Digital Media
Online Case Access and 24/7 Customer Service
Secure Data Recovery Services provides the best option for hard drive data recovery, RAID data recovery, data tape repair and other advanced media services. We handle hundreds of cases for clients in the healthcare industry each year and always provide hassle-free, affordable results with excellent security. Our no recovery, no charge guarantee gives you peace of mind, and with more than 40 facilities across the United States, we can help you regain access to your data right away. Call our customer service team at 1-800-388-1266 to get started.
Healthcare Data Recovery Reviews
Sarah Brewer
Reviewed on Nov 21, 2018 | Santa Clarita, CA
Secure Data and Rep Mitchell saved the day!
Secure Data Recovery, and my rep Mitchell, completely saved the day for me. Earlier in the year, I had an incident that no one wants to experience, in a nearly total data loss of a hard drive. Having always been a person who has TONS of data (including my Master''s thesis and lots of research), I always tried to keep things redundantly backed up. As my computer hard drive ran out of space, I tempo... Read Morerarily had the bulk of my data backed up in one place (big mistake), while I was saving up to buy a second drive. A nightmare struck when I slightly bumped my Seagate external drive, which fell over, completely destroying its contents (even though there was no warning of this risk on the drive itself or the instructions). I googled the highest-rated data recovery site, and it was Secure Data Recovery by a landslide. They diagnosed the damage as severe, which was devastating. My Representative, Mitchell, was absolutely wonderful throughout this process. He was so kind, patient, and understanding, and was always readily available. Mitchell and the company were also really easy to work with in terms of financing and payment options, and were nothing but compassionate and professional. Although I wish their services were never needed for folks, accidents happen, and when they do, I am so glad that Secure Data (and their wonderful staff) were there. Thanks to them, I recovered all but .16% of my files, which absolutely was a life saver. They also helped me get the proper equipment to make sure that this type of loss will not happen again. Thanks a million, Mitchell and Secure Data - I could never thank you enough!
John Agelopoulos
Reviewed on Dec 20, 2015 | Canton, OH
Secure Data Recovery saved my business...
I would like to thank everyone who helped with literally saving my practice. Early this December, my computer failed and I LOST 18 years worth of data due to 2 failed hard drives. I lost everything, chart notes, x-rays, patient history, all my account information, my entire schedule past, present and future. All of my accounts receivables. This was the worst thing that has ever happened to me. I h... Read Moread no way of paying my employees, I didn't know who was coming in for appointments or what what dental work they needed. The personal pain I felt what completely ineffable. Secure Data Recovery had a branch in Beachwood, Ohio. I called their 24 hour service and Jeremy Provchy answered the phone. He walked me through the process and called the techs to come in immediately. I drove up at 10:30pm on a Saturday. He kindly offered for someone to pick up the hard drives as well.
I dropped them off, and Jeremy kept me up to date with their procedures. On, Tuesday, 2.5 days after the complete data loss, Secure Data Recovery was able to get 100% of my data back! The relief was beyond words for me. I drove up and got the data and I was back up and running, I called and spoke to Jeremy and thanked him. I do not say this lightly, Secure Data Recovery SAVED MY PRACTICE FROM BANKRUPTCY. There are no other words to describe the situation. I didn't sleep for 3 nights consumed by this.They saved me. I cannot thank them enough. Thank GOD there are people work in this field. THANK YOU X infinity.