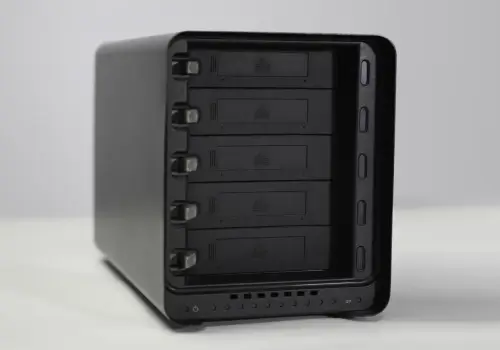 Expert Drobo RAID Data Recovery
Drobo RAIDs were created to be a stronger backup solution than a traditional RAID configuration, but they are still susceptible to data loss. Secure Data Recovery engineers have years of experience working with all types of Drobo RAID systems.
The Drobo is a highly specialized RAID system, and our technicians have the experience to treat all Drobo arrays safely.

Our customers rate our services:
We Helped Thousands Get Their Lost Data Back.
With over 5,331 satisfied customers and growing, we are proud to provide outstanding customer experience and quality service that consistently exceed customer expectations.
View All
A Drobo BeyondRAID system can be formatted with a single or dual redundancy. Secure Data Recovery has experience working with all RAID configurations and Drobo models including:
Drobo Mini, Drobo S
Drobo Pro, ProFS
Drobo 5C, 5D, 5N
Drobo B810n, B810i
Drobo B1200i
DroboElite and more
Importance of Professional Drobo Recovery
There are several benefits to having a Drobo system. You can add drives of different storage capacities and they do not need to be placed in a certain order within the configuration. You can also add in new hard drives at any time and the Drobo will adapt and copy data to the new drive. While it can withstand one drive failure, anything larger can result in serious data loss.
It is important to choose a professional data recovery company like Secure Data Recovery to work on your sensitive Drobo configuration. Our engineers work in the country's only Class 10 ISO 4 Cleanroom, giving failed devices the best chance at a full recovery. We have the advanced technology and proprietary tools to keep you from losing critical files and years' worth of personal data.
Why Should I Choose Secure Data Recovery for my Failed Drobo?
Our engineers work on Drobo RAID configurations that have experienced both media and logical damage and follow strict security protocols during the recovery process. Secure Data recovery is an SSAE 18 Type II Audited company and has earned the following security certifications:
TRUSTe Verified
HIPAA Compliant Data Handling Process
FIPS 140-2 Level 3 Validated Security
PCI Security Standards
Failure Scenarios for Drobo RAID
A Drobo RAID configuration can fail due to a variety of issues and Secure Data Recovery engineers have experience working with all of them. Failure scenarios for Drobo include:
Multiple Hard Drive Failures
Accidental File Deletion
Resetting the Configuration
Failed Rebuild Attempt
Controller Failure
Re-initialization With a Stale Drive
Drobo Data Recovery Process
We begin the recovery process by diagnosing the Drobo configuration and analyzing the drives. After the analyzation process, we give our customers a full diagnostic report complete with an estimated turnaround time and price quote.
Engineers begin the recovery process by imaging all of the drives in the configuration. They perform a reassembly on the damaged drives in the configuration and repair file systems as needed when imaging.The process produces a copy of the data to work from, keeping the device in its original condition.
Drobos are commonly used with home users, but are many times more complex recovery cases than some enterprise systems. We have an overall success rate of 96% for recovery on all types of media and promise that if we are unable to recover your information, no one else can.
What To Do When Your Drobo Experiences a Failure
People use Drobo systems because of their low maintenance. The configuration is supposed to rebuild itself automatically if one drive fails. Unfortunately, one drive failure can easily lead to errors on another member of the configuration. Once there are two drive failures in a single redundancy or more than two failures in a dual redundancy in your Drobo, you need a professional to recover your data.
When your Drobo fails, do not attempt to rebuild it yourself. These drives need to be handled in a Cleanroom environment to ensure the best possible recovery outcome. Pay attention to the lights on your device. When a slot turns red, that signifies a failure and when you have multiple failures, immediately power down your Drobo and send it to a professional. Call our customer service representatives 24/7 at 1-800-388-1266 to start your case.
Drobo Data Recovery Reviews
A Mogul??
Reviewed on Jul 03, 2021 | Chicago, IL
I only been a photographer 8 months. And I made this mistake before but, it was to a photoshoot only. So I was able to call the clients back. This time it was a party I couldn't bring back. Someone referred me to this company and I'm more grateful then ever. Val Krivenko was nothing short of amazing made me feel comfortable, replied back in less than 5 minutes every time I had a question. Kept his... Read More word gave me my device in time ... of my dead line. And I finished editing everything to give to my client without the extra hassle. All before 5pm today. The money I hated I had to pay but, I can't say I wouldn't pay it again. And thank you to them I wouldn't have to they make sure you have the complete steps to never mess up again ...
Ward Zerger
Reviewed on Dec 06, 2016 | Lenexa, KS
Superior Customer Service
Mitchell Moore was outstanding in his followup through emails and phone. Very explanatory and prompt. Recovery was quick and successful. Would highly recommend Secure Data for future recovery endeavors.